Refuting Darwin, confirming design
https://reasonandscience.catsboard.com/t3264-refuting-darwin-confirming-design
Unraveling the real mechanisms giving rise to biological adaptation, development, complex organismal forms, anatomical novelty,  and biodiversity

Introduction
Making sense of the vast diversity of life is still today one of the greatest, if not the greatest intellectual challenge, together with the Origin of Life. The quest about if evolution is true is more than a scientific question. It is a battle that goes beyond science. It is a culture war between naturalism/strong atheism, and creationism/theism. If the literal interpretation of the Genesis account in the Bible is true, then Darwin's Theory of Evolution is false, and vice-versa. 
Frank Zindler,
 President of American Atheists,  in 1996: 
The most devastating thing though that biology did to Christianity was the discovery of biological evolution. Now that we know that Adam and Eve never were real people the central myth of Christianity is destroyed. If there never was an Adam and Eve there never was an original sin. If there never was an original sin there is no need of salvation. If there is no need of salvation there is no need of a Savior. And I submit that puts Jesus, historical or otherwise, into the ranks of the unemployed. I think that evolution is absolutely the death knell of Christianity.
Conservative Protestants in the 1920s also saw themselves in the midst of a great culture war, with the Bible (depicted here as the Rock of Gibraltar) coming under fierce attack by "battle-ships of unbelief."
So what is it? Leaving the Bible aside, the dispute is not about religion versus science, but between case-adequate inferences based on scientific evidence, and unwarranted conclusions. The
big
question is: Is evolution supported by science, as the scientific establishment, and consensus among professional biologists advocate for, calling Darwin's Theory, and the recently modified versions of it, an undisputable scientific fact, or does the data lead to another direction? 
But we can ask a deeper question, and dissect the issue to the core question: Which of the two has more creative power: Design, or non-design? Intelligence, or non-intelligence? Agency, or non-agency?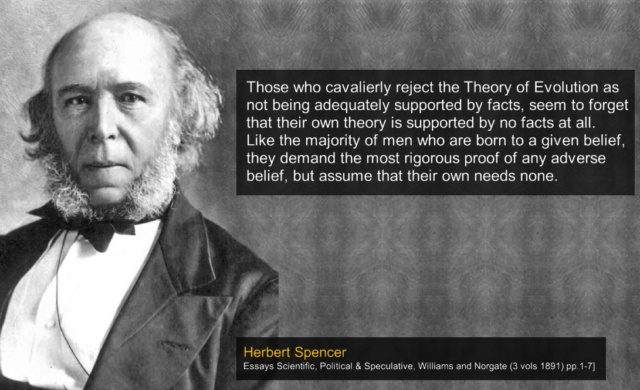 Claim:
Herbert Spencer: Those who cavalierly reject the Theory of Evolution as not being adequately supported by facts, seem to forget that their own theory is supported by no facts at all. Like the majority of men who are born to a given belief, they demand the most rigorous proof of any adverse belief, but assume that their own needs none.
Richard Dawkins: "It is absolutely safe to say that, if you meet somebody who claims not to believe in evolution, that person is ignorant, stupid or insane (or wicked, but I'd rather not consider that)."1
John Joe McFadden (2008):  Quite simply, Darwin and Wallace destroyed the strongest evidence left in the 19th century for the existence of a deity. Biologists have since used Darwin's theory to make sense of the natural world. Contrary to the arguments of creationists, evolution is no longer just a theory. It is as much a fact as gravity or erosion. 23
Reply:
 Opinions like Richard Dawkins have contributed to stigmatizing the proposition of intelligent design as pseudo-science, or as unscientific altogether. But is it justified? Many books have been published on the subject, and articles are frequently being written, defending both views and positions. Those that advocate in favor, often resort to the fact that a majority of biologists are on their side, and argue, because there is a widespread consensus, it must be true. Sailing against unfavorable wind direction is always energy-consuming, and difficult. Then, why do it? Because the truth matters. Many, today, lose faith in a creator, because they are not educated enough to make up their mind based on the scientific evidence, and permit being influenced by those that argue to have the evidence on their side, that favors evolution. I have investigated the topic for many years, and have permitted the evidence to lead me wherever it is. I do not intend to turn this book one more on the shelf, among many other anti-evolution books, that point out, why evolution fails.
Maybe you think I am one more lonely zealot deluded by blindly believing in what Genesis says, and swimming against the current of contemporary scientific advances and consensus among professional biologists in the field, so what I have to say is irrelevant and can be easily dismissed. I am, however, not alone. My findings parallel what the most prestigious investigators in the field are saying. Of course, they will not conclude in the end: ..... and therefore, God!!... since they are committed to philosophical naturalism - God cannot be permitted to put the footstep into the door - after all, the proposition: God did it, is unscientific, and cannot be tested, but they are admitting, that the traditional evolutionary view has problems. And that is already a big deal.
In November 2016, there was a three-day conference in London, a scientific discussion meeting organized by the Royal Society: New trends in evolutionary biology: biological, philosophical, and social science perspectives. On the website, they wrote: Developments in evolutionary biology and adjacent fields have produced calls for revision of the standard theory of evolution 2
Paul Nelson and David Klinghoffer reported about the meeting: ID proponents point to a chasm that divides how evolution and its evidence are presented to the public, and how scientists themselves discuss it behind closed doors and in technical publications. This chasm has been well hidden from laypeople, yet it was clear to anyone who attended the Royal Society conference, as did a number of ID-friendly scientists. The opening presentation at the Royal Society by one of those world-class biologists, Austrian evolutionary theorist Gerd Müller, underscored exactly Meyer's contention. Dr. Müller opened the meeting by discussing several of the fundamental "explanatory deficits" of "the modern synthesis," that is, textbook neo-Darwinian theory. According to Müller, the as yet unsolved problems include those of explaining:
Phenotypic complexity (the origin of eyes, ears, and body plans, i.e., the anatomical and structural features of living creatures); Phenotypic novelty, i.e., the origin of new forms throughout the history of life (for example, the mammalian radiation some 66 million years ago, in which the major orders of mammals, such as cetaceans, bats, carnivores, enter the fossil record, or even more dramatically, the Cambrian explosion, with most animal body plans appearing more or less without antecedents); and finally: Non-gradual forms or modes of transition, where you see abrupt discontinuities in the fossil record between different types. As Müller has explained in a 2003 work ("On the Origin of Organismal Form," with Stuart Newman), although "the neo-Darwinian paradigm still represents the central explanatory framework of evolution, as represented by recent textbooks" it "has no theory of the generative." In other words, the neo-Darwinian mechanism of mutation and natural selection lacks the creative power to generate the novel anatomical traits and forms of life that have arisen during the history of life. Yet, as Müller noted, the neo-Darwinian theory continues to be presented to the public via textbooks as the canonical understanding of how new living forms arose. The conference did an excellent job of defining the problems that evolutionary theory has failed to solve, but it offered little, if anything, by way of new solutions to those longstanding fundamental problems. 3
While in the first chapters I will touch on based on what grounds natural selection and genetic drift fail to explain complex organismal form and fail even to have predictive power, the focus of this book is to unravel and bring to light, what science has uncovered in the last few years in regards to the real mechanisms that define phenotypic complexity and architecture. It is a game-changer. It will describe complexity that was not imagined nor unexpected until a short while ago, and new layers of biological sophistication that go far beyond genetics, and leads to a view from a systems perspective, where all actors on a molecular, cell, tissue, organ, organ systems, organisms, and ecology are taken into account, to come to a conclusion, that does justice to the evidence and the facts. 
As you will probably observe and take notice since I am a machine designer by profession, my approach to investigating and making inferences based on the evidence seen in biological systems will be from an engineering perspective and standpoint. After studying biology, it has become clear to me, that there are many parallels between engineering principles applied in human-made artifacts and devices, like computers, hardware, software, information transmission systems, machines, robotics, automation, production lines, energy turbines, waste disposal mechanisms, recycling methods, and factories, and the inner workings in the cell, and multicellular organisms. Cells are not only chemical factories full of machines, analogous to human-made chemical factories, but they are so in
a literal sense.
What is the best scientific method and approach to investigate the origin of species? 
Many books are dedicated to providing positive evidence for evolution and resort to a variegated toolbox intending to do so. Libretext, for example, elucidates: "Fossils are a window into the past. They provide clear evidence that evolution has occurred."
4
 Furthermore, they mention Comparative Anatomy, Homologous structures, Comparative Embryology, Vestigial Structures, comparative genomics, evidence from biogeography. A very common method is to infer evolution based on phylogenetic comparisons, measuring physical features and similarities between organisms, phylogenetic trees, and the reconstruction of organismal relationships based on gene and protein trees, nested hierarchies, cladograms, and evolutionary physiology. By seeing all these different faculties, one can easily be persuaded that these are adequate tools permitting one to come to secure, case-adequate conclusions and inferences, that portray the real picture of the historical facts. But is it so? How can we be certain about this? Observe how the word "compared' goes through most, almost all disciplines like a red line. Is doing phylogenetic and physiological comparisons, and drawing phylogenetic trees the right approach? 
Why is the emergence of new body forms, cell shapes, organs, and functions not analyzed in regard to function and interdependence, rather than just phylogeny? Cells of Multicellular organisms work in an interdependent fashion. A Merkel sensory cell bears only function when interconnected with the brain. A Bud taste cell only functions if connected to the nerve that goes to the right cortex in the brain to produce the sensation of taste. This leads with ease to the conclusion that back in the tree of life, there had to be a crucial point, where the development from unicellular to multicellular, and further branching producing new phyla and traits, required the emergence of new genes, instructing systems to change, able to produce all at once new body limbs, forms, and organs that are interdependent. That would also mean the addition or mutation of multiple genes with multiple new instructions all at once through Darwin's natural selection. A hard sell..... But since Darwin's theory cannot be questioned, genetic phylogeny comparisons continue the norm.
Almost a hundred years ago the outstanding American biologist E. B. Wilson wrote: "the key to every biological problem must finally be sought in the cell; for every living organism is, or at some time has been, a cell." This position remains unshakeable, despite impressing successes of molecular biology, genetics
In my understanding, the key questions will be answered on the molecular level. Whatever the method is to investigate the origin of biodiversity, the key answers have to be found by investigating the cell. 
M.J. BEHE: (
1987):  
In order to say that some function is understood, every relevant step in the process must be elucidated. The relevant steps in biological processes occur ultimately at the molecular level, so a satisfactory explanation of a biological phenomenon such as sight, digestion, or immunity, must include a molecular explanation. It is no longer sufficient, now that the black box of vision has been opened, for an 'evolutionary explanation' of that power to invoke only the anatomical structures of whole eyes, as Darwin did in the 19th century and as most popularizers of evolution continue to do today. Anatomy is, quite simply, irrelevant. So is the fossil record. It does not matter whether or not the fossil record is consistent with evolutionary theory, any more than it mattered in physics that Newton's theory was consistent with everyday experience. The fossil record has nothing to tell us about, say, whether or how the interactions of 11-cis-retinal with rhodopsin, transducin, and phosphodiesterase could have developed step-by-step. Neither do the patterns of biogeography matter, or of population genetics, or the explanations that evolutionary theory has given for rudimentary organs or species abundance.
5
M. W. Kirschner (
2005)
: 
To understand novelty in evolution, we need to understand organisms down to their individual building blocks, down to the workings of their deepest components, for these are what undergo change.6
Is a gene-centered view of evolution still warranted?
M.Lewis: In the 1960s and 1970s, a scientific shift occurred and evolutionary biologists began viewing genes as the fundamental unit of selection. Noted evolutionary theorist Richard Dawkins wrote the revolutionary, and now classic, book The Selfish Gene in 1976, explaining the new genetic view and making it more accessible to lay people. The controversy between purist gene selectionism and the Multilevel Selection Theory (MST) may seem theoretical, but the reasoning behind the two perspectives profoundly changes the way scientists understand evolutionary changes. The claim now becomes a question: Survival of the fittest what? Gene? Organism? Or group?
The gene selectionist perspective proposed by Dawkins and others is the predominant view among modern evolutionary biologists.
The main premise relies on the concept of the gene as being the ultimate, fundamental unit of natural selection. By the basic principles of natural selection, genes that are more successful at replicating themselves will, by default, become more numerous in the population. Therefore, a gene that happens to increase the general fitness of the individual in which it is located will be more likely to be passed down to the next generation.9
Are genes alone, or various integrated players on intra and extra-cellular systems levels responsible for defining phenotype, and organismal architecture? David Haig (2012): Gene selectionism is the conceptual framework that views genes as the ultimate beneficiaries of adaptations and organisms or groups as the means for genes' ends. Rival conceptual frameworks exist. Multi-level selection theory views genes as the lowest level of a nested hierarchy in which each level is subject to selection and each level can be the beneficiary of adaptations. Developmental systems theory similarly denies a privileged role for genes in development and evolution. In this framework, many things other than genes are inherited and many things other than genes have a causal role in development. It is the entire developmental system, including developmental resources of the environment, that reconstructs itself from generation to generation. 10
Matt Ridley (2016): The gene-centered view of evolution that Dawkins championed and crystallized is now central both to evolutionary theorizing and to lay commentaries on natural history such as wildlife documentaries. Genes that cause birds and bees to breed survive at the expense of other genes.
No other explanation makes sense
, although some insist that there are other ways to tell the story. What stood out was Dawkins's radical insistence that the digital information in a gene is effectively immortal and must be the primary unit of selection. No other unit shows such persistence — not chromosomes, not individuals, not groups and not species. 11
The extended evolutionary synthesis
Paul C. W. Davies
 (2013): 
The algorithm for building an organism is not only stored in a linear digital sequence (tape), but also in the current state of the entire system (e.g. epigenetic factors such as the level of gene expression, post-translational modifications of proteins, methylation patterns, chromatin architecture, nucleosome distribution, cellular phenotype and environmental context). The algorithm itself is therefore highly delocalized, distributed inextricably throughout the very physical system whose dynamics it encodes.12
Kevin Laland (2014):The gene-centric view has come under more and more pressure and scrutiny in recent times. K. Laland (2014): Mainstream evolutionary theory has come to focus almost exclusively on genetic inheritance and processes that change gene frequencies. Yet new data pouring out of adjacent fields are starting to undermine this narrow stance. An alternative vision is beginning to crystallize, in which the processes by which organisms grow and develop are recognized as causes of evolution. We have worked intensively to develop a broader framework, termed the extended evolutionary synthesis1 (EES), and to flesh out its structure, assumptions and predictions. In essence, this synthesis maintains that important drivers of evolution, ones that cannot be reduced to genes, must be woven into the very fabric of evolutionary theory.
We hold that organisms are constructed in development, not simply 'programmed' to develop by genes. 
The number of biologists calling for change in how evolution is conceptualized is growing rapidly. Strong support comes from allied disciplines, particularly developmental biology, but also genomics, epigenetics, ecology and social science. We contend that evolutionary biology needs revision if it is to benefit fully from these other disciplines. The data supporting our position gets stronger every day. Yet the mere mention of the EES often evokes an emotional, even hostile, reaction among evolutionary biologists. Too often, vital discussions descend into acrimony, with accusations of muddle or misrepresentation.
Perhaps haunted by the spectre of intelligent design, evolutionary biologists wish to show a united front to those hostile to science.
Some might fear that they will receive less funding and recognition if outsiders — such as physiologists or developmental biologists — flood into their field. However, another factor is more important: many conventional evolutionary biologists study the processes that we claim are neglected, but they comprehend them very differently.
In our view,
this 'gene-centric' focus fails to capture the full gamut of processes
that direct evolution. Missing pieces include how physical development influences the generation of variation
(developmental bias)
; how the environment directly shapes organisms' traits
(plasticity)
; how organisms modify environments
(niche construction)
; and how organisms transmit more than genes across generations
(extra-genetic inheritance)
.  Valuable insight into the causes of adaptation and the appearance of new traits comes from the field of evolutionary developmental biology ('evo-devo'). Particularly thorny is the observation that
much variation is not random because developmental processes generate certain forms more readily than others
. 'Extra-genetic inheritance' includes the transmission of epigenetic marks (chemical changes that alter DNA expression but not the underlying sequence) that influence fertility, longevity and disease resistance across taxa. It also encompasses those structures and altered conditions that organisms leave to their descendants through their niche construction — from beavers' dams to worm-processed soils.13
Gerd B. Müller 
(2017): 
These examples of conceptual change in various domains of evolutionary biology represent only a condensed segment of the advances made since the inception of the MS theory some 80 years ago. Relatively minor attention has been paid to the fact that many of these concepts, which are in full use today, sometimes contradict or expand central tenets of the MS theory. Given proper attention, these conceptual expansions force us to consider what they mean for our present understanding of evolution. Obviously, 
several of the cornerstones of the traditional evolutionary framework need to be revised and new components incorporated into a common theoretical structure.
Although today's organismal systems biology is mostly rooted in biophysics and biological function, its endeavors are profoundly integrative, aiming at 
multiscale and multilevel 
explanations of organismal properties and their evolution. Instead of chance variation in DNA composition, evolving 
developmental interactions
 account for the specificities of phenotypic construction.
14
Qiaoying Lu (2017): Advocates of an 'extended evolutionary synthesis' have claimed that standard evolutionary theory fails to accommodate epigenetic inheritance. The opponents of the extended synthesis argue that the evidence for epigenetic inheritance causing adaptive evolution in nature is insufficient. We argue that the evolutionary gene, when being materialized, need not be restricted to nucleic acids but can encompass other heritable units such as epialleles. If the evolutionary gene is understood more broadly, and the notions of environment and phenotype are defined accordingly,
current evolutionary theory does not require a major conceptual change in order to incorporate the mechanisms of epigenetic inheritance
.15
Comment:
 I am convinced that the gene-centric view is false. Epigenetic mechanisms are, in addition, and in a joint venture with genetic information, responsible for phenotypes and biocomplexity. Evolutionary theory has been, and can be further stretched, and new scientific findings incorporated, and it can still be claimed ( as already done): evolution did it. The question if this is a warranted claim, is the theme of this book. I am convinced, that the reader, after "digesting" the information exposed here, will come to the conclusion, that a conceptual change is in fact on the table - refuting Darwin, confirming design.  
Analyzing the origin of biological form from an engineering perspective

1. 
Cells are marvelous factories, that display technologically super advanced solutions. They use information, and codes to instruct how to make and operate things,  highly specialized machines to make energy turbines,  molecular machines to make their own materials, the basic building blocks of life, and mechanisms to self-replicate.  They operate based on minute tolerances involved in their production and assembly. Exquisite precision is required in the synchronization of their operation. 
2.
 Engineering is from the Latin word Ingenium, meaning "cleverness" and ingeniare, meaning "to contrive, devise, invent". Science has discovered, that cells operate based on engineering principles such as integral control and robustness implemented in diverse intracellular systems. As such, cells display superior inventions and innovations over us, and new scientific fields, like Biomimetics, take advantage of this. 
3. 
Engineering requires engineers, that use their intelligence to invent and employ superior technological solutions for complex functions and solutions. Therefore, the best explanation for living cells is an intelligent designer. 
Marvelous Factories: The Ingenious Cells
Cells, the building blocks of life,
A world of wonders, beyond our sight,
Factories so small, yet so grand,
With intricacies we can't understand.
They use codes and information,
To operate with precise coordination,
Molecular machines, oh, so fine,
Creating materials, a design divine.
Energy turbines, highly specialized,
Self-replicating, they're so prized,
Ingenium, the Latin word for "cleverness",
Cells display it with flawless finesse.
Engineering, the art of invention,
Cells are masters, beyond our comprehension,
Robust and integral, their control,
Operating with perfection, a wondrous role.
Science reveals their engineering feats,
Innovations beyond our wildest treats,
Biomimetics, a field so new,
Inspired by cells, it's awe-inspiring too.
For engineering requires a mind,
An intelligent designer, we can find,
Cells are evidence of superior creation,
With precision and complexity, beyond imagination.
So let's marvel at these factories small,
Ingenious cells, the greatest of all,
A testament to design, so divine,
A masterpiece of intelligence, a gift so fine.
What Have the Principles of Engineering Taught Us about Biological Systems?
Engineering principles such as integral control and robustness were found to be implemented in diverse biological systems. Nature has so far proved to be a superior inventor and innovator over us. While it is fruitful to
comprehend biological complexity in terms of engineering principles, perhaps a fascinating question in the near future would be ''what can biological systems teach us about engineering (and physics and mathematics)?''
While biological systems appear to be ad hoc in many ways, the more we begin to understand them, the more we begin to see engineering principles of abstraction, modularity, redundancy, self-diagnosis, and hierarchy. By viewing seemingly random biological design ''decisions'' through an engineering lens, we have found powerful patterns, intricate mechanical mechanisms, and evolved modularity.
Biology is transforming engineering, as evidenced by the new discipline of Biologically Inspired Engineering, which seeks to leverage biological principles to develop new engineering innovations
Natural designs are simple, functional, and remarkably elegant. Biology is a great source for innovative design inspiration. By examining the structure, function, growth, origin, evolution, and distribution of living entities, biology contributes a whole different set of tools and ideas that a 
design engineer
 wouldn't otherwise have. Biology has greatly influenced engineering. The intriguing and awesome achievements of the natural world have inspired engineering breakthroughs that many take for granted, such as airplanes, pacemakers and velcro. One cannot simply dismiss engineering breakthroughs utilizing biological organisms or phenomena as chance occurrences. 16
For a complete understanding of biological processes that orchestrate adaptation to the environment, define the intricate development of body architecture with striking precision, organismal development, cell and tissue shape, organization, and body form, homeostasis, responding to external cues, attacks by invaders like viruses, etc., it is necessary to understand as many integrative elements of biological systems as possible. Complex pattern formation involves numerous highly intricate biomolecular mechanisms that lead to the superb formation of tissue structures. That includes providing information that gives mechanical cues directing intra-and extracellular shape changes and movements on the level of individual cells, but also tissue substratum as a whole. Answering the questions about how cells, tissues, and organisms masterfully develop and form, precedes the question IF evolution by non-intelligent, unguided means provides the best, most compelling answers, and IF the evolutionary changes permit a purely blind primary macroevolutionary transition zone, morphogenesis of an entire organism moving and morph from one species to another on a first-degree speciation level, where novel features arise, like wings, eyes, ears, legs, arms, and so forth. The fact and truth are, that science is still far from having a substantive answer to that question. But what we do know, permits us to come to informed conclusions.
Biodiversity and complex organismal architecture is explained by trillions of bits. Incredible amounts of data far beyond our imagination. Instructions, complex codified specifications,
information
. Algorithms that are masterfully encoded in various genetic and sophisticated epigenetic languages and communication channels,  and various signaling networks. Neurotransmitters, through nanotubes between cells. Communication through vesicles and amazingly, even light photons. Genes, as well as especially various striking epigenetic signaling and bioelectric codes through various signaling networks, provide cues to molecules and macromolecule complexes, and ingenious scaffold networks interpret and react in a variety of ways upon decoding and data processing of those instructions. Since signaling pathways work in an extraordinarily precise, synergetic integrated way with the transcriptional regulatory network and complex short and long-range cross-talk between cells, these crucial instructions, crucial for advanced life forms, seem to be the result of preloaded information that is able to operate fully developed, right from the beginning, since a step-wise implementation is from an engineering standpoint, not possible. These superb information networks only operate and work in an integrated fashion, and had to be "born", and fully set up right from the beginning. Conveying codes, a system of rules to convert information, such as letters and words, into another form, and translation ciphers of one language to another are always sourced back to intelligent set-up. What we see in biochemistry is incredibly complex instructional codified information being stored through the genetic code ( codons) in a masterful information-storage molecule  (DNA), encoded & transcribed ( RNA polymerase), sent (mRNA), and decoded & translated (Ribosome), as well as epigenetic codes and languages, and several signaling pathways. The morphogenesis of organismal structure and shape is classified into two groups: The various instructional codes and languages using molecules that provide complex cues of action based on information through signaling and secondly by force-generating molecules that are precisely directed through those signals, which are responsible for fantastic cell morphogenesis. Blueprints, instructional information, and master plans, which permit the striking autonomous assembly and control of complex proteins (molecular machines) and exquisite factory parks (interconnected cells) upon that instructional information are both always tracked back to an intelligent source that made both for purposeful, specific goals.   That brings us unambiguously to the source by a superpowerful, unfathomably intelligent designer. The core inference of this book is: 
1.
 Biological sciences have come to discover in the last decades that major morphological innovation, development, and body form are based on at least 19 different, but integrative mechanisms, the interplay of genes with the gene regulatory network, Trans and Retrotransposons, so-called Junk DNA, gene splicing and recombination, and at least 49 epigenetic informational code and language systems, some, like the glycan (sugar) code, far more complex than the genetic code, on the membrane - exterior side of cells, Post-transcriptional modifications (PTMs) of histones, hormones, Ion Channels and Electromagnetic Fields that are not specified by nuclear DNA, Membrane targets and patterns, cytoskeletal arrays, centrosomes, and inheritance by cell memory which is not defined through DNA sequences alone.
2. 
These varied mechanisms orchestrate gene expression, generate Cell types and patterns, perform various tasks essential to cell structure and development, are responsible for important tasks of organismal development, affect gene transcription, switch protein-coding genes on or off,  determine the shape of the body, regulate genes, provide critical structural information and spatial coordinates for embryological development,  influence the form of a developing organism and the arrangement of different cell types during embryological development, organize the axes, and act as chemical messengers for development
3.
 Neo-Darwinism and Modern Synthesis have proposed traditionally a gene-centric view, a scientific metabiological proposal going back to Darwin's " On the origin of species ", where first natural selection was proposed as the mechanism of biodiversity, and later,  gene variation defining how bodies are built and organized. Not even recently proposed alternatives, like the third way, neutral theory, inclusive fitness theory, Saltationism, Saltatory ontogeny, mutationism, Genetic drift, or combined theories, like the extended evolutionary synthesis (EEL) do full justice by taking into account all organizational physiological hierarchy and complexity which empirical science has come to discover and unravel. 
4.
 Only a holistic view, namely structuralism, and systems biology take 
in an integrated fashion 
all influences into
account that forms cell phenotype and size, organismal development (evo-devo), and growth and inheritance, providing adequate descriptions of the recent new scientific evidence, which I call thereafter 
S
ystems Design (SD).
A Symphony of Biology: Unraveling Complexity
In the world of biology, a complex dance,
Of mechanisms and codes, a captivating trance,
From genes and networks, to retrotransposons,
Junk DNA, and splicing, a symphony of connections.
Epigenetic codes, a language so grand,
Glycan codes on membranes, complex and unplanned,
Post-transcriptional modifications abound,
Histones, hormones, with roles profound.
Ion channels and fields, beyond the genes,
Inheritance by cell memory, a tale unseen,
Membrane targets and patterns, shaping cells,
Cytoskeletal arrays, with stories to tell.
These mechanisms, they orchestrate,
Gene expression, they regulate,
Cell types and patterns, they generate,
Critical tasks, they fascinate.
Traditionally, a gene-centric view,
Darwin's proposal, old and true,
But recent discoveries, so vast and grand,
Challenging the theories, that once did stand.
Neo-Darwinism, the Modern Synthesis,
Only partial, with some hypotheses amiss,
Extended evolutionary synthesis, a new proposal,
But still, there's more, a holistic disposal.
Structuralism and systems biology,
A Systems Design, a novel analogy,
Taking into account, the complexity untold,
Of organizational hierarchy, and mysteries unfold.
So let's embrace the wonder, of science's quest,
Unraveling the mysteries, with zest,
For life's complexity, a marvel to behold,
In the world of biology, stories yet untold.
A major paradigm shift is more than due. Scientists would do good to start taking the design inference very seriously.  The same naturalistic philosophical framework that is applied to operational science ( where it is justified), is given to historical sciences. Design by an intelligent agent as a possible cause for the origin of life, and species, has traditionally been excluded prior. The game was rigged, before being plaid. Consequently, only naturalistic candidates have been admitted and will be the winners, no matter how counterintuitive, or not supported by the evidence. Dobzhansky, a famous geneticist, wrote that "nothing in biology makes sense except in the light of evolution". Today, so i am convinced:
"Nothing in biology makes sense except in the light of systems design"
. 
Proponents of evolution claim that life diversified, starting from a universal common ancestor, that supposedly originated between 3,5 and 4 billion years ago. The trajectory that led to LUCA, the Last Universal Common Ancestor, is not known. But once a small population of this organism existed, it started to replicate with small variations, and diversified, to give rise through evolutionary pressures to the three domains of life: prokaryotes, eukaryotes, and archaea. Carl Simpson (2011) describes what followed next: The origin of multicellularity ( animals, fungi, plants ), the origin of sex, obligatory social groups of animals ( ex. wasps), the origin of language, of different communication systems in the animal world, and the dominance of tool-using and conscious planning (man).17
Traditionally, the view has been that small changes gave rise to big changes over millions and billions of years. Micro leads to macroevolution. An uninterrupted process from less to more complex, with valleys in the trajectory, and various mass extinction events on the road. Before we however talk about what this book is attempting to refute, we need to clarify what is meant by evolution. Stephen C. Meyer clarifies: Evolution has various meanings. 
What are the mechanisms of evolution?
The mechanisms are: natural selection, mutations, gene flow, genetic drift, biased variation, movable elements, non-random mating (including sexual selection), and recombination
What is fact and undisputed in regards to evolution :

1.
Change over time; history of nature; any sequence of events in nature. 
2.
Changes in the frequencies of alleles in the gene pool of a population. 
3.
Limited common descent: the idea that particular groups of organisms have descended from a common ancestor. 
4.
The mechanisms responsible for the change required to produce limited descent with modification, chiefly natural selection acting on random variations or mutations. 
What is not fact:

5.
Universal common descent: the idea that all organisms have descended from a single common ancestor. 
6.
The idea that all organisms have descended from common ancestors solely through unguided, unintelligent, purposeless, material processes such as natural selection acting on random variations or mutations; that the mechanisms of natural selection, random variation and mutation, and perhaps other similarly naturalistic mechanisms, are completely sufficient to account for the appearance of design in living organisms.3
4
I will focus on points 5 and 6. The dispute is that diversification started with a universal common ancestor and the claim that there is a tree of life. Maybe you are reading my book with the intention to knock down the forthcoming arguments, and believe that there is no way to succeed and refute Darwin's theory and the more recent versions of it. So here is a question for you:  
What you do believe to be true about evolution, is it true? Or do you just believe that it is true, because you were taught so, but you never looked and investigated to check if there is an empirical proof? I challenge the claim that Darwin's tree of life ever existed. 
NEVER, in over 160 years, since Darwin's book " On the origin of species " was published, has even ONE, amongst hundreds or thousands, if not millions of science papers, provided ONE DEMONSTRATION, and empirical verifiable replicable experiment, that any of the evolutionary mechanisms proposed,
 namely natural selection, mutations, gene flow, genetic drift, biased variation, movable elements, non-random mating (including sexual selection), and recombination.
 could produce a primary macroevolutionary transition zone of speciation and population differentiation. Not even one science paper EVER has provided empirical proof/demonstration that one organism can morph into a completely different one with new body features and functions and entirely new architecture. You will probably object to that that it took long periods of time and that what we are currently able to observe, warrants the extrapolation. But does it really? This is what this book is about.
Over the years, I have participated in many ID/evolution debates, in written form, or Youtube live debates, message boards, and especially on social media. One of the common tactics adopted by ID proponents is to expose why evolutionary arguments have no empirical support, presenting evidence that falsifies the theory. 
Certainly a warranted approach. The evidence is plenty.  It is however not fully complete, without demonstrating and mentioning what replaces evolution - what the actual mechanisms are. And doing that is a task that takes considerably more effort and investigation. The first time I did find some indicative answers to that question was in Steve Meyers's best-selling book: Darwin's doubt. I took that as a starting point to dig deeper in an attempt to find more answers. And I did, as I will expose in this book. There are many different mechanisms involved in constructing complex organismal forms and body architecture. One reason it is rarely brought up as an argument is, that it is an exceedingly difficult question to answer, and involves unraveling and describing the very complex biological systems both on a micro, and macroscale, from cells to organs, to organ systems, organisms, and even ecosystems. It requires knowledge of systems biology, and various different fields in biology, in special, cell biology, biochemistry, genomics, 
development, and evolutionary biology. Hard to find those that have knowledge in that broader sense. In special, when most scientists specialize often and concentrate to investigate one specific open issue with yet unanswered questions. Some invest a lifetime to understand and describe one single protein, like topoisomerase, or the ribosome. 
Before one can ask about how things came to be and originated, one needs to understand how biological systems work, replicate, inheritance transmitted, and how their operations are controlled, adapt, and develop. 
Answering how things came to be, depends on knowing how things are made, which is answered by
 o
perational science that deals with this question. Only 
then do 
we have the premise and the necessary knowledge and tool to ask the follow-up questions of origins. What adds difficulty, is that there is not one way, but many different ways of how organisms develop from an embryo/zygote to an adult. Studying and understanding just the development of one organism takes tremendous effort, and time, and is a challenging investigation. 
The origin of organismal architecture through evolution is not even close to an established fact
A growing number of evolutionary biologists are confessing 
today
 their ignorance of the question of the origins of biological form, and confess openly their skepticism, and disagreement in regards to evolution as an all-encompassing, satisfying explanation. For example:
R. DeSalle (2002): 
It remains a mystery
 how the undirected process of mutation, combined with natural selection, has resulted in the creation of thousands of new proteins with extraordinarily diverse and well-optimized functions. This problem is particularly acute for tightly integrated molecular systems that consist of many interacting parts . . . It is not clear how a new function for any protein might be selected for unless the other members of the complex are already present, creating a molecular version of the ancient evolutionary riddle of the chicken and the egg. 1
8
E.K. Balon (2004): In the last 25 years, criticism of most theories advanced by Darwin and the neo-Darwinians has increased considerably, and so did their defense. Darwinism has become an ideology, while 
the most significant theories of Darwin were proven unsupportable
.19
Hiroshi Akashi et.al.,(2006): Although mutation, genetic drift, and natural selection are well established as determinants of genome evolution, 
the importance (frequency and magnitude) of parameter fluctuations in molecular evolution is less understood.
 The magnitude, timescale, and genomic breadth of fluctuations in molecular evolutionary forces remain to be studied systematically. Such knowledge is critical for modeling the causes of molecular evolution and is necessary for designing tests of adaptive and deleterious evolution and methods for phylogenetic inference and ancestral state reconstruction. 20 
E.V. Koonin (2007): Major transitions in biological evolution show the same pattern of 
sudden emergence of diverse forms at a new level of complexity. 
 The relationships between major groups within an emergent new class of biological entities are hard to decipher and 
do not seem to fit the tree pattern that
, following Darwin's original proposal, remains the dominant description of biological evolution.   The cases in point include the origin of complex RNA molecules and protein folds; major groups of viruses; archaea and bacteria, and the principal lineages within each of these prokaryotic domains; eukaryotic supergroups; and animal phyla. In each of these pivotal nexuses in life's history, 
the principal "types" seem to appear rapidly and fully equipped with the signature features of the respective new level of biological organization. No intermediate "grades" or intermediate forms between different types are detectable.
 21
Stuart Pivar (2010): No coherent causative model of morphogenesis has ever been presented.2
2
E. V. Koonin (
2010)
: 
The summary of the state of affairs on the 150th anniversary of the Origin is somewhat shocking: in the post-genomic era, all major tenets of the Modern Synthesis are, if not outright overturned, replaced by a new and incomparably more complex vision of the key aspects of evolution. So, not to mince words, the Modern Synthesis is gone. The idea of evolution being driven primarily by infinitesimal heritable changes in the Darwinian tradition has become untenable. 23
J. S. Turner (2010): Although I touch upon ID obliquely from time to time, I do so not because I endorse it, but because it is mostly unavoidable. ID theory is essentially warmed-over natural theology, but there is, at its core, a serious point that deserves serious attention. ID theory would like us to believe that some overarching intelligence guides the evolutionary process: to say the least, that is unlikely. Nevertheless, 
how design arises remains a very real problem in biology.24
C. S. Roberts (2012): The three limitations of Darwin's theory concern the origin of DNA, the
 irreducible complexity of the cell,
 and the paucity of transitional species. Because of these limitations, the author predicts a paradigm shift away from evolution to an alternative explanation. The intellectual problem is that 
it remains a suspect theory >150 years after the publication of The Origin of Species (1859).
 25
D. E. K. Ferrier (2016): There is uncertainty in our understanding of homeobox gene cluster evolution at present. This relates to 
our still rudimentary understanding of the dynamics of genome rearrangements and evolution over the evolutionary timescales
 being considered when we compare lineages from across the animal kingdom.
2
6
1. Richard Dawkins:  IN SHORT: NONFICTION April 9, 1989
2. New trends in evolutionary biology: biological, philosophical and social science perspectives
3. Paul Nelson and David Klinghoffer: Scientists Confirm: Darwinism Is Broken December 13, 2016
4. Libretext: Evidence for Evolution
5. MICHAEL J. BEHE: Experimental Support for the Design Inference DECEMBER 27, 1987
6. 
Dr. Marc W. Kirschner: 
The Plausibility of Life: Resolving Darwin's Dilemma
 2005
9. Michaela Lewis: Understanding Evolution: Gene Selection
10. David Haig: The strategic gene 30 March 2012
11. Matt Ridley: In retrospect: The Selfish Gene 27 January 2016
12. Paul C. W. Davies: The algorithmic origins of life 2013 Feb 6
13. Kevin Laland: Does evolutionary theory need a rethink? 08 October 2014
14. Gerd B. Müller: Why an extended evolutionary synthesis is necessary 18 August 2017
15. Qiaoying Lu: The Evolutionary Gene and the Extended Evolutionary Synthesis 12 May 2018
16. J.K. Stroble Nagel: Function-Based Biology Inspired Concept Generation  March 1st, 2010
17. Carl Simpson: The Miscellaneous Transitions in Evolution April 2011
18. R. DeSalle: Molecular Systematics and Evolution: Theory and Practice 2002
19. Eugene K Balon: Evolution by epigenesis: farewell to Darwinism, neo- and otherwise 2004 May-Aug
20. Hiroshi Akashi: Molecular Evolution in the Drosophila melanogaster Species Subgroup: Frequent Parameter Fluctuations on the Timescale of Molecular Divergence 2006 Mar
21. Eugene V Koonin: The Biological Big Bang model for the major transitions in evolution 20 August 2007
22. Stuart Pivar: The origin of the vertebrate skeleton  16 August 2010
23. Eugene V. Koonin:  The Origin at 150: is a new evolutionary synthesis in sight? 2010 Nov 1.
24. J. Scott Turner: The Tinkerer's Accomplice: How Design Emerges from Life Itself  30 setember 2010
25. Charles Stewart Roberts: Comments on Darwinism 2012 Jan
26. 
D. E. K. Ferrier: 
Evolution of Homeobox Gene Clusters in Animals: The Giga-Cluster and Primary vs. Secondary Clustering 14 April 2016
27. John J. Welch: What's wrong with evolutionary biology?  20 December 2016
28. Ryohei Seki et.al.,: Functional roles of Aves class-specific cis-regulatory elements on macroevolution of bird-specific features 06 February 2017
29. Phys.Org.: Sweeping gene survey reveals new facets of evolution MAY 28, 2018
30. Sebastian Kittelmann et.al.,: Gene regulatory network architecture in different developmental contexts influences the genetic basis of morphological evolution May 3, 2018
31. 
M. Linde‑Medina
 On the problem of biological form 5 May 2020
32. Alison Caldwell, PhD: A simple rule drives the evolution of useless complexity December 9, 2020
33. Gerd B. Müller: Why an extended evolutionary synthesis is necessary 18 August 2017
34. Stephen C. Meyer: The Meanings of Evolution 
22. Abyt Ibraimov: Editorial Open Access Organismal Biology Journal  April 06, 2017
23. John Joe McFadden: Evolution of the best idea that anyone has ever had July 1, 2008


Last edited by Otangelo on Sat Apr 08, 2023 8:19 am; edited 68 times in total