Bacteria
Bacteria, the unseen majority on our planet, are microscopic powerhouses that influence every aspect of our world, from the air we breathe to the health of our bodies and the soil underfoot. Their structure is simple, yet efficient. Devoid of a defined nucleus, their genetic material wades freely within the cytoplasm. This lack of complexity, however, doesn't diminish their capabilities. Their cell walls, predominantly made of peptidoglycan, not only offer them protection but also set them apart from other tiny entities like archaea. Bacteria come in a delightful assortment of shapes - from the simplicity of a sphere (coccus) to the elegance of a spiral (spirillum) and the straightforwardness of a rod (bacillus). And yet, there's more to them than meets the eye. When it comes to reproduction, bacteria don't complicate things. Most replicate asexually through binary fission, a straightforward process in which one cell splits into two identical offspring. Some even sport tail-like flagella or hair-like pili, allowing them to move with purpose, seeking out nutrients or evading threats. Diving into their metabolic capabilities reveals a palette of activities. While some bask in sunlight, converting it into energy through photosynthesis, others rely on breaking down organic or even inorganic compounds. This adaptability is further highlighted when considering the Gram stain, a test that categorizes them as either Gram-positive or Gram-negative. This classification isn't just about color but has profound implications for medical treatments, particularly when it comes to antibiotic effectiveness. Yet, their roles in nature extend beyond their individual actions. Bacteria are nature's diligent recyclers, breaking down organic matter and returning vital nutrients to the ecosystem. They forge symbiotic bonds, like with certain plants, where they assist in extracting nitrogen from the atmosphere, transforming it into a form the plants can use. However, just like any other realm, there are a few bad apples. Some bacteria can wreak havoc, leading to diseases in humans and other organisms. Yet, it's crucial to understand that the vast majority of bacteria are benign or outright beneficial. These microscopic entities have shaped our world in ways we are only beginning to grasp. From medicine to agriculture, they offer solutions and possibilities that we are still exploring. As we delve deeper into the bacterial domain, we gain not just knowledge but also an appreciation for these minute beings that, in essence, hold our world together. As we continue our journey of discovery, the complexities and intricacies of the bacterial world beckon, promising insights and revelations about the very foundation of life itself.
In a world where bacteria never graced the Earth, the landscape would be unimaginably different. At first glance, this absence might seem trivial, but a deeper inquiry unveils a world transformed at its very foundation. Bacteria, often overlooked, are the silent orchestrators of many processes that sustain life as we know it. Imagine, for a moment, a forest floor where fallen leaves and deceased creatures lay unchanged. Without bacteria, the intricate dance of decomposition would come to a standstill. Dead matter would accumulate, and the cycle of life would be interrupted, as the essential nutrients locked within these organic remains would not return to the soil. Moving from the forest to our own bodies, the significance of bacteria becomes even more profound. Our digestive system, a marvel of nature, relies on a myriad of bacterial allies. These microbial friends aid in breaking down the foods we eat, ensuring that we derive the necessary nutrients. Without them, the simple act of eating could become a challenge, with many foods remaining undigested, leading to malnutrition and a host of digestive maladies. Moreover, the Earth's soils, the very cradles of terrestrial life, owe much of their fertility to bacteria. Some bacteria have the exceptional ability to capture nitrogen, an element vital for plant growth, and convert it into forms that plants can utilize. Without these tiny nitrogen-fixers, soils would lose their vitality over time, leading to barren landscapes and dwindling food sources. But beyond these tangible effects, the absence of bacteria would alter the essence of the planet. Bacteria play roles in processes ranging from cloud formation to the regulation of atmospheric gases. Without them, the Earth's climate, weather patterns, and even the composition of the air might shift in unpredictable ways. The story of a world without bacteria is not merely about their functional roles but about the balance and harmony of life itself. These microorganisms, often unseen, lay at the heart of many natural processes. Without them, the Earth would lose its rhythm, and life would miss out on a symphony of interconnected processes. Piecing together this altered reality emphasizes the depth of our interconnectedness with even the smallest forms of life and the profound ways in which they shape our world.
Bacteria, while minute in size, cast a colossal shadow over the biological realm, profoundly shaping the world in countless ways. Yet, it's not merely their presence but their astounding diversity that truly brings about the alchemy of life's processes. When contemplating the rich diversity of bacterial functions, one might draw parallels to an orchestra. Just as each instrument contributes its unique sound to create harmony, each bacterial species, with its specific capabilities, contributes to the holistic functioning of ecosystems. Their variety is the very engine of their multifaceted influence on the planet. For instance, consider the forest floor. One type of bacteria might specialize in breaking down the cellulose of fallen leaves, while another focuses on decomposing the proteins in a deceased insect. Their combined efforts ensure that no matter the material, it's returned to the soil in a form that plants can use to flourish.
In the realm of human health, our gut serves as a testament to bacterial diversity's importance. Different bacteria have specialized functions, from breaking down complex carbohydrates to synthesizing essential vitamins. It's this collective endeavor that ensures our digestive system's optimal functioning, providing us with the nutrients we need. Even the Earth's soils owe their fertility to a consortium of bacterial types. While some excel at capturing atmospheric nitrogen, others are adept at processing phosphorus or helping plants access essential minerals. It's akin to a relay race where every participant plays a vital role, passing the baton of fertility and ensuring the Earth remains verdant. Climate regulation, too, is under the purview of diverse bacterial groups. Some absorb carbon dioxide, while others produce methane or influence cloud formation. Like a finely tuned machine with numerous gears and levers, the various bacterial functions together maintain the atmospheric balance that sustains life. Reflecting upon this, one begins to see bacteria not just as individual entities but as an intricate web of specialists. Their diversity isn't merely a characteristic; it's the linchpin of their collective might. In each niche, in every corner of the world, specific bacterial types have evolved to perform roles that, in concert, create the symphony of life as we know it. Without this vast array of microbial maestros, the music of life would be but a muted echo of its current melody.
Bacteria, often overshadowed by the grandeur of larger life forms, operate as the silent maestros of Earth's elemental orchestra, conducting a harmony that sustains the planet's intricate life processes. Their ubiquity often masks their profound impact, yet as one delves deeper into the biogeochemical symphony, their central role becomes undeniably evident. The story of bacteria in the nitrogen cycle serves as a poignant prologue. Nitrogen, plentiful in our atmosphere but largely inert, requires a transformation to sustain life. Here, bacteria make their grand entrance, elegantly converting this gas into a bounty of usable compounds. This is no solo act, but a collective performance. Some bacteria capture atmospheric nitrogen, transforming it to ammonia. Others further refine this product, making it accessible to plants, while yet another group returns nitrogen compounds to the atmosphere, completing the cycle. Their parts in this play are diverse, essential, and irreducible. The absence of a single actor could jeopardize the entire performance, underscoring the intricate balance and mutual dependence of these microbial players.
Yet, the repertoire of bacteria extends beyond nitrogen. In the carbon cycle, while plants are often in the limelight, cyanobacteria in watery realms mirror this photosynthetic act. They convert carbon dioxide into life's building blocks, while their counterparts break down organic matter, returning carbon to its gaseous origin. Without these microbial participants, this cycle would stumble, with ramifications echoing throughout Earth's biosphere. And then, in the darker, enigmatic depths, bacteria shine once more in the sulfur cycle. In places where oxygen is but a rare luxury, some bacteria find their rhythm by harnessing sulfur compounds. Whether by oxidizing hydrogen sulfide in deep-sea vents or reducing sulfate in sunlit, oxygen-poor waters, their roles are pivotal, shaping entire aquatic habitats. Diverse yet, some bacteria intertwine their fates with essential metals like iron and manganese. Deep in oxygen-deprived realms, they draw energy from these minerals, influencing not only the sediment's geochemistry but also the very availability of these metals to other organisms. So, in this vast elemental concert, how do bacteria, in all their diversity, come together to maintain Earth's delicate balance? The magic lies in their collaborative essence. Each bacterial ensemble sets the stage for the next, fostering a continuity in the planet's elemental cycles. This harmonious flow, this give and take, ensures Earth remains a fertile ground for life's myriad expressions. To understand bacteria in these cycles is to appreciate a grand orchestration. Each bacterial note, every microbial movement contributes to a planetary symphony. The equilibrium, the exchanges, and the equilibrium, all choreographed by these tiny maestros, accentuate their unparalleled role in scripting Earth's living narrative. Every discovery in this realm enriches our understanding, drawing us closer to the heart of our planet's elemental essence and the bacteria that underpin it.
Bacteria, those unsung custodians of our planet's ecological balance, play multifaceted roles that stretch beyond the mere cycling of elemental compounds. With each uncovering, we find these microbial maestros crafting an ecological tapestry that's both vast in scale and profound in its intricacies. In the soil, a realm often taken for granted, bacteria serve as the stewards of fertility. Here, they break down complex organic materials, turning fallen leaves, decaying plants, and perished organisms into nutrient-rich humus. This act not only recycles vital nutrients but also ensures soil remains a nurturing cradle for new life. By producing natural antibiotics, certain soil bacteria ward off pathogenic entities, acting as sentinels that maintain a balance between benign and harmful microbes. Venture into the aquatic domains, and bacteria reveal another facet of their ecological prowess. In the vast expanses of our oceans, certain bacterial communities form symbiotic relationships with marine sponges, corals, and even some fish. Their partnerships range from aiding in digestion to providing defense against potential predators, ensuring the survival and prosperity of their marine hosts. Amid plant roots, a fascinating dance unfolds. Rhizobacteria form close-knit associations, enhancing plant growth by producing growth-promoting substances. These relationships not only bolster plant health but can also protect them from potential diseases, acting as an unseen shield.
In the grand theater of Earth's atmosphere, bacteria don a different hat. Some airborne bacteria serve as nuclei around which water droplets coalesce, playing a pivotal role in cloud formation and precipitation processes. This bacterial ballet in the sky, while subtle, has implications for our planet's climate and water cycle. Delving deeper, into the very guts of many organisms, bacteria emerge as indispensable allies. In animal intestines, they assist in digestion, breaking down complex molecules that the host cannot process on its own. Their presence also helps in synthesizing essential vitamins and in training the host's immune system, crafting a delicate internal equilibrium that ensures health and well-being. In extreme environments, from the fiery depths of hydrothermal vents to the icy confines of polar ice caps, extremophilic bacteria thrive. Here, they not only showcase life's tenacity but also play roles in mineral transformations and energy flows, which, while lesser-known, are fundamental to those ecosystems' very existence. Beyond the physical, bacteria play a silent role in regulating Earth's greenhouse gases. Methanotrophs, for instance, consume methane, a potent greenhouse gas, preventing its excessive build-up in the atmosphere, thereby acting as guardians against accelerated global warming. With each chapter of exploration, the narrative of bacteria unfolds like an endless saga, each tale more captivating than the last. Their roles, diverse and critical, weave together the threads of ecology, ensuring balance and harmony. As we continue to unravel the myriad functions of these microbial wonders, we are reminded time and again of their essential contributions to the delicate dance of life on our planet.
Bacteria raise an intriguing conundrum when pondering their origins and functions. These minuscule powerhouses perform a myriad of tasks, each so vital that the removal of even one function could send ripples across entire ecosystems. One cannot help but marvel at the precision with which they operate. How did these organisms come to occupy such diverse and indispensable niches? Consider the complexity of their roles in elemental cycles. Bacteria transform the abundant, but chemically inert, atmospheric nitrogen into forms that can be assimilated by plants. Without this bacterial gateway, terrestrial life as we know it would face an insurmountable hurdle. Similarly, their hand in the carbon cycle ensures that carbon flows seamlessly between the atmosphere and living organisms. Their roles in sulfur cycling, metal transformations, and even in maintaining soil health underline their ubiquity and indispensability. Now, when one juxtaposes these multifunctional bacteria with the concept of a gradual evolutionary process, a paradox seems to emerge. If bacteria evolved their functionalities independently and over prolonged epochs, how would the early Earth sustain other emerging life forms dependent on these very functions? The systems appear too interconnected, almost like a web where every strand relies on the other for stability. If one function of bacteria were to emerge significantly later than another, wouldn't that jeopardize the balance of the entire system? For instance, without bacteria's involvement in the nitrogen cycle from the very outset, plants would lack the essential nitrogenous compounds required for growth. Without plants, herbivores would not thrive, and this would, in turn, impact carnivores. Similarly, if bacteria involved in the decomposition of organic matter were to 'arrive' on the scene much later, the Earth would be littered with unprocessed organic waste, affecting the overall health and fertility of the ecosystem.
This leads to the notion that bacteria, with their wide array of functions, might not have evolved these roles in isolation or over fragmented timelines. Instead, the emergence of their functionalities could hint at a more synchronized process. The delicate balance of ecosystems seems reliant on the simultaneous or near-simultaneous evolution of bacterial functions. If not, how would the balance of life be maintained? This perspective opens the door to a broader contemplation on the nature of life's origins and the possible mechanisms that brought forth the dynamic equilibrium we observe today. Perhaps it's not just about the "how" but also the "when" and "in what sequence."  The roles of bacteria, with their vast array of functions that appear indispensable to the planet's balance, seem almost too perfect to have been a result of fragmented evolution over eons. Such profound symbiosis and mutualism demand a reconsideration of our understanding of life's inception.
Enter the narrative of Genesis, a foundational text of many cultures, which suggests a simultaneous creation event. In this telling, life's myriad forms and functions were crafted not over epochs, but in a harmonious, purposeful act. This view, when contrasted with the intricate dance of bacteria and their roles, provides a perspective where the pieces fit together seamlessly. If all were created in tandem, the complex web of dependencies we observe today - the roles of bacteria in elemental cycles, their collaboration with viruses in shaping genetic landscapes, their pivotal roles in atmospheres and in the depths of oceans - all find a coherent and synchronized origin story. Viruses, often viewed as the shadowy counterparts to bacteria, add another layer to this puzzle. While they lack the independent life processes of bacteria, viruses influence the microbial world profoundly, often driving evolutionary processes, shaping genetic diversity, and even modulating bacterial functions. The intimate dance between bacteria and viruses, their codependencies, and the resulting impacts on larger ecological systems seem so finely tuned that a gradual, independent evolution becomes hard to fathom. How could such interdependence arise if not by some orchestrated design or simultaneous emergence? Genesis, in its poetic narrative, offers an alternative perspective to the slow chiseling of life over billions of years. It suggests a world where the skies, lands, waters, and all living entities emerged in harmony, each element and organism crafted to play its part in the grand symphony of life.  Could it be that the harmonious interplay we observe in the microbial world, their roles so finely interwoven, points towards such a purposeful act? The narrative of simultaneous creation offers a lens through which the precision, balance, and beauty of life's systems can be viewed as parts of a grand design, a purposeful act of creation where every entity, from the smallest bacterium to the most complex mammal, was envisaged to play its unique role in the masterpiece that is Earth.
Characteristics
Cell Structure:
Bacteria are prokaryotic, which means they lack a defined nucleus. Instead, their genetic material floats freely in the cytoplasm.
Cell Wall:
Most bacteria possess a cell wall made of peptidoglycan. This feature distinguishes them from the archaea, which have cell walls lacking peptidoglycan.
Shapes:
Common bacterial shapes include coccus (spherical), bacillus (rod-shaped), and spirillum (spiral). However, a variety of other shapes also exist.
Reproduction:
Bacteria primarily reproduce asexually through binary fission, a process where a single cell divides into two identical daughter cells.
Mobility:
Some bacteria are motile and move using structures such as flagella or pili.
Metabolism:
Bacteria exhibit a diverse range of metabolic activities. Some are photosynthetic, some break down organic compounds for energy, and others can obtain energy from inorganic compounds.
Gram Stain:
Bacteria can be classified as either Gram-positive or Gram-negative based on their reaction to the Gram stain. This staining distinction is due to differences in their cell wall structure and has implications for antibiotic sensitivity.
Ecological Role
Decomposers:
Many bacteria play a vital role in breaking down organic matter, recycling nutrients in ecosystems.
Symbiotic Relationships:
Some bacteria form symbiotic relationships with other organisms. For example, many plants have nitrogen-fixing bacteria associated with their roots.
Pathogens:
While many bacteria are harmless or beneficial to humans, some can cause diseases.
Bacteria are incredibly diverse, playing a variety of roles that are essential to ecosystem function and human survival. While some bacteria can cause disease, many others are beneficial and have been harnessed for their beneficial properties in medicine, agriculture, and industry.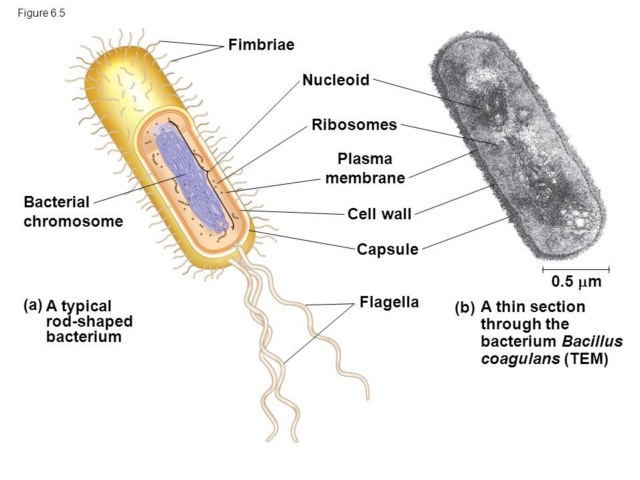 List of bacterial-specific structures 
Many of the structures are also found in other types of cells but might differ in composition or function. Included are molecules, processes, and components that are essential to bacterial function and survival, and are either unique to bacteria or have unique bacterial characteristics.
1.
Actin Cytoskeleton:
Analogous to eukaryotic actin, these proteins help maintain cell shape in certain bacteria.
2.
Akinetes:
Resting, spore-like cells of certain cyanobacteria.
3.
Bacteriochlorophyll:
A photosynthetic pigment in photosynthetic bacteria, distinct from chlorophyll in plants.
4.
Bacteriocins:
Proteinaceous toxins produced by bacteria to inhibit the growth of similar bacterial strains.
5.
Bacterial microcompartments:
Proteinaceous compartments in bacterial cells for specific metabolic pathways.
6.
Bioluminescence:
Light production in certain marine and terrestrial bacteria.
7.
Capsule:
A gelatinous layer enveloping the cell wall in some bacteria.
8.
Carboxysomes:
Microcompartments containing enzymes for CO2 fixation.
9.
Chemotaxis:
Movement of a bacterial cell in response to chemical gradients.
10.
Conjugation Pilus:
Hollow tube used for DNA transfer during bacterial conjugation.
11.
Core Lipopolysaccharide:
An essential component of the outer membrane of Gram-negative bacteria.
12.
Cyanophycin:
A reserve polymer in cyanobacteria.
13.
Endospore:
A tough, dormant structure formed for survival under adverse conditions.
14.
Exopolysaccharides:
Polysaccharides secreted by bacteria.
15.
Fimbriae:
Short bristle-like proteins on the cell surface, aiding in attachment.
16.
Flagellum:
A rotary filament for bacterial locomotion.
17.
Gas Vesicles:
Buoyancy providing structures in some aquatic bacteria.
18.
Glycocalyx:
A protective, viscous layer outside the cell wall.
19.
Granules:
Storage structures for nutrients or reserves.
20.
Hopanoids:
Molecules that modulate membrane rigidity in bacteria.
21.
Inclusion Bodies:
Aggregates of biologically inert material.
22.
Intracytoplasmic Membranes:
Foldings of the plasma membrane in some bacteria.
23.
Lipopolysaccharide (LPS):
A major component of the outer membrane of Gram-negative bacteria.
24.
Magnetosomes:
Organelles in magnetotactic bacteria containing magnetic crystals.
25.
Mesosome:
Membrane foldings in bacteria.
26.
Mycolic Acid:
Waxy substance in the cell walls of Mycobacterium species.
27.
Nanowires:
Electrically conductive pili in some bacteria.
28.
Nucleoid:
Region containing the bacterial chromosome.
29.
O antigen:
Component of the lipopolysaccharide layer of the bacterial outer membrane.
30.
Pili:
Protein filaments extending from the cell surface.
31.
Plasmid:
Circular, double-stranded DNA molecule distinct from the bacterial chromosome.
32.
Poly-beta-hydroxybutyrate (PHB) granules:
Storage polymers in some bacteria.
33.
Porins:
Protein channels in the outer membrane of Gram-negative bacteria.
34.
Quorum Sensing:
A system of stimulus and response correlated to population density.
35.
Ribosomes:
Structures responsible for protein synthesis.
36.
S-layer:
A paracrystalline protein or glycoprotein surface layer found in many bacteria.
37.
Secretion Systems:
Protein complexes for transporting molecules.
38.
Sex Pilus:
Pilus used in conjugation to transfer DNA.
39.
Storage Granules:
Nutrient storage structures.
40.
Teichoic and Lipoteichoic Acids:
Polymers in the cell walls of Gram-positive bacteria.
41.
Thylakoids:
Membranous structures in cyanobacteria containing photosynthetic pigments.
42.
Twitching Motility:
A type of bacterial movement on surfaces.
43.
Type III Secretion System:
A needle-like structure in some bacteria to inject effector molecules.
44.
Volutin Granules:
Metachromatic granules containing polymerized metaphosphate.
45.
Xanthophylls:
Yellow pigments in some photosynthetic bacteria.
46.
XoxF-type Methanol Dehydrogenase:
An enzyme in methylotrophic bacteria.
47.
Yeast Extract:
Used as nutrition in bacterial growth media.
48.
Z-ring:
A structure formed by the FtsZ protein in bacterial cell division.
49.
Ziehl-Neelsen Staining:
A staining technique for Mycobacterium.
50.
Zoonotic Transmission:
Transmission of infectious agents from animals to humans.


Last edited by Otangelo on Sun Sep 17, 2023 8:59 pm; edited 6 times in total