Evidence that the earth is Young
 1
https://reasonandscience.catsboard.com/t2217-evidence-that-the-earth-is-young
The Theological Importance of Recognizing Adam and Eve as Historical Persons.
If you deny a real Adam and a real Eve, many of the doctrines of the Bible (including the gospel) would be inconsistent. On many occasions, New Testament authors connect a historical Adam and Eve to the fundamental doctrine and it makes no sense if Adam and Eve were mythological.
Consider the following passages that refer to a historical Adam and Eve.
Jesus affirms the special creation of Adam and Eve at the beginning (Mark 10:6).
Luke connects Jesus' human lineage to Adam (Luke 3:38).
Jesus links the doctrine of marriage to Adam and Eve (Matthew 19:4–6).
Paul connects church doctrine to Adam and Eve (Ephesians 5:30–32).
Paul defends the family order because of Adam and Eve (1 Corinthians 11:8–12).
Paul attributes the origin of sin in the world to Eve (1 Timothy 2:13–14).
Paul also connects death for sin to Adam (Romans 5:12–14).
By connecting to their actual existence and activities, the New Testament overwhelmingly affirms the historicity of Adam and Eve.
- Soft tissue in dinosaurs
- Evidence of Noah's flood ( many ancient civilizations have reports on the great flood )
- Noah's ark found on Mount Ararat
- Mitochondrial DNA
- The faint sun paradox
- Granite which makes up most of the continental crust cannot be formed from a melt state. Deep Time says the earth was molten at the formation of the earth.
- Polonium radiohalos
- 
the Mayan calendar began on 13 August 3114 B.C. Hindu Kali Yuga calendar began on 18 February 3102 B.C. Hebrew calendar now year 5773. Chinese calendar year 4709 B.C. Civilizations thousands of miles apart, different races, culture, and religions.
- Any oil beyond a few thousand years old would be totally degraded or consumed by hungry microbes 1
There are many lines of scientific evidence for a young earth of just a few thousand years old. Here are just some of the best ones.
1. Radiogenic helium from the Helium Diffusion Dating method far exceeds what should be present in zircon. Given the known thermal history of these sites, helium diffusion rates match YEC predictions exactly, but are off by a factor of 100,000 from old earth predictions.
2. Soft tissue in dinosaur remains. All the decay studies on proteins show they cannot remain intact for more than 1-2 million years, even under the most ideal circumstances. Yet we find intact proteins in soft, stretchy tissue in dinosaur bones that have experienced very sub-optimal conditions such as water, bacteria, freeze-thaw cycles, and summer heat.
3. C-14 in every natural carbon source regardless of supposed age, including coal, dinosaur bone, and diamond. The amount of subterranean radiation that would be necessary to produce this would make these sites very productive uranium deposits.
4. Salt in the ocean. The ocean grows saltier over time because water evaporates while salt does not. Even the most conservative estimates, with the most generous assumptions for long ages, give a maximum age for the oceans of around 60 million years.
5. Cold slabs of continental crust deep in the mantle. At present subduction rates, these slabs should reach thermal equilibrium with the surrounding mantle rocks as quickly as they are subducted, but instead are more than a thousand degrees C cooler.
6. Recession rate of the moon. The moon grows farther away due to tidal friction. The measured rates of recession are not consistent with the proposed age of the earth-moon system.
7. Expansion rates of supernovae remnants are consistent with young earth chronology.
8. Mitochrondrial DNA shows that the most recent female ancestor of all humans lived about 6,000 years ago, and that all humans have since descended from one of three women (Noah's daughters in law). This clock comes straight from measured mutation rates applied to the measured differences in mitochondrial DNA among humans. In other words, unlike the official age given to "Mitochondrial Eve" in the mainstream model, this calculation is based solely on data rather than fudge factors.
9. The earth's crust is literally covered with evidence of a global flood. This includes many separate features such as rapidly buried organisms, ephemeral markings like ripple marks and animal tracks, the huge lateral extent of individual layers (often covering hundreds of square miles and crossing continents), polystrate fossils, lack of erosion between layers, folding of multiple layers together, the predominance of aquatic fossils, sequence of fossils consistent with a flood scenario, and many other lines of evidence. If Genesis did not mention a global flood, then secular geologists would have adopted that as the best explanation of earth history long ago.
Creationism Revisited – 2020 – A Defense of Recent Creation by an Agnostic By James Stroud
https://www.tiptopwebsite.com/files/knightsofgod3.pdf
About radiometric dating:
how do you know radioactive decay rates have been constant for billions of years? Especially when we find examples of decay rates changing in electrical fields, or in correlation to solar activity? Do you know when the last time the decay of uranium 238 was actually counted? The only way science refutes a young earth is if you assume dozens of assumptions are correct. If even one of them is wrong, the whole house of cards comes tumbling down. The circular reasoning used to link radiometric dates with the geomagnetic polarity timescale with dendrochronology is just silly. And as far as astronomy goes, nothing beyond the range of parallax can be known for certain, because there is no way to check our assumptions about color and intensity.
- at the current rate of erosion the entire earth would have been eroded flat several times over in the long age model
- the magnetic field has been decaying for as long as we have been measuring it. Using uniformitarian assumptions, back millions of years ago the earth's field would have been so strong as to melt it.
- the moon is receding from the earth Millions of years ago it would have been close enough to have been captured by the earth's gravity
- the rate of salination and desalination of the earth's waters don't match where they should be in long ages
- the human genome is decaying at an approximate rate of 100-300 inheritable mutations per generation. To paraphrase one prominent evolutionary geneticist 'why haven't we gone extinct several times over?
- every single member of the famous 'monkey parade' is classified either as an ape or human. Nothing in between
- living fossils, punctuated equilibrium, stasis, homology, homoplasy, and so on are just-so stories fabricated to explain the data which don't match the evolutionary hypothesis
- magnetic fields in planets which should not have them
- the Cambrian explosion, as mentioned
- soft tissue, proteins, and DNA in over 40 dinosaur bones - not fossils
- c14 (or 14c, depending on how you want it) found in coal, diamonds, and bones, when NONE should exist even if they're 'only' 100,000 years old
- comets (as you mentioned)
- flat gaps (such as between the Hermit Shale and Coconino Sandstone) extend for hundreds of miles, undisturbed by any signs of erosion, animal burrows, etc
- Sloan Sky Survey indicates concentric circles (likely spheres) of galaxies roughly centred on our galaxy
- virtually all of the fossil record has been buried by water-borne sediment in a catastrophic event
- planation surfaces, erosional remnants, water gaps, and many other geological features defy long-age explanations, but are often well-explained with an understanding of global flood dynamics
- radiometric dating has given wildly erroneous ages for rocks of known age, and the SAME rocks tested with different methods have yielded wildly different ages as well
- the MZT (maternal to zygote transition) effectively prevents the child from taking over its own development until a certain stage has been reached. Also, the 'framework' for the 'grandchild' is transferred with similar protection, such that evolution could not possibly work, as changes are required in successive generations. This also applies to plants
- historical records of all European people groups trace their ancestry back to the sons of Noah
- some 400-500 cultures have similar flood stories around the world
- thousands of artifacts, sculptures, carvings, and drawings indicate dinosaurs lived at the same time as humans
- Marco polo describes what sounds a lot like a T-Rex
- Japanese and Hebrew letter forms bear striking resemblances
- ancient Chinese characters support a flood narrative, and a creation account, built right into their letter forms
- the origin of languages is a huge mystery for long-agers, but entirely supports a post-flood dispersion and confusion of languages as described at Babel
If the earth is about 6,000 years old, day 6 is right at the beginning of creation. If it is 4.56 billion years old, the creation of Adam and Eve were right at the end of creation, last few seconds.
And if Adam and Eve were created on the 6th 24 hour day, standing on top of thousands of feet of dead things, including dead hominids, from which Hugh Ross says we descended, death came before sin.
And God called everything He had made very very good at the end of day 6. So He calls millions of years of suffering, cancer, thorns predation, and death, very very good, if the fossil record was laid down before Adam sinned.
Romans 5: 12 Therefore, just as sin came into the world
through one man,
and death through sin, and so death spread to all men because all sinned—
18 Therefore, as one trespass led to condemnation for all men, so one act of righteousness leads to justification and life for all men.
19 For as by the one man's disobedience the many were made sinners, so by the one man's obedience, the many will be made righteous.
Death before sin undercuts the foundation of the gospel itself.
Whether a day means a 12-hour workday, a 24-hour solar day, a period of time, "in David's day", his lifetime or a specific time is demonstrated by the context more clearly in Hebrew than it commonly is in English.
The Hebrew word Yom, day, is used 2301 times in the Old Testament. We know precisely in what sense the word is used everywhere, except, of course, in Genesis 1
Sometimes the word means "time" in the day of the Lord" or "in the day(s) of the Judges" where the word is not plural in Hebrew, the word means "time"
So how do we determine when the word means a literal 24 hour period?
Outside of Genesis 1,
The word is used 410 times with the word day PLUS A NUMBER, and it always means a 24 hour period.
The word Yom is used WITH EVENING AND MORNING 38 times and always means a 24 hour period.
It is used WITH MORNING 23 times and WITH EVENING 23 times and each time it means an ordinary day.
The word day is used WITH THE WORD NIGHT 52 TIMES and each time it means a 24 hour day.
To sum up, outside of Genesis 1, Yom means 24 hours when it is used with a number (six days), whenever the phrase "evening and morning" or "evening" or "morning" is used with yom, and whenever the word is used with the word night.
No one ever questions whether Joshua might have marched around Jericho for 100,000 years or millions of years because day with a number always means a 24 hour period or daylight period.
What if we apply these tests to Genesis 1, we have in Genesis 1: 5, night, evening, morning number, 1:8, evening, morning, number, 1:13, evening morning number, 1:18, evening, morning, number, 1:23, evening morning number, and 1:31, evening morning number. So God's intention is clear.
Lindsay Harold: YEC is definitely defensible on evidential grounds, but it's difficult to make the case to most people because it takes digging into multiple lines of evidence and looking at a cumulative case of which explanation fits the most observations. Both sides have unanswered questions. There's no easy, slam dunk position. It's about weighing the overall case. And it requires understanding the difference between data and interpretation. Most people don't have the patience to learn all that, so they just follow the mainstream consensus and figure that many people couldn't be wrong. Or they just stick to the straightforward Biblical interpretation and figure scientists must be wrong. Few actually study the scientific evidence deep enough to decide on evidential grounds.
Radiocarbon dating is not trustworthy:
Mathematically, you can extrapolate functions backwards, including decay curves. However, that does not mean the time periods you extrapolate into actually happened. I'm a physicist and I have to say that the modern radioactive techniques are ingenious, but they all have assumptions, not the least of which is that "deep time" happened. If there is a recent t=0 for earth history then the dating methods are calculating back into negative time. Mathematically okay, but meaningless.
Some facts to ponder re radiometric dating:
* Mt. Etna – erupted 2100 years ago, but rocks were dated 25 million years ago.  
* Sunset Crater, Northern Arizona – erupted in 1065 AD, but rocks were dated 200,000 years old.  
* Lava flows at Mt. Ngaurhoe, New Zealand – erupted in 1949, 1954, but rocks dated 275,000 yrs old.  
* Hualalai basalt, Hawaii erupted 200 years ago, but rocks were dated 1.4 to 22 million yrs old.  
* Mt. Etna basalt, Sicily, erupted in 1971, but rocks were dated 140,000 to 350,000 yrs old.  
* Mount St. Helens erupted in 1980, but rocks were dated up to 2.8 million years old.
What does this say about the accuracy of our dating methods?
Arnold G. Fruchtenbaum 
The Book of Genesis Dr. , page 73 
One more point needs to be discussed before dealing with the actual six days of creation relative to the Hebrew word for "day," which is yom. People who want to fit Genesis 1 into evolutionary and geological theories try to claim that the word yom does not have to mean twenty-four hours but could mean a longer period of time, even millions of years. Now it is true that when the word yom is used by itself it could mean a longer period of time (though no example exists where it means millions of years). For example, the Day of Jehovah is a period of seven years. However, whenever the word is used with a number or numeral, it always means twenty-four hours. Throughout Genesis 1, each time the word day is found; it is used with a numeral: day one, day two, etc. This alone shows that the days of Genesis are twenty-four hour days. However, there is more: Not only is the word day followed by a numeral, it is also followed by the phrase evening and morning, and this phrase again limits it to twenty-four hours. Furthermore, the Sabbath law, as given to Israel in the Law of Moses, is based upon the six days of creation and the seventh day of rest. These laws would become meaningless if these were not twenty-four hour days. Finally, with the fourth day, there is the mention of days, years, signs, and seasons, showing that already within Genesis 1 there is the normal system of time in operation. These terms also would become meaningless if these were not normal twenty-four hour days. By itself, Genesis 1:2 says nothing insofar as it being an old earth or a young earth, and the evidence for one or the other must be based on arguments outside this verse. However, the six days of creation were literal twenty-four hour days.
https://libgen.pw/view.php?id=929039
Faulkner,
Universe by design, page 101
The first chapter of Genesis tells us that the creation was accomplished in six days, which would seem to contradict the vast periods of time that would be necessary for the big bang and an old earth. Nearly all who are old universe, old-earth creationists respond by appealing to the day-age theory, that the days of creation were vast periods of time. They point out that the Hebrew word for day, yom, can mean a period of time. That claim is true, but an important question is whether this is the intended meaning in Genesis chapter 1. There are compelling reasons that the days of the creation account are meant to be 24-hour days. On the first day of the creation week, light was created and was separated from darkness. God called the dark night and the light He called day. A verse later the text states that there was evening and morning of the first day. There are no verse divisions or punctuation in the Hebrew, but it is very clear from the context that all of the discussion of the first day represents a thought, perhaps equivalent to a paragraph in English. To use a single word with two very different meanings within a thought without clarifying which meaning is intended in either case would be very confusing and thus is sloppy writing. The first use of the word "day" is in the context of daylight and dark, and according to all rules of interpretation, grammar, and style, this is the definition that should be observed in what follows, but especially within that thought.
Each of the days of creation is preceded by an ordinal, or number (first day, second day, etc.). In ancient Hebrew when an ordinal is used with a day, it almost always refers to a 24-hour day. Some proponents of the day-age theory respond to this by pointing out that the only text of ancient Hebrew that we have is the Old Testament, and while that rule may be followed elsewhere in the Bible, is there any guarantee that that rule is indeed a rule of ancient Hebrew? That question can be answered several ways. One is to point out that Scripture must be interpreted with Scripture. If the rule concerning ordinals applies elsewhere, it should apply in the Creation account as well. Second, we do have examples of other ancient, non-Hebrew, Semitic texts, and they apparently follow this rule as well. Third, this is a rule generally followed in all languages. There is nothing mysterious about the Hebrew word yom — it has many of the nuances of our English word day. In English, if one numbers days, it is universally understood that 24-hour days are what is meant.
Exodus 20:11 states "For in six days the Lord made heaven and earth, the sea, and all that is in them, and rested on the seventh." This was written in the context of the command to observe the Sabbath. It is obvious that the Hebrews' workweek was six days. If the model that the Hebrews were to follow was the creation week, then it makes no sense that the days were long periods of time. The exegesis of day-age gets a little weird here, for it would lead to the nonsensical statement that first the Lord created in six time periods, and then much later He used this motif when giving the Law to the ancient Hebrews to hold His people to a very strict and literal interpretation of the demands of a seven-day week, but the model upon which it was based is to be taken rather loosely.
This brings us to another objection to the day-age theory. When the modern version of the day-age theory began to be developed in the 19th century, it was hoped that the days of creation could be matched to geological ages. However, when one carefully compares the details of what modern science says about the history of the earth with the biblical creation account, one finds that there are marked differences. For instance, not only were plants created before the sun (the third day as opposed to the fourth day), but also the plants that are specifically mentioned are flowering plants, plants that according to evolution appeared very late, after the time of many of animals created on days 5 and 6. There are many other examples.
Given that the events of the six days of creation cannot be matched to the order of events that science professes, the original attempt to match creation days with geologic ages has utterly failed.
However, the proponents of the day-age theory press onward anyway. How do these people propose to do this? Hugh Ross, one of the leading proponents of the day-age theory today, has taught that the days of creation overlapped, so that creative acts of single days actually happened over several days. For example, Ross claims that dinosaurs, which as land creatures were created on day 6 according to Genesis, were created on day 5. How did Ross discover this? Unfortunately, not by studying the Bible, but instead by studying science and imposing his preconceptions and conclusion upon the Bible. In the absence of the pronouncements of modern science about origins, it is inconceivable that anyone would come up with such an understanding of the creation account. With such loose rules of interpretation, anything is possible. This sort of Bible exegesis would be viewed as heretical if applied elsewhere, but is ignored here because the alternative would not be palatable to so many.
Rick Swindell
  The
influx of salt into the oceans
from all sources set at its absolute minimum and all possible sources of escape of salt from the ocean set at their absolute maximum give an upper limit to the age of the earth's oceans at 62 million years from a single differential equation, much too little time for evolution. The recession of the moon from the earth is caused by the the tides that the moon pulls along since the earth rotates faster than the moon revolves about the earth. This tidal force pulls on the moon and accelerates it, (when the astronauts want to go up in orbit, they accelerate).  Since this rate of recession is varying constantly, decreasing constantly because the gravitational force is measured as the mass of object 1 times the mass of object 2 times the gravitational constant divided by the radius between the centers of mass squared, the further apart the objects are the smaller the gravitational pull and the less the force between them. If you do the math correctly this puts an upper limit to the amount of time the moon has been moving away from the earth at about 1.4 billion years, at which point it would have fallen into contact with earth.  These are only two of the ways the age of the earth can be measured and there are many others that set much shorter possible upper limits on its age. The question about the age of the earth and the universe is a major reason that naturalists use to justify their rejection of the Bible. They think it contrasts scientific consensus, and geologic dating methods are more relevant and trustworthy than a book written thousands of years ago by sheep herders. It is actually an integral point in the framework of atheistic thinking. Since the bible got it wrong, and the earth cannot be six thousand years old, the entire bible amongst other fairies, like talking snakes, can be rejected - so they think. And remain by it, without looking further if an explanation without a creator makes sense. Even most of the intelligent design people, many of whom I very much respect, believe in
ancient earth
. But it is apparent to me that they are not reading what the creationist papers are saying. Radiometric dating doesn't work.
It should not work in theory because the assumptions behind it are either known to be false or impossible to know whether they are true or not. A volcano at the top of the Grand
canyon
dates from its lava flow very close, just a little older, than the age of the basal rocks beneath the Cambrian level, and that by isochron dating repeated 5 times. Rocks that have appeared in human history date 99% of the time in the hundreds of thousands, millions, and even occasionally billions of years. The atheists get angry and say we know radiometric dating does not work for very young rocks.  Why should we trust it for rocks we don't know the age of? We find high levels of carbon 14 in what are supposed to be
billion year old
diamonds, where the lattice is too strong for contaminants to enter. We find about the same levels of carbon 14 in oil and coal, which are supposed to be hundreds of millions of years old. If the entire earth were made of carbon 14 there would not be a single atom of it left after a million years Soft tissue has been found in a great many dinosaur species now, and with several individuals from each of the several species, with proteins that we simply know cannot last for millions of years even under absolutely perfect conditions with respect to temperature and humidity. About 6 of these species, with samples from several individuals, have been carbon 14 dated by the Atlanta lab, the best in the country, and all dated between about 20,000 and 40,000 years. When the lab discovered that the samples they were dating were dinosaur tissue they repudiated their own work. Creationists now have 3 different theories of how light can reach the earth quickly from stars millions of light years away
..
One might be right or none, but we know what the Bible says, and God cannot lie. I'm just getting started, but not many will read this much. Refuting Compromise, Dr. Johnathan Sarfati, Creation Answers Book, Genetic Entropy,
Dr
Johnathan Sanford, inventor of the gene gun, The Ultimate Proof of Creation, Dr. Jason Lisle. Starlight and Time, Dr. Russell Humphreys, the writings of Brian Thomas,
specialist
in dinosaurs at the Institute for Creation Research.
Charles Gillihan
 A seven day week was for our instruction to show us to be creative and have dominion over the created order and to cease this work on one day to worship God. An old-earth would not symbolize such.  Foremost is that allowing these days to be long periods of time undermines the foundations of the message of the Cross. If people use Scripture to try to justify that the days of creation are long periods of time, they usually quote passages such as 2 Peter 3:8, ". . . one day is with the Lord as a thousand years . . .." Because of this, they think the days could be a thousand years, or perhaps even millions of years. However, if you look at the rest of the verse, it says, ". . . and a thousand years as one day". The word, 'thousand' is symbolic. The bible says, 'the cattle on a thousand hills are the Lord's'. Psalm 50:10. If we take that literal, who owns the cattle on hill #1001? This particular verse is telling people that with God, waiting a day is like waiting a thousand years, and waiting a thousand years is like waiting a day because God is outside of time—He is not limited by natural processes and time. This has absolutely nothing to do with defining the days of creation. Every time the word yom is used with a number, or with the phrase "evening and morning', anywhere in the Old Testament, it always means an ordinary day. In Genesis chapter 1, for each of the six days of creation, the Hebrew word yom is used with a number and the phrase, "evening and morning'. There is no doubt that the writer is being emphatic that these are ordinary days. 
If you think about it, an infinite Creator God could have created everything in no time. Why, then, did He take as long as six days? The answer is given in Exodus 20:11. Here we find that God tells us that He deliberately took six days and rested for one as a pattern for man—this is where the seven-day week comes from. The seven-day week has no basis for existing except from Scripture. If one believes that the days of creation are long periods of time, then the week becomes meaningless. 
The Bible tells us that Adam was created on the sixth day. If he lived through day six and day seven, and then died when he was 930 years old, and if each of these days was a thousand or a million years, you have major problems! On the fourth day of creation (Genesis 1:14-19), we are given the comparison of day to night, and days to years. If the word "day" doesn't mean an ordinary day, then the comparison of day to night and day to years becomes meaningless.
One evidential fact not comfortable for atheists/evolutionists; the Mayan calendar began on 13 August 3114 B.C. Hindu Kali Yuga calendar began on 18 February 3102 B.C. Hebrew calendar now year 5773. Chinese calendar year 4709 B.C. Civilizations thousands of miles apart, different races, culture, and religions. If the earth is millions of years old, why did calendars wait so long to be formed?
Things are however far from that clear.
Most people go to school to learn a profession, which will permit them to get a decent job, make professional career, be successful financial wise - they grow in terms of professional education - but most remain like little babies in regards of forming a consistent epistemological framework that permits them to make safe conclusions on fundamental questions and aspects of life. Where do we come from, where do we go, what happens when we die, what is the meaning of life, does God exist, which is the right organized religion etc.
Usually, people give little importance to these questions, and go through life, without ever spending time and dedication to scrutinize the various models of thought coming from philosophy, theology, and science.
Most also pre-select, what fits THEIR needs, and adopt their world-view to what pleases them. It's like going to a three-star Michelin restaurant, and select the most tasteful menu. Presuppositionalism at its best.
The quest of the age of the earth is IRRELEVANT to elucidate if God does exist.
Try to infer the age of the earth by the scientific method, is like asking a layman that has very limited understanding about how an airplane is built, to visit a Boeing factory, showing him all the single parts of the airplane, and ask him to imagine how it is built together, and then infer what model the airplane is. It's a daunting task, basically impossible.
It's like you arrive at an archeological site, and find a fraction of the remainings of an artifact, and have to find out what it was. Fact is, many kinds of evidence are not available to us for scrutinize.
- the dating methods seem to presuppose and assume for example what radioactive elements were in the rock when it formed. And then, depending on the assumptions made, obtain any date.
- we do not know how long soft tissue like collagen can remain preserved.
- old earthers visit the Grand Canyon and think it provides hints to millions of years of sediment deposits
- young earthers visit it and think the opposite
- some old bones are found in Somalia, and some say they are apes, others argue they are our ancestors.
So that leaves ALWAYS room for speculation, and the " I am right " vs " no. I am right " kind of debates usually provide just frustration and mutual accusations, without changing the mind of anybody.
i remain without any conclusion based on science about the age of the earth. But based on what the bible tells me, as a matter of faith, I believe the earth is young.
The only reason I approach the issue from time to time is to advance my understanding of specific issues, but I don't think during my lifetime evidence will emerge, which will permit to make informed conclusions based on a clear picture. Fortunately, there are other topics of origins, where the situation is crystal clear like water from Swiss mountains.
The first question I ask when an atheist ridicules a young earth interpretation is if he has an education in geology and dating methods. If he doesn't ( which is 99,9% the case ), I deduce he is a gullible parrot that bases his position on blind faith, on hearsay, and based on that, he thinks he has a basis to make fun of others position.
Dr. T. J. Tofflemire 
EVIDENCES FOR GOD AND HIS CREATIONS: NATURE, THE FLOOD, AND THE BIBLE,  page 16
Mortenson noted the following in Chap 14 of his book Coming to Grips With Genesis, "Luther, Calvin and Wesley on the Genesis of Natural Evil." by T. Ury: The 3 founders above held Genesis 1-11 as real history and the flood as global and catastrophic(p.401). Wesley wrote about the 6 day creation, and also affirmed the flood as 1656 yrs. from the creation. Also Anglican bishop Hugh Latimer held this view. This was based on careful exegesis of the scriptures. Hall claimed in Chap. 2 of Mortenson (D. Hall p.53) that the reformation church fathers held to a 6 day creation. Also Thomas Horn, an Anglican, did a lengthy three volumes titled "Introduction to the critical Study of the Holy Scriptures" in 1818. A condensed version published in 1827 that was widely used in seminaries and also held this view. It was only after the scientific opinion shifted in the late 19th century, that other long age positions developed to accommodate a scientific view. Hall's write up covers 25 pages and 116 references in tracing the history of creation from Luther to Lyell. Dr. Morris(2007 p.26-32) notes that most of the other theological views of creation with long ages became popular after the theories of uniformitarianism and evolution became dominant; they are an attempt to make the Bible fit science. Snelling(p.186,479), in the section on geology, traces the history of these theories and how Lyell had a prior agenda to be rid of biblical geology and flood catastrophes. Lyell issued a false report on the erosion rate of Niagara Falls, which when corrected, fits better with biblical timelines (web 58).
Coming to grips with Genesis, Terry Mortenson, page 33
The important early North African Trinitarian theologian Tertullian (A.D. 115–222) asserted that the "whole orb" was "overrun by all waters." His proof was that "To this day marine conchs and tritons' horns sojourn as foreigners on the mountains, eager to prove to Plato that even the heights have undulated."82 Tertullian also referred to the deluge as "that world-wide calamity, the abolisher of all things."83
Tertulliam, On the Apparel of Women 1.3, in ANF, vol. 4.
Gregory of Nazianzus (A.D. 329–389) was a Bishop of Constantinople (380–381) and one of the anti-Arian "Three Great Cappadocian" theologians. Gregory pointed to Noah as having been "entrusted with the saving of the whole world from the waters" and as having "escaped the Deluge in a small Ark."84 And the great western theologian Augustine climaxed the fathers' affirmation that the Noachian Flood was worldwide. Augustine argued against an exclusively allegorical interpretation by asserting that the Flood was "so great" that its waters rose "fifteen cubits above the highest mountains."85 Further evidence of the fathers' consistency of the worldwide Flood view is given by Young, who relates that Procopius of Gaza (c. A.D. 465–528) in his Commentary on Genesis and Pseudo-Eustathius (n.d.) in his Commentary on Hexaemeron argue for the worldwide extent of the Flood by recalling that
marine remains (e.g., shells, various types of fish) had been found on high mountains. Pseudo- Eustathius claimed that the fish must have been "gathered together in the caves of the mountains when they were caught in the mud." Young notes that Pseudo-Justin (probably Theodoret of Cyrus — c. 393–466) was the only extant father to suggest the possibility of a local Flood.86
It now appears that the history of post-1800 exegesis is much like that: it has dodged one theoretical toss or thrust after another. In the process, these evolving-to-fit-current-theory views have become so contorted or mutated that the historic view is no longer recognizable. However, once realized, that should be a methodology to avoid.116
Genesis 1 and 2–3 as complementary accounts of the creation week
Biblical scholars often separate Genesis 1 from chapters 2–3, which actually begin at 2:4. The two accounts of creation are said to have come from different sources, but whatever original sources might have been used for these chapters by the editor of the text we have, they are now side-byside in the final form of Genesis, and are evidently expected to be interpreted in light of one another.
Traditionally, chapter 2 was understood by the rabbis to be a recapitulation of the sixth day of creation from chapter 1, in greater detail. The two chapters are tied together by 2:4, the first of ten editorial headings throughout Genesis. This poetic couplet introduces what follows as:  "These are the generations of the heavens and the earth when they were created // in the day that the LORD God made earth and heaven." This is not contradicting chapter 1 and saying that God made the world in one day rather than in seven. Rather, "the day" when earth and heaven were made, refers most naturally to one specific day from among the seven, and clearly not the final day when God rested from creating. The sixth day in Genesis 1 the only day of creation which is said to be "the day" (1:31), rather than "a day" – "a fifth day" – for all the others. The sixth day is also referred to using very similar language in 5:1-2, and the events of Genesis 2 closely reflect those of the sixth day in chapter 1 – the creation of man, woman and animals.
Some, however, object to seeing Genesis 2 as a retelling of the sixth day, pointing to contradictions between the two accounts: Genesis 1:11-12 puts the creation of vegetation on Day Three, but 2:5 suggests a lack of plants before man's creation. Genesis 1:24-27 has animals created before man on Day Six, but in 2:18-19, God creates them after declaring man to be lonely. Genesis 1:20-23 clearly states that fish and birds were created on Day Five, but chapter 2 equally clearly says that birds were created along with the animals after man's creation. As a fourth point, some also find internal contradiction within chapter 1, where light is created on Day One, before the creation of sun, moon and stars on Day Four. Do these four points prove that Genesis 1–3 was not intended to be read as a coherent story of the week of creation?
In fact, these supposed contradictions were explained by careful readers long before even the rabbis. First, cultivated crops ("plants of the field") as a distinct sub-category of vegetation (2:5; 3:18) were logically not created until after the man able to cultivate them, and similarly spiny desert shrubs growing "in the field" were a consequence of human sin according to chapter 3,23 even though other plants had existed on earth since the third day of creation. Second, Day Six in Genesis 1 records that mankind, male and female, was created after the animals. This is consistent with chapter 2, where 'mankind' was completed with Eve's creation, after the animals were made. A resolution to the third and fourth problems of the creation of birds and of light can be found in Psalm 104 – perhaps the earliest clear interpretation of Genesis 1–3 in its current form.
Contrary to what we've been told over and over by the mass media and the modern scientific establishment there are numerous Geophysical and astronomical plots which points to a young age for the earth solar system and the universe in fact such young indicators are actually in the majority but because the scientific establishment and the media are biased against a creator and because evolution requires an older to appear even plausible the public at large is rarely told about a mounting evidence that contradicts the believing and older and the many holes and evolution the scientific evidence actually points to a younger it is about 6,000 years old which would support the interpretation of six literal 24-hour days of Genesis creation as recorded in the Bible. 
We are looking at the same fossils we are looking at the same layers of sediments we are looking at the same radiographic dating of rocks no one disputes the facts the difference comes from how these facts are interpreted because no one was there to see what happened we cannot directly observe and measure history we must look at what we have in the present and follow that evidence to wherever it leads us and evidence for younger or outweighed billions of years while there are many many evidences for our young as along with the
5 evidences that the earth is about 6,000 years old
and not billion but I encourage you to look more into this as well the oldest living tree on earth is either an Irish oak or a Bristlecone pine if we assume a growth rate of one crewing per year then the oldest trees are between four thousand five hundred and four thousand eight hundred years old the fact that these trees are still alive and growing all there means that we don't yet know how old they will get before they die it also strongly suggests that something happened around four thousand five hundred to four thousand eight hundred years ago which caused the immediate ancestors of these trees to die off note also that it is possible for trees to produce more than one growth in per year which would shorten these estimated ages also with regard to fossil earrings
I have been unable to find any documented instance of fossil trees that be more than about 1,500 dreams this is significant since we are told that God literally made the earth and all that is in it only about 1800 years before Noah  so I described in the book of Genesis the Earth's magnetic field is decaying into rages about 5% every 100 years this means that about 1450 years ago it was sliced as strong as it is today and two thousand nine hundred years ago it was four times as strong thereforassuming that the rate of decay has been constant for the recent force then
only 10,000 years ago the Earth's magnetic field was 128 times as strong as it is today
so strong that the amount of heat produced would have prevented life as we know it from existing on earth at the very least this data suggested that life on Earth is not much older than about 10,000 years which fits in perfectly with the Bible and the young earth the fact
that the Earth's magnetic field is decaying is well-documented
this was brought out by a recent Nova special in fact at the present rate of decay the earth may not even have a magnetic field in 1,000 years from now and although the Nova special suggested that this may simply mean that the earth is getting ready for another reversal this still does not explain the implications of no life on Earth 
Only 10,000 years ago carbon-14 is produced in radiation from the Sun strikes nitrogen-14 atoms in the Earth's upper atmosphere the Earth's atmosphere is not yet saturated with c14 this means that
amount of c14 being produced is greater than the amount that it is decaying back to n 14 it is estimated at a state of equilibrium would be reaching as little as thirty thousand years thus it appears that Earth's atmosphere is less than 30 thousand years old in fact the evidence suggest is less than ten thousand years because it has not yet reached equilibrium
and also carbon-14 dating actually provides some of the strongest evidences for creation and the young earth
Radiocarbon cannot remain naturally in substances for millions of years because it decays relatively rapidly for this reason it can only be used to obtain ages in the range of tens of thousands of years scientists from the RIT II project examined diamonds that evolution is considered to be 1 to 2 billion years old and related to earth early history diamonds are the hardest known substance and extremely resistant to contamination through chemical exchange yet the RIT II scientists discovered significantly detectable levels of radiocarbon in these diamonds getting them to thousands of years
The gravitational pull of the moon creates a tidal bulge on earth that causes the moon to spiral outwards very slowly because of this effect the moon would have been closer to the earth in the fall based on gravitational forces and the current rate of recession we can calculate how much the moon has moved away over time if the earth is only 6,000 years old there is no problem because in that time the moon would have moved about 800 feet or 250 meters but most astronomy books teach that the moon is over 4 billion years old which poses a major dilemma less than 1.5 billion years ago the moon would have been touching the earth 
Today the Earth's population doubles every 50 years if we assume only half of the current growth rate and start with just one couple it will take less than four thousand years to achieve today's population a biblical age of the earth about six thousand years is consistent with the numbers yielded by such a calculation in contrast even a conservative evolutionary age of fifty thousand years comes out to staggering impossibly high figure of thing to the 99th power greater than the number of atoms in the universe clearly the claim that humans have inhabited the earth for chains or hundreds of thousands of years is absurd four thousand years after Noah's Flood puts perfectly
These are just a few of many more such as the agriculture is two reasons comets that disintegrated quickly and can't last more than 10,000 years oil that is still under pressure although after about ten thousand years little to no pictures should be left also the Sun is shrinking at the rate of five feet per hour that 11 million 200,000 years ago the Sun would have physically touched the earth and yet they claimed the Sun is billions of years old also in recent years there have been many findings of wondrously preserved biological material is supposedly ancient rock layers and fossils one such discovery that is less evolutionists scrambling is a
fossilized Tyrannosaurus Rex firmer with flexible connective tissue branching blood vessels
and even insect cells according to proponents of evolution these dinosaur tissues are more than 65 million years old but laboratory studies have shown that there is no known way and likely none possible or biological material to last more than thousands of years could it be that evolutionists are completely wrong about how recent these dinosaurs lived the biblical account of the age of the universe is well in accordance with the evidence God's Word is true and he created everything in six 24-hour days about 6,000 years ago but I encourage you to look more into this as well I will leave links in the description including 101 evidences the young thanks for watching guys may you all have a blessed day
the breakdown of the various calendars falling into the Biblical timeline.
" the Mayan calendar began on 13 August 3114 B.C.
Hindu Kali Yuga calendar began on 18 February 3102 B.C.
Hebrew calendar now year 5773.
Chinese calendar year 4709 B.C.
Civilizations thousands of miles apart, different races, culture, and religions....
From Adam to Jesus was a total of 4,000 years. Below is the Biblical chronology of this.
* Adam to Seth 130 yrs (Genesis 5:3) *
* Seth to Enos . 105 yrs (Genesis 5:6) *
* Enos to Cainan . 90 yrs (Genesis 5:9)
* Cainan to Mahalaleel.. 70 yrs (Genesis 5:12)
* Mahalaleel to Jared 65 yrs (Genesis 5:15)
* Jared to Enoch . 162 yrs (Genesis 5:18 )
* Enoch to Methuselah.. 65 yrs (Genesis 5:21)
* Methuselah to Lamech.. 187 yrs(Genesis 5:25)
* Lamech to Noah 182 yrs (Genesis 5:28-29)
* Noah to the Flood. 600 yrs (Genesis 7:6)
* Flood to Arphaxad . 2 yrs (Genesis 11:10)
* Arphaxad to Salah. 35 yrs (Genesis 11:12)
* Salah to Ebe... 30 yrs (Genesis 11:14)
* Eber to Peleg .. 34 yrs (Genesis 11:16) Peleg to Reu . 30 yrs (Genesis 11:18 ) *
* Reu to Serug 32 yrs (Genesis 11:20)
* Serug to Nahor . 30 yrs (Genesis 11:22)
* Nahor to Terah 29 yrs (Genesis 11:24)
* Terah to Abraham ... 70 yrs (Genesis 11:26)
* Adam to Abraham..... 1948 yrs (This same geneology is in Luke 3:34-38) Abraham to Isaac ... 100 yrs (Genesis 21:5) *
* Isaac to Jacob .... 60 yrs (Genesis 25:26) *
* Jacob to Egypt .. 130 yrs (Genesis 47:28)
* Abraham to Egypt 290 yrs *
From Egypt to Exodus ........ X yrs Jacob and his family went to Egypt Jacob went to Egypt (Genesis 46:8,11) Levi went to Egypt (Jacob's son) (Genesis 46:8,11)
Kohath went to Egypt (Levi's son) (Genesis 46:8,11) Kohath had a son named Amram (Exodus 6:18)
Amram had a son named Moses (Exodus 6:20) --- Moses to the Exodus ..... 80 yrs (Exodus 7:7) Acts 7:21-23, 29-30) From Egypt to Exodus: X = (Kohath to Amram to Moses ) In Wilderness ..... 40 yrs (Numbers 32:13, Deuteronomy 2:7, 29:5 *
* Wilderness to death Joshua ... 30 yrs (Joshua 14:7,10, 24:29)
Exodus to death Joshua 70 yrs PERIOD OF THE JUDGES Under King Cushanrishathaim .. 8 yrs (Judges 3:8 )
* Under Othniel .. 40 yrs (Judges 3:10-11) Under King Eglon.. 18 yrs (Judges 3:14)
* Under Ehud .. 80 yrs (Judges 3:15,30) Under King Jabid . 20 yrs (Judges 4:1-3) Under Debora.. 40 yrs (Judges 4:4, 5:31) * * Under Midianites ... 7 yrs (Judges 6:1)* Under Gideon... 40 yrs (Judges 6:7, 8:22,28 ) * * Under Abimelech ..... 3 yrs (Judges 8:32-35, 9:22) * Under Tola .... 23 yrs (Judges 10:1-2) * Under Jair..... 22 yrs (Judges 10:3)
* Under Ammonites..... 18 yrs (Judges 10:5-8 )
* Under Jephthah....... 6 yrs (Judges 12:7)
* Under Ibza.... 7 yrs (Judges 12:8-9)
* Under Elon .... 10 yrs (Judges 12:11)
* Under Abdon ...... 8 yrs (Judges 12:13-14)
* Under Philistines..... 40 yrs (Judges 13:1)
* Under Samson......... 20 yrs (Judges 13:24, 15:20, * 16:30-31)
Under Eli/Samuel ..... 40 yrs (I Samuel 4:15,18, *
* 7:15, 8:1,4-7,19-22, 9:1-2)
* Judges to Samuel 450 yrs (Acts 13:20) * THE KINGS OF JUDAh
* Under King Saul .... 40 yrs (Acts 13:21) *
* Under King David .... 40 yrs (I Chron 29:26-27) *
* Under King Solomon .... 40 yrs (I Kings 11:42-43) *
* Under King Rehoboam .... 17 yrs (I Kings 14:21) *
* Under King Abijam .... 3 yrs (I Kings 14:31,15:1-2)*
* Under King Asa ..... 41 yrs (I Kings 15:8-10) *
* Under King Jehoshaphat ....... 25 yrs (I Kings 22:41-42,50) *
* Under King Jehoram ... 8 yrs (II Chron 21:5) *
* Under King Ahaziah .... 1 yr (II Chron. 22:1-2) *
* Under Queen Athaliah .... 6 yrs (II Chron. 22:10-12) *
* Under King Joash ..... 40 yrs (II Chron. 23:13,15, *
* 24:1) *
* Under King Amaziah .. 29 yrs (II Chron. 25:1) *
* Under Uzziah ....... 52 yrs (II Chron. 26:3) *
* Under Jotham .......... 16 yrs (II Chron. 27:1) *
* Under Ahaz ........... 16 yrs (II Chron. 28:1) *
* Under Hezekiah ....... 29 yrs (II Chron. 29:1) *
* Under Manasseh ............... 55 yrs (II Chron. 33:1) *
* Under Amon ................... 2 yrs (II Chron. 33:20-21) *
* Under King Josiah ............ 31 yrs (II Chron. 34:1) *
* Under King Jehoahaz ..... 3 mon (II Chron. 36:1-2) *
* Under King Jehoiakim ........ 11 yrs (II Chron. 36:3-7) *
* Under King Jehoiachin ... 3 mon (II Chron. 36:9) *
* Under King Zedekiah ... 11 yrs (II Chron. 36:11-21) * KINGS OF JUDAH 513 yrs * SUMMARY OF THE TIME FROM ADAM TO JESUS Adam to Abraham..... 1948 yrs
Abraham to Egypt ................. 290 yrs
From Egypt to Moses: (X) Let X = 63 63 yrs * X = (Kohath to Amram to Moses) Moses to the Exodus..... 80 yrs
* Exodus to death Joshua ....70 yrs
Judges to Samuel .. 450 yrs (Acts 13:20) *
* Kings of Judah ................... 513 yrs Babylonian Captivity ............. 586 B.C.E. Adam to Jesus 4000 yrs
https://www.youtube.com/watch?v=Xq6kUbLzYCc&feature=youtu.be
https://www.youtube.com/watch?v=2QpE8mtRb1A&fbclid=IwAR1mnsggObdkRZXIDK8kSlI7KNFloC9WvhPFgMi81z_0I99WbcKlKudFy8o
Level 3
Zircon-Lead Ratios
Atmospheric Carbon
Earth's Magnetic Field
Amino Acid Racemization
Lunar Radioactive Heat
Zircon-Helium Ratios
Argon Diffusion
Coral Reefs
Ocean Salt
Lunar Gases
Lunar Isotopes
Lunar Phenomena
The Receding Moon
The Mississippi River
Mitochondrial DNA
The Cooling Earth
Ocean Sediments
Fossils Form Quickly
Atmospheric Oxygen
Organic Material in Fossils
Ocean Minerals
Dendrochronology
Earth's Slowing Rotation
Mountain Uplift Rate
Mutation Load
Fossil DNA
Fossils
Level 2
Planetary Diversity
Atmospheric Helium
Stone Age Skeletons
The Niagara River
Polystrate Fossils
Dead Sea Salt
Bent Strata
Meteorites
Topsoil
Level 1
Ocean Erosion
Continental Erosion
Missing Drainage Systems
The Oldest Recorded Date
Population Growth
Oil Seepage
Oil Pressure
Volcanoes
How does radiometric dating deceive so many? OEC's bought a shell game. There are 9 basic assumptions to radiometric dating, and it is inevitable that dating ranges get cherry-picked. fast releasing isotopes get skipped over before exhaustion.
1.  
https://libgen.pw/view.php?id=929039
1. http://straightforward.wikidot.com/young-earth-evidence
2. https://groups.google.com/forum/#!msg/talk.origins/PIbvWK5JL5U/y8jFrGkVzBAJ
http://kgov.com/list-of-not-so-old-things
A Brief Earth History
a survey of earth's geology through time and its possible causes
by Barry Setterfield
http://www.setterfield.org/earlyhist.html
The Seven Days of Creation in Ancient Israelite Thought
http://otsem.blogs.uni-hamburg.de/wp-content/uploads/2017/08/Patrick_Oxford_Seven-Days-of-Creation_Paper.pdf
Here are 18 evidences from various fields of science. See creation.com/age for 101 evidences (literally!).
https://creation.com/young-universe-evidence
Lazarus bacteria—bacteria revived from salt inclusions supposedly 250 million years old, suggest the salt is much younger.3
The decay in the human genome due to multiple slightly harmful mutations added each generation is consistent with an origin several thousand years ago.4
Dinosaur blood cells, blood vessels and proteins are not consistent with their supposed age, but make more sense if the fossils are young.5
Thick, tightly bent rock strata with no signs of melting or fracturing. These wipe out hundreds of millions of years of time and are consistent with extremely rapid formation during the biblical Flood.6
Polystrate fossils—for example, broken vertical tree trunks in northern and southern hemisphere coal that traverse many strata indicate rapid burial and accumulation of the organic material that became coal, eliminating many millions of years.7
Flat gaps—where one rock layer sits on another rock layer but with supposedly millions of years of time missing, yet the contact plane lacks significant erosion. E.g. Redwall Limestone / Tapeats Sandstone in the Grand Canyon (more than a 100 million year gap).8
The amount of salt in the world's oldest lake contradicts its supposed age and suggests an age consistent with its formation after Noah's Flood.9
Erosion at Niagara Falls and similar places is consistent with a few thousand years since the Flood.10
Measured rates of stalactite and stalagmite growth in limestone caves are consistent with an age of several thousand years.11
Carbon-14 in all coal suggests that the coal is only thousands of years old.12
The amount of helium, a product of decay of radioactive elements, retained in zircons in granite is consistent with an age of 6,000±2000 years, not the supposed billions of years.13
The amount of lead in zircons from deep drill cores vs. shallow ones is similar. But there should be less in the deep ones due to the higher heat causing higher diffusion rates over the long ages supposed. If the ages are only thousands of years, this would explain the similarity.14
Evidence of recent volcanic activity on Earth's moon contradicts the supposed vast age—it should have long since cooled if it were billions of years old.15
Presence of magnetic fields on Uranus and Neptune, which should be "dead" according to evolutionary long-age beliefs. Assuming a solar system age of thousands of years, physicist Russell Humphreys accurately predicted the strengths of the magnetic fields of Uranus and Neptune.16
Methane on Titan, Saturn's largest moon—it should all be gone in just 10,000 years because of UV-induced breakdown to ethane. And the large quantities of ethane are not there either.17
Speedy stars are consistent with a young age for the universe. For example, many stars in the dwarf galaxies in the Local Group are moving away from each other at speeds of 10–12 km/s. At these speeds, the stars should have dispersed in 100 million years, which, compared with the supposed 14 billion-year age of the universe, is a short time.18
Spiral structure in galaxies should be lost in much less than 200 million years. This is inconsistent with their claimed age of many billions of years. The discovery of 'young' spiral galaxies highlights the problem of the assumed evolutionary ages.19
The existence of short-period comets (orbits of less than 200 years), is consistent with an age of the solar system of less than 10,000 years.20
1) Israeli physicist Gerald Schroeder has an old Earth time dilation model that harmonizes the 6 literal days of creation with a 14 billion year old Universe (see: http://geraldschroeder.com/wordpress/?page_id=53 ). If you are determined to read Genesis 1 concordantly and are willing to go so far as to postulate time dilation to make everything work out, why not at least pick the cosmological model that better matches up with our current understanding of physics?
2) If you are willing to think outside the box and read the text non-concordantly, the Framework Hypothesis is very compelling and a beautiful way to read Genesis 1: https://www.opc.org/OS/html/V9/1c.html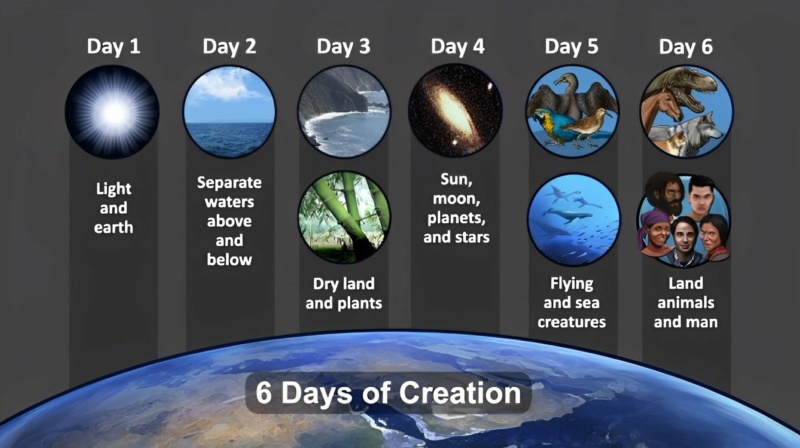 https://www.tiptopwebsite.com/files/knightsofgod3.pdf
Six Biological Evidences for a Young Earth
https://www.icr.org/article/six-biological-evidences-for-a-young-earth/
Evidence for a Young Earth and Creation
https://answersingenesis.org/creation-vs-evolution/evidence-for-young-earth-creation/?fbclid=IwAR1qAEh9RQkveK6mdFmdypLV6fxCfFlKTXgS6TY1VzzPuF_L2XpAUuYtGZM
DISTINGUISHING BETWEEN APPARENT AGE AND MATURE CREATION
https://thecreationclub.com/distinguishing-between-apparent-age-and-mature-creation/?fbclid=IwAR2feIU0_RQ6Pk0iaiq08ruOR5nF3l4CUTCemjQDV0cedsxf5FSFtEXz3Rs
Six Evidences of a Young Earth
https://answersingenesis.org/evidence-for-creation/six-evidences-of-young-earth/?fbclid=IwAR3Qgy3Y2KYzWRW1Hp7piUOYDHwN8LrOqjeOOL3yKU7Dxz4Tg7IJQCcJGf0
A 6000 year old universe! Who Says? Who Cares? Jim Mason PhD
https://www.youtube.com/watch?v=TkJxn4PPalc&fbclid=IwAR3Sx91YGbgjDWr6BIXjHGgpyCCw_rCtIsNuqKCb2Pjm_dSXDuypItYa6zw
Our Created Solar System - What You Aren't Being Told
https://www.youtube.com/watch?v=Gr8Az3QQZdI&fbclid=IwAR3JdeO5a_f_i2Rq-SISs0LtUSk1HvdRpYZm64ECUad7gyXDm2TMqHFZcS4
http://creationwiki.org/Young_earth_evidence#Zircon_lead_ratios
Evidences for a Recent Creation
http://www.cs.unc.edu/~plaisted/ce/Evidences.htm
1. https://www.icr.org/article/microbes-siljan-crater-no-surprise/


Last edited by Otangelo on Sat Sep 23, 2023 9:05 am; edited 80 times in total