Essential elements and building blocks for the origin of life
http://reasonandscience.heavenforum.org/t2437-essential-elements-and-building-blocks-for-the-origin-of-life
An invariant simple foundation underlies unlimited complexity at higher levels At the core of life lies a network for the synthesis of the small organic molecules from which all biomass is derived. Remarkably, this core network of molecules and pathways is small (containing about 125 basic molecular building blocks) and very highly conserved. 2 If viewed at the ecosystem level – meaning that, for each compound, one asks what pathways must have been traversed in the course of its synthesis, disregarding which species may have performed the reaction or what trophic exchanges may have befallen pathway intermediates along the way –
the core network is also essentially universal.
Robert M. Hazen (2008) 
The emergence of concentrated suites of just the right mix thus remains a central puzzle in origin-of-life research. Life requires the assembly of just the right combination of small molecules into much larger collections - "macromolecules" with specific functions. Making macromolecules is complicated by the fact that for every potentially useful small molecule in the prebiotic soup, dozens of other molecular species had no obvious role in biology. Life is remarkably selective in its building blocks, whereas the vast majority of carbon-based molecules synthesized in prebiotic processes have no obvious biological use. Consequently, a significant challenge in understanding life's chemical emergence lies in finding mechanisms by which the right combination of small molecules was selected, concentrated and organized into the larger macromolecular structures vital to life. 
Most water-soluble molecules don't self-organize and must be selected by another means. Yet accumulations of organic molecules, no matter how highly selected and intricately organized, are not alive unless they also possess 
the ability to reproduce.
 42
The primitive prebiotic environment contained a broad array of organic compounds, only a few of which would have been useful to the origin of nucleic acids. What sort of evolutionary processes leading to nucleic acids can be imagined in such an environment? If a useful step in chemical evolution were achieved, how would it become stabilized so that it would be an integral part of the developing system? There are no sure answers to such questions. 3
The overall metabolism is based on seven non-metal elements, H, C, N, 0, P, S and Se. With these elements all the major polymers of all cells are made. Hence the major metabolic pathways involve them. Their uptake and loss are the major flows of material. Most of this metabolism in the cytoplasm is unchanged in all cells to this day 4
The Chemical Building Blocks of Life
All life is composed mainly of the four macromolecule building blocks: carbohydrates, lipids, proteins, and nucleic acids.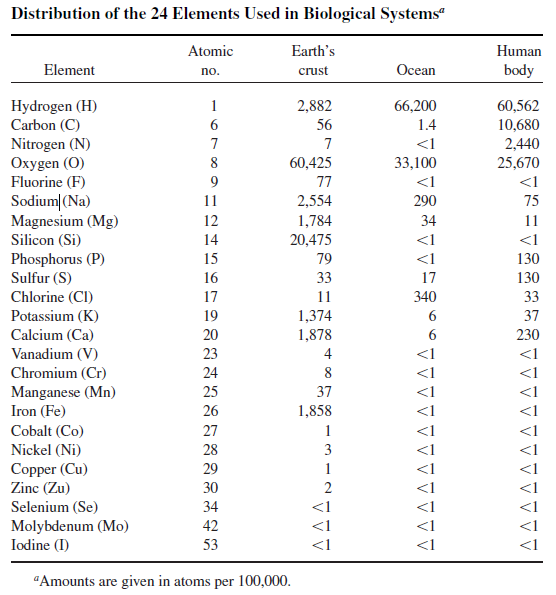 Other universal features of life include its use of several essential cofactors and RNA, and some chemical aspects of bioenergetics and cellular compartmentalization.
All minerals are toxic if they are present in living organisms in sufficiently high quantity 1
hydrogen
sodium
potassium
magnesium
calcium
Arsenic
Boron
Chromium
Cobalt
Copper
Iodine
Iron
Manganese
Molybdenum
Nickel
Selenium
Vanadium
Zinc
sulfur
phosphorous  
Hydrogen  
Oxygen
Carbon
Nitrogen
Carbohydrates


Lipids


Proteins


Functions of Proteins
1. Structural Support
2. Storage
3. Transport
4. Signaling
5. Cellular Response to Chemical Stimuli
6. Movement
7. Defense Against Foreign Organisms
8. Catalysis of Biochemical Reactions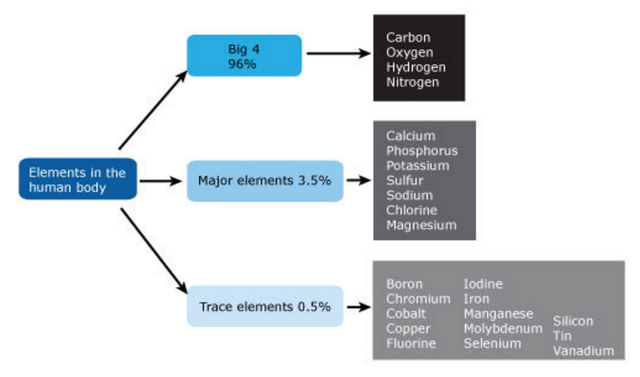 1. http://www.mineralresourcesint.co.uk/pdf/26%20Evolutionary%20Events_and_sea_water.pdf
2. THE ORIGIN AND NATURE OF LIFE ON EARTH, page 4
3. Origins of Life on the Earth and in the Cosmos page 185
4. Calcium Homeostasis, page 6


Last edited by Otangelo on Sat Jun 11, 2022 6:38 pm; edited 6 times in total