Can the origin of feathers be explained through evolution ?
https://reasonandscience.catsboard.com/t3184-can-the-origin-of-feathers-be-explained-through-evolution
The Dinosaur/Bird Connection: Dapper Dino & Otangelo Grasso
https://www.youtube.com/watch?v=DOXDm55LdSE&t=2435s
See as well:
No evidence for the evolution of birds, feathers, and flight
https://reasonandscience.catsboard.com/t1694-no-evidence-for-the-evolution-of-birds-feathers-and-flight
Feathers and Plumages - a general description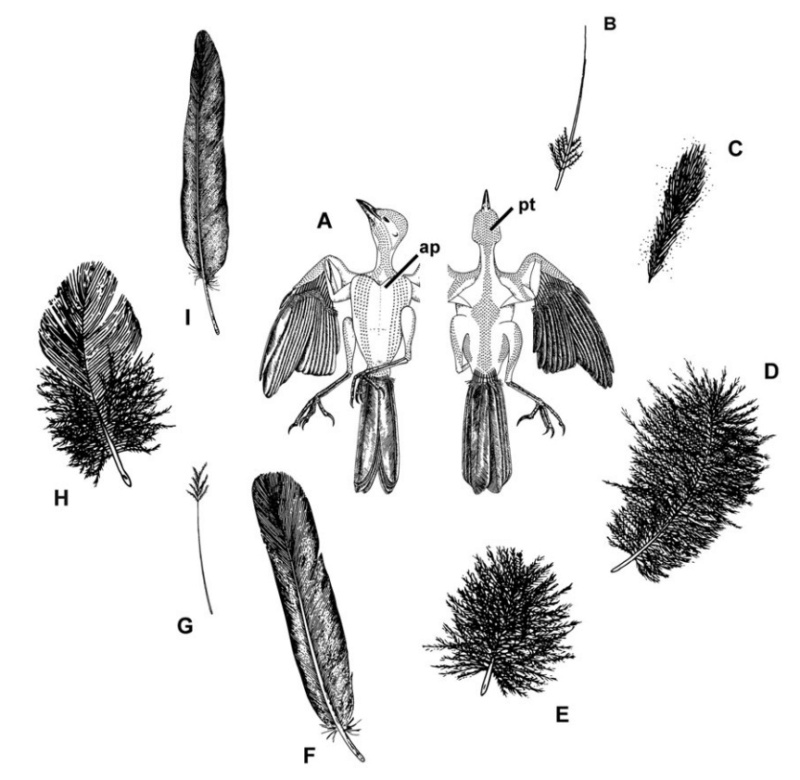 Distribution of feather and main feather types.
(a) Distribution of pterylae (pt) and apteria (ap) in the common blackbird (Turdus merula) (modified after Bergmann 1987). 
(b) Bristle feather. 
(c) Powder down. 
(d) Semiplume. 
(e) Down feather. 
(f) Rectrices. 
(g) Filoplume. 
(h) Pennaceous body feather. 
(i) Primary remiges. 
(b, c) 2
Although feathers come in an incredible diversity of forms, they are all composed of the protein beta-keratin and made up of the same basic parts, arranged in a branching structure. In the most complex feathers, the calamus extends into a central rachis which branches into barbs, and then into barbules with small hooks that interlock with nearby barbules. 10
Feathers exhibit amazing regenerative behavior both for physiological needs and in response to trauma. Structurally,
feathers are the most sophisticated ectodermal organ
whose shapes and color patterns show tremendous variation both among body regions of the same bird as well as between different species 1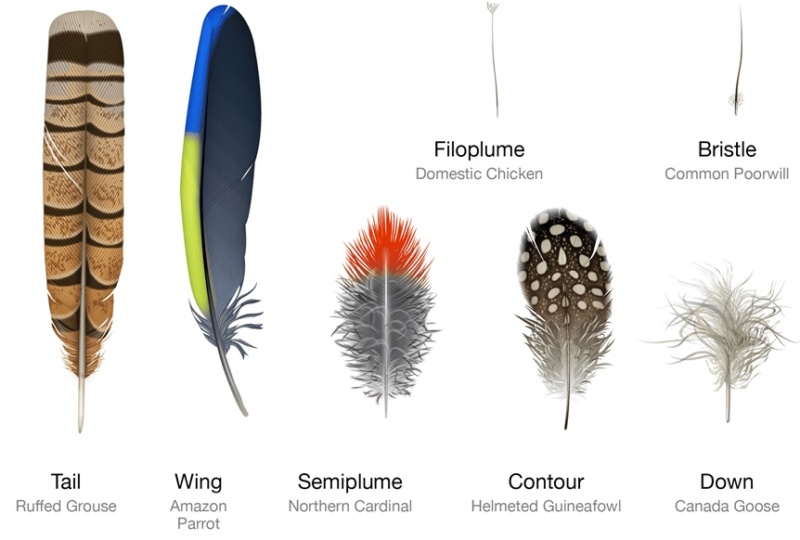 Feathers fall into one of seven broad categories based on their structure and location on the bird's body.
Wing feathers
-The wing feathers specialized for flight are characterized by uniform windproof surfaces on either side of the central shaft that are created by an interlocking microstructure. Also called remiges, these feathers are asymmetric with a shorter, less flexible leading edge that prevents mid-air twisting.
Tail feathers
-Most tail feathers, or rectrices, feature an interlocking microstructure similar to wing feathers. Arranged in a fan shape, these feathers support precision steering in flight. In some birds like peacocks, tail feathers have evolved into showy ornaments.
Contour feathers
-Contour feathers are what you see covering the bird's body. Arranged in an overlapping pattern like shingles, the waterproof tips are exposed to the elements and the fluffy bases are tucked close to the body. Sometimes brilliantly colored or uniformly drab, contour feathers can also help the bird show off or stay camouflaged. Feathers on the wing, called coverts, shape it into an efficient airfoil by smoothing over the region where the flight feathers attach to the bone.
Semiplume
- Mostly hidden beneath other feathers on the body, semiplumes have a developed central rachis but no hooks on the barbules, creating a fluffy insulating structure.
Down
–Similar to semiplumes with a loosely branching structure but little or no central rachis, down feathers are relatively short and positioned closest to the body where they trap body heat.
Filoplume
–Short simple feathers with few barbs, filoplumes function like mammal whiskers to sense the position of the contour feathers.
Bristle
–Bristles are the simplest feathers, with a stiff rachis that usually lacks barb branches. Most commonly found on the head, bristles may protect the bird's eyes and face.
[ltr]
Downy feathers look fluffy because they have a loosely arranged plumulaceous microstructure with flexible barbs and relatively long barbules that trap air close to the bird's warm body. Pennaceous feathers are stiff and mostly flat, a big difference that comes from a small alteration in structure; microscopic hooks on the barbules that interlock to form a wind and waterproof barrier that allows birds to fly and stay dry. Many feathers have both fluffy plumulaceous regions and more structured pennaceous regions.
 [/ltr]
[ltr]
Pennaceous feathers are stiff and mostly flat, a big difference that comes from a small innovation in structure; microscopic hooks on the barbules that interlock to form a wind and waterproof barrier that allows birds to fly and stay dry.
[/ltr]
Advance to watch the feather open and close. Pennaceous feathers are stiff and mostly flat, a big difference that comes from a small innovation in structure; microscopic hooks on the barbules that interlock to form a wind and waterproof barrier that allows birds to fly and stay dry.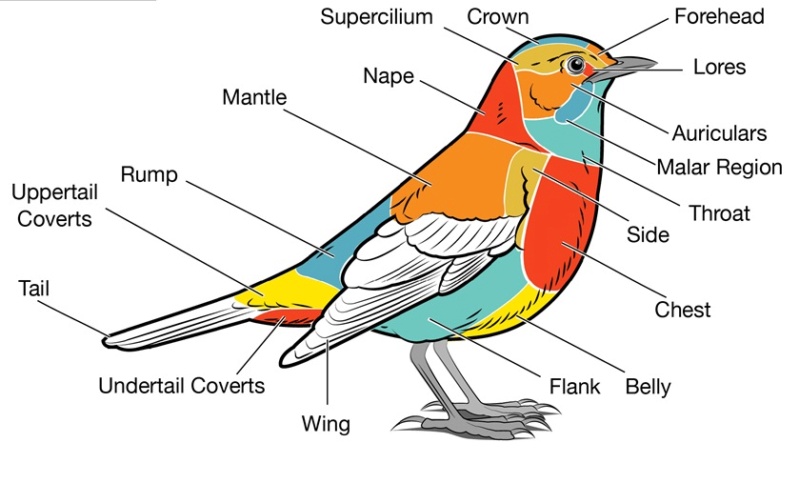 [ltr]
The external bird is labeled according to the commonly used feather groups. Experienced birders often use these terms when referring to specific field marks.
[/ltr]
Advance to step through the feather types that become visible as the bird moves its wing. The primary and secondary wing feathers, or remiges, are visible from both sides of the wing. There are also specialized groups of coverts of both sides, which smooth the wing by covering the bases of the remiges, Scapulars cover the bird's shoulder. The alula is a set of feathers that jut up from the top of the wing that helps birds with precision landings.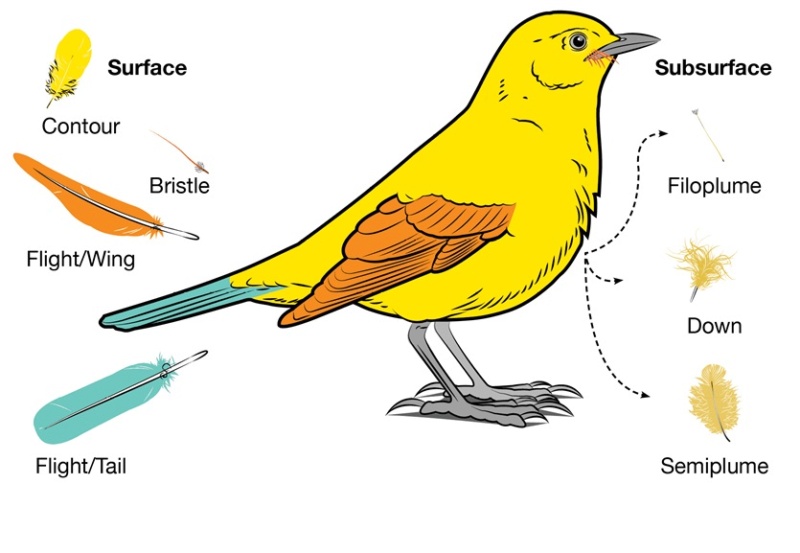 When you look at a bird, the most recognizable feathers are the flight feathers on the wing and tail. Covering the rest of the body are contour feathers that overlap like shingles to shed water. On some birds you will also see bristles near the beak and eyes. What you can't see unless you look beneath the contour feathers are the fluffy down and semiplumes that are tucked close to the body to trap heat.  Filoplumes are tiny whisker-like feathers that are often hard to locate tucked in amongst the down.
As feathers mature, their tips get pushed away from a small outgrowth of skin, called the papilla, where the newest parts of the feather form. The feather's structure develops as proteins are laid down around the surface of this bump of skin. It's here that the branching patterns form by smaller branches fusing at the base to make thicker ones — barbules fuse into barbs and barbs fuse into a rachis. As the feather grows, it stays curled in a tubular shape around the papilla until it is pushed away from the growth area. A protective sheath maintains the feather's cylindrical shape until it starts to disintegrate near the tip, allowing the mature part of the feather to unfurl.
Downy feathers look fluffy because they have a loosely arranged plumulaceous microstructure with flexible barbs and relatively long barbules that trap air close to the bird's warm body.
Structural basics of feathers 
Asked to draw a feather, even young children will illustrate three basic features. First, there is the shaft, the thin but stiff, central, rod‐like portion. Second, the vanes extend in opposite directions from the shaft, forming two broad, flat, and more pliable regions of the feather. Third, on close inspection, the vanes—rather than being smooth and solid like a simple sheet of plastic—have a comb‐like substructure. To round out this general description, a biologist would likely direct attention to a few more details of a typical feather. 
The shaft can be subdivided into two regions, the more medial (or close to the body) portion of the shaft is vaneless and defines the area called the calamus. The calamus is relatively short and vane‐free primarily because it is the portion of the feather that perforates the bird's skin, thereby anchoring the feather to the body. The rest of the shaft is distal (further from the body) relative to the calamus, and has the vanes extending from it. This region is called the rachis. Given that the rachis frequently comprises as much as 90–95% of the length of  the shaft, the terms rachis and shaft are often used interchangeably. When most people envision a typical feather, they tend to think of long wing or tail feathers rather than a small fluffy tuft of down—which is also a feather. This contrast draws attention to another fundamental structural feature of feathers, or, more specifically, of feather vanes. A typical wing or tail feather is pennaceous, a feather that has vanes with a relatively smooth, two‐dimensional (flat) surface, and with a distinct shape or outline. A down feather is plumulaceous, a feather with barbs that are so fluffy as to be relatively formless. Plumulaceous feathers are incapable of holding any but the most delicate rounded form, and their overall shape changes drastically in response to the slightest breeze. In order to understand what underlies this difference in vane form (or lack thereof), one needs to understand in more detail the anatomical underpinnings of the firmer, pennaceous feather vane. Pennaceous vanes are a flexible, breathable, intricate mesh made of hundreds of tiny interlocking fibers. On close inspection, one can see that these vanes are comprised of a dense row of hundreds of long, slender, but stiff filaments, called barbs, branching off from the rachis one after the other, somewhat like teeth on a comb (Fig.A).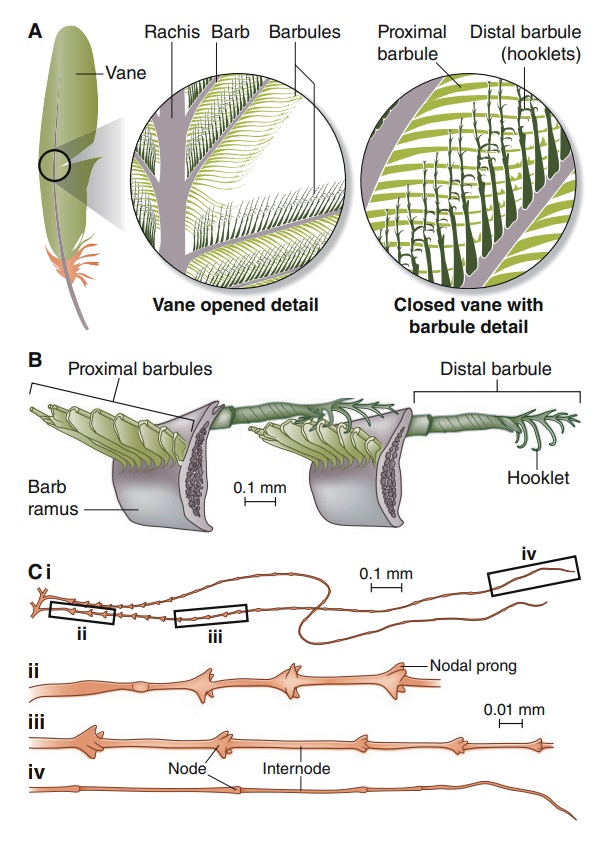 Feather vane and barbule anatomy. (A)
Detail of feather vanes with interacting proximal and distal barbules. 
(B)
 Detail showing hooklets interact with the barbules on the adjacent barb. 
(C)
Two plumulaceous barbules (i) of a Rock Pigeon (Columba livia), with three regions from the proximal to distal tip (ii–iv) enlarged below. In (ii), the base and proximal nodes are relatively large compared with the central region of the barbule (iii). Distal barbule tips (iv) have substantially reduced nodes. 
At an even finer scale, the barbs themselves have a set of smaller structures, barely visible to the naked eye. That is, along the barbs the overall feather structure—the larger central shaft with many smaller fibers branching off on opposite sides—repeats itself at a smaller scale: each barb Distal consists of a central shaft called the ramus that has its own rows of slender branches, called barbules, extending from either side. Barbules are generally not symmetrical off the two sides of the ramus, and we refer to the barbules that extend away from the bird's body (or away from the base of the feather) as the distal barbules, and those that extend toward the body as the proximal barbules. The two sides typically
have complementary form and function
; the distal barbules often have hook‐shaped structures along their ventral (or under) surfaces, called barbicels or hooklets (Fig.B). The hooklets grab and hold the dorsal surface (or top) of the proximal barbules of the adjacent barb. Thus, although the barbs are long, thin, and can physically disconnect from one another, they are held parallel to neighboring barbs along their entire length by the hooklets on their distal barbules. In this way,
barbules generate and maintain the continuous structure of the vanes
—causing the feather to appear like one, smooth, continuous surface. The fibers that create plumulaceous vanes are also barbs, but with a different structure. Barbs on plumulaceous feathers have proportionally longer and less stiff rami, and their barbules are typically reduced either to fewer, thinner, simple hairs (no hooklets), or even short nodules off the rami (Fig.C). In comparison to the densely packed, stiff, and hooked fibers of pennaceous vanes, the lack of barbule structure liberates the long thin rami to move independently from one another, and creates the loose, tufted form of a plumulaceous vane. All of these feather structures are made of the same material: keratin.
Keratin
is a proteinaceous connective tissue (the same basic material of human fingernails) produced inside
specialized cells called keratinocytes
. Among all the species in the animal kingdom, there are a diverse set of genes that produce keratin, and consequently diverse forms of keratin proteins exist. Within vertebrate animals, keratins belong to one of two fundamentally different structural forms (Fig.A below). 
Structure and use of keratin. (A)
The different molecular structures of alpha- and beta-keratins create distinctive folding (tertiary) structures and properties. 
(B)
Beta-keratins are unique to birds and reptiles and are the main structural component of feathers and claws, as in the talons of this Bald Eagle (Haliaeetus leucocephalus).
The alpha-keratins are found in all vertebrates (including ourselves), are relatively flexible, and make up much of mammalian skin, hair, and nails.
Beta‐keratins are unique to reptiles and birds
, tend to be tougher, and are found in scales, claws, and feathers (Fig. B above). The specific
beta‐keratin found in feathers is a form unique to living birds
. The diversity of beta‐keratins within birds is still largely unexplored and—given the importance of the material properties of keratin for feather function, and of feather function for birds in general.
How Do Birds Use their Feathers?
https://askabiologist.asu.edu/content/23-functions-feathers
Feathers make birds unique animals. How they are used by birds can be unique too. If you think to yourself, you can probably come up with maybe a half dozen to a dozen ways feathers are used by birds. To be sure, you will have missed a few feather functions. Let's go through 23 ways birds can use their feathers.
birds flyingFlying
Flight feathers are very strong and stiff feathers that are found on the wings of birds.
Help Keep Warm
Downy feathers as well as semiplume feathers are able to trap pockets of air close to the bird's body to help keep it warm. How much body heat they keep can be adjusted by arranging their feathers to trap more or less air. If you see birds fluffing their feathers in the cold, that is their way of adding extra air to trap body heat and stay warmer.
Control Body Temperature
To keep body temperature steady, birds can either expose their heads and feet to the air or water to cool down, or tuck them into their feathers to help keep warm.
Protect From Wind, Moisture, and Sun
The strong and ridged contour feathers shield birds from wind. The tough material they are made from, beta-keratin, is water and wear resistant. Darker-colored feathers might also provide protection from the sun. Feathers also work to keep water out, keeping birds dry in the rain. The interlocking feather barbs and a special coating that is either oily or waxy create a shield that water runs off of.
Swimming and Diving
Some birds use their half-spread out wings in a flying motion to swim in water. Penguins have developed their wings into stiff, flat flippers that make penguins great swimmers.
Floating
Using the trapped air in downy feathers, water birds like ducks can float on water as well as add protection from cold water.
Snowshoeing
One of the more unusual feather uses is snowshoeing. Grouse, chicken-like birds that live in snow-covered areas, have feather-covered feet in the winter that increase the size of the foot just like snowshoes. This keeps the birds from sinking into the snow.
Tobogganing
Why walk if you can slide, or in the case of penguins, toboggan. The Antarctic birds flop down on the smooth feathers of their bellies and use their flipper-like wings together with their feet to move themselves, toboggan-like, across snow and ice.
Bracing
When not flying, many birds use their tail feathers as supports when on the ground or climbing the sides of trees such as is seen with woodpeckers.
Feeling
Feathers do not have nerves, but they do stimulate nerves that surround where the feather attaches to the bird. Birds can adjust the position of their feathers and posture depending on the stimulation of those nerves.
Hearing
Some predators, especially owls, have their face feathers arranged like two dishes (facial discs) to collect and channel sounds into their ears so they can more accurately locate prey in the dark (parabolic reflector).
looking fierceMaking Sounds
We think of bird sounds either as songs or calls, but using their feathers, some birds are able to make many different sounds like humming, drumming, and whistling.
Muffling Sounds
Birds that hunt at night like owls are able to use their wings to muffle their own sounds as they approach their prey. You can think of them as an early stealth fighter plane.
Foraging (Looking for Food)
Some birds, like herons that hunt for fish in the water of lakes and streams, will sometimes use their feathers to form an umbrella over their heads. This might make it easier for them to see fish in the water.
Helping to Keep a Steady Supply of Food
Hummingbirds help to pollinate flowers when foraging for sweet nectar when the feathers around their heads pick up pollen from a flower. As they continue looking for more nectar, the pollen is then transferred to other flowers.
Eating
Special long feathers called rictal bristles are found around the mouths of some insect-eating birds. These may either act like a funnel to catch the insect in the air, or they may protect the eyes while catching an insect. Other birds use feathers on the side of their mouths to select fruits.
getting foodKeeping Clean
Some birds, like herons, have small feathers called powder down that they crush with their beak and feet to rub into the normal feathers and keep them conditioned. This powder down may also help control feather parasites like mites.
Aiding Digestion
Some fish-eating birds also eat their own feathers to line their digestive area. This helps to protect the bird from sharp fish bones.
Constructing Nests
Many birds (especially water birds) line their nests with bird feathers. This helps to keep their eggs warm and also provides a soft padding. Some birds like parakeets actually use the feathers located on their bottom and lower back to move grass and leaves to their nest.
colored feathersTransporting Water
When raising eggs and baby chicks, many adult birds will soak the feathers on their belly before returning to the nest. They can then use the water to keep the eggs from drying out and to give their chicks a drink. Some birds that live in the desert (like the sandgrouse) have special belly feathers that are very good at holding water. This adaptation lets them nest further away from water holes, to avoid the higher numbers of predators found in areas near water holes.
Escaping From Predators
When birds are attacked or frightened they can drop some of their tail feathers. This is called fright molt. This sometimes helps the bird get away, leaving the attacker with only a mouth or foot full of feathers.
Sending Visual Signals
Feather colors and patterns are used to send signals to mates and rivals. This is likely the largest and most used function of feathers.
Camouflage
1. https://onlinelibrary.wiley.com/doi/10.1111/dgd.12024
2. https://sci-hub.ren/10.1007/978-3-030-27223-4


Last edited by Otangelo on Thu Jan 13, 2022 2:13 pm; edited 63 times in total