FIS proteins
The Fis protein is a nucleoid associated protein that has previously been reported to act negatively in initiation of replication in 
Escherichia coli
. In this work we have examined the influence of this protein on the initiation of replication under different growth conditions using flow cytometry. The Fis protein was found to be increasingly important with increasing growth rate. During multi-fork replication severe under-initiation occurred in cells lacking the Fis protein; the cells initiated at an elevated mass, had fewer origins per cell and the origins were not initiated in synchrony. These results suggest a positive role for the Fis protein in the initiation of replication. 
Fis (Factor for Inversion Stimulation)
regulates many genetic systems. 2 
Another negative regulator of initiation in E. coli, the Fis protein, associates with oriC throughout most of the cell cycle; 3 similar to SeqA, Fis negatively influences replication initiation by regulating the occupation of DnaA on low-affinity sites (Cassler et al., 1995; Ryan et al., 2004). Fis specifically binds to a single site that is located between R2 and R3, and overlaps with the C3 DnaA binding site (Figure 1)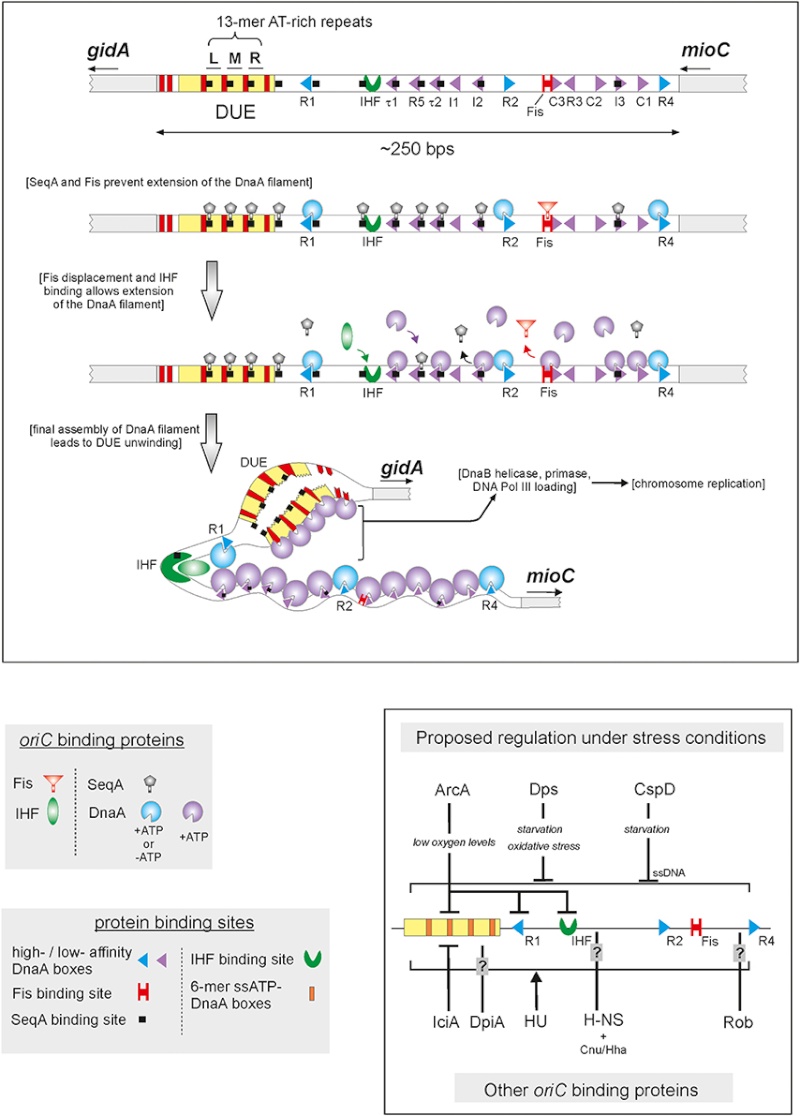 Figure 1. A model of initiation replication and its regulation in E. coli by origin binding proteins (oriBPs). Large panel presents assumed sequence of events during the replication initiation and roles of particular oriBPs. The unwound DUE is accessible to the replication proteins complex (e.g., helicase DnaB, primase, and DNA Pol III). Small panel shows additional oriBPs divided in two subgroups, those involved in alternative scenarios that may occur under environmental stress conditions (upper part of the panel) and others, including those of unknown function (bottom part of the panel). Triangles' directions represent orientations of DnaA binding sites. Nucleotide bound status of DnaA is represented by blue and violet incomplete circles. Small arrows below gene names indicate gene orientations. In the small panel, different types of vertical lines represent type of action, activation (arrow), inhibition (bar-headed line) or unknown (question mark line). Horizontal lines indicate unspecific binding to oriC.
(Gille et al., 1991; Filutowicz et al., 1992). Fis binding is thought to competitively inhibit the interaction of DnaA with this region (Ryan et al., 2004), and Fis exhibits a DNA-bending activity that plays a yet-unknown role (Finkel and Johnson, 1992; Ryan et al., 2004).
In addition to competing with DnaA for binding to oriC, both Fis and SeqA also negatively regulate the interaction of another oriBP, IHF, with the origin. In contrast to the former two proteins, IHF positively regulates replication initiation (Hwang and Kornberg, 1992;Grimwade et al., 2000; Ryan et al., 2002). As the time of initiation draws near, increasing levels of DnaA trigger the displacement of Fis and the full methylation of DNA weakens SeqA binding, ending the repressive activities of these proteins (Slater et al., 1995; Ryan et al., 2004). The release of SeqA reveals the IHF binding site; displacement of Fis promotes IHF binding; and IHF binding leads to bending of the DNA (Polaczek, 1990; Cassler et al., 1995; Rice et al., 1996; Weisberg et al., 1996; Swinger and Rice, 2004). IHF then stimulates the binding of DnaA-ATP to low-affinity sites (thus redistributing the DnaA protein) and induces the unwinding of oriC (Grimwade et al., 2000). Notably, the transcription of the dnaA gene is also subject to regulation by the SeqA protein (Campbell and Kleckner, 1990;Theisen et al., 1993; Bogan and Helmstetter, 1997). Thus, the increased DnaA concentrations that trigger the displacement of Fis displacement presumably reflect the earlier release of the dnaA promoter from inhibition by SeqA.
1) http://journals.plos.org/plosone/article?id=10.1371/journal.pone.0083562
2) https://schneider.ncifcrf.gov/paper/fisinfo/fisinfo.pdf
3) http://journal.frontiersin.org/article/10.3389/fmicb.2014.00735/full