Carbon-14-dated dinosaur bones, non permineralized fossils, and soft tissue like proteins are evidence of young fossils
https://reasonandscience.catsboard.com/t1767-carbon-14-dated-dinosaur-bones-non-permineralized-fossils-and-soft-tissue-like-proteins-are-evidence-for-young-fossils
This is a list from Dr. Brian Thomas, Paleobiochemist, on fragile biomolecules which cannot last more than a few thousand years under the most ideal laboratory deep freeze conditions. They will be destroyed just by shaking at - 5 degrees C in the dark, which are found embedded in fossils found in rocks the secular geologists say are tens or even hundreds of millions of years old." This constitutes virtual proof that these rocks are NOT tens or hundreds of millions of years old
https://docs.google.com/spreadsheets/d/1eXtKzjWP2B1FMDVrsJ_992ITFK8H3LXfPFNM1ll-Yiw/edit?fbclid=IwAR23Yes-2cPxJvrgY-uqf8_msOKfOKD5OjAzsnviWqktnTVFlsbitnLK0_I#gid=0
Xiaoting Zheng
Nuclear preservation in the cartilage of the Jehol dinosaur Caudipteryx 24 September 2021
https://www.nature.com/articles/s42003-021-02627-8?fbclid=IwAR3SXy-drfQfqQcGVnujmIvZDPJKqCK3zEHMrhTf6rfbQS_HSEj-LS5CojM
Evidence of proteins, chromosomes and chemical markers of DNA in exceptionally preserved dinosaur cartilage
https://academic.oup.com/nsr/advance-article/doi/10.1093/nsr/nwz206/5762999
12 January 2020
A histological ground-section from a duck-billed dinosaur nestling (Hypacrosaurus stebingeri) revealed microstructures morphologically consistent with nuclei and chromosomes in cells within calcified cartilage. We hypothesized that this exceptional cellular preservation extended to the molecular level and had molecular features in common with extant avian cartilage. Histochemical and immunological evidence supports in situ preservation of extracellular matrix components found in extant cartilage, including glycosaminoglycans and collagen type II. Furthermore,
isolated Hypacrosaurus chondrocytes react positively with two DNA intercalating stains. Specific DNA staining is only observed inside the isolated cells, suggesting endogenous nuclear material survived fossilization.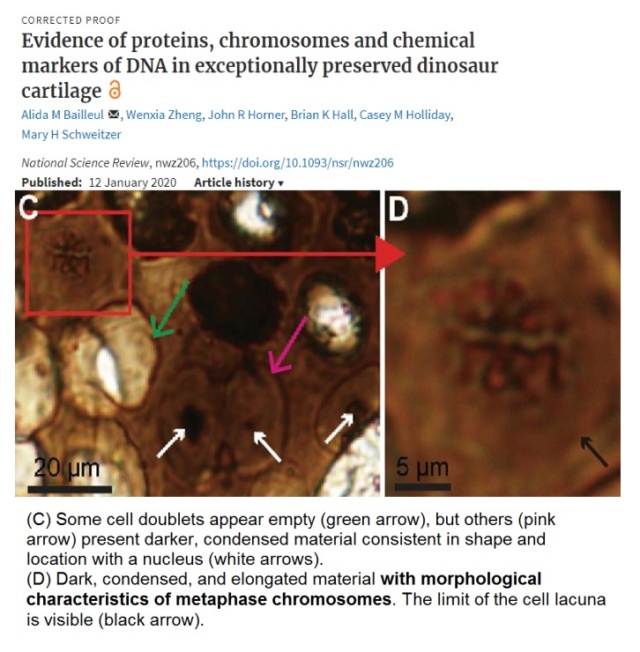 Mary Schweitzer is featured at Christianity Today as one of 6 Christian women scientists worthy of special notice. She did stir up controversy when she started to discover original organic molecules in dinosaurs. This discovery has been repeated many many times now but I just wanted to share one thing that came out in CT's article page 50. (March 2020 issue) She noticed the bones SMELLED ODD, LIKE A CAMPUS CADAVER LAB. Imagine that!! She could smell the organic material rotting right in front of her. Volatile organics like that should be short-lived indeed. But to smell T-REX bones rotting....well that is something I didn't pick up before in any article. How old can something be and still SMELL it rotting? Something to think about.
Dinosaur Soft Tissue is Original Biological Material
http://kgov.com/dinosaur-soft-tissue-original-biological-material#research
Soft tissue cannot remain non-permineralized for  millions of years. That adds to the C14 carbon dating evidence. The best explanation is in my view that the fossils are younger than thought for a long time.

Can soft tissue in fossils remain 500mio years preserved? 

Exceptional Fossil Preservation and the Cambrian Explosion
01 February 2003
Bedding plane specimen of Leanchoilia superlata from the middle Cambrian Burgess Shale (Butterfield, 2002) showing characteristic flattening of degradation-resistant cuticle (original organic-carbon preservation)
https://academic.oup.com/icb/article/43/1/166/604533/Exceptional-Fossil-Preservation-and-the-Cambrian
That is in contrast with following paper: 
Biomolecules in fossil remains
http://www.biochemist.org/bio/02403/0012/024030012.pdf
June 2002
Proteins may afford us the opportunity to recover genetic information from warmer environments, where attempts to recover ancient DNA are less sure of sucess. In more temperate burial environments, osteocalcin has a predicted survival limit of 580 thousand years at 20C and 7,5 million years at 10C .

In 2011, UK archaeologists and experts on bone collagen decay wrote that "it will take between 0.2 and 0.7 Ma [million years] at 10°C for levels of collagen to fall to 1% in an optimal burial environment."
Collagen survival and its use for species identification in Holocene-lower Pleistocene bone fragments from British archaeological and paleontological sites
We have previously reported a technique using the dominant structural protein collagen (type I) as a source of genetic information for species identification in modern and relatively young (Holocene) archaeological samples.
We report a systematic investigation of amino acid composition and collagen peptide mass fingerprints (PMF), for a range of samples dating back approximately 1.5 million years. Extrapolation from high-temperature experimental decomposition rates predicts that at a constant 10°C (the approximate mean annual air temperature in Britain today) it will take between 0.2 and 0.7 Ma for levels of collagen to fall to 1% of their original concentration in an optimal burial environment.
Even when the glacial intervals of the British Quaternary are factored into the temperature calculations, the more conservative of these two estimates extends the range for collagen sequencing to the Lower Pleistocene as confirmed by the presence of collagen peptides in bones from the Weybourne Crag (~1.5 Ma).
So, collagen could last 450,000 or so years on average. If kept below freezing, it might be imagined to last one or two million years at the very most. But evolutionary biologists agree that dinosaurs lived in a very warm climate, so in their scenario, this would vastly shrink the times—at 20°C, collagen would have decomposed below the detection limit in about 15,000 years
https://www.semanticscholar.org/paper/Collagen-survival-and-its-use-for-species-in-bone-Buckley-Collins/efcc91a6ebf287760437a70c58adea62697b193c
How can soft tissue such as collagen survive intact for 68 million years when it has been experimentally established that at 10°C (around 50°F) only 1% of the original collagen in a bone sample can survive for longer than 700,000 years?
https://www.icr.org/article/soft-tissue-time-paradox
Analysis of dinosaur bone cells confirms ancient protein preservation
A team of researchers from North Carolina State University and the Palo Alto Research Center (PARC) has found more evidence for the preservation of ancient dinosaur proteins, including reactivity to antibodies that target specific proteins normally found in bone cells of vertebrates. These results further rule out sample contamination, and help solidify the case for preservation of cells – and possibly DNA – in ancient remains.
http://phys.org/news/2012-10-analysis-dinosaur-bone-cells-ancient.html
Organic preservation of fossil musculature with ultracellular detail
SEM images of organically preserved muscle fibres in fossils from Grube Messel.The muscle is preserved organically, in three dimensions, and with the highest fidelity of morphological preservation yet documented from the fossil record.
All specimens are from the collections of the Forschungsinstitut Senckenberg, Frankfurt. Samples were picked from fossils under a binocular microscope, mounted on SEM stubs, gold-coated and examined with a Hitachi S-3500N variable pressure microscope equipped with an EDAX Genesis energy dispersive spectrometer. 
http://www.ncbi.nlm.nih.gov/pmc/articles/PMC2842642/
Microspectroscopic Evidence of Cretaceous Bone Proteins
Low concentrations of the structural protein collagen have recently been reported in dinosaur fossils based primarily on mass spectrometric analyses of whole bone extracts. However, direct spectroscopic characterization of isolated fibrous bone tissues, a crucial test of hypotheses of biomolecular preservation over deep time, has not been performed. Here, we demonstrate that endogenous proteinaceous molecules are retained in a humerus from a Late Cretaceous mosasaur (an extinct giant marine lizard). 
http://journals.plos.org/plosone/article?id=10.1371/journal.pone.0019445
MICROSTRUCTURE AND BIOGEOCHEMISTRY OF THE ORGANICALLY PRESERVED EDIACARAN METAZOAN SABELLIDITES
Journal of Paleontology, 88(2), 2014, p. 224–239
MAŁGORZATA MOCZYDŁOWSKA,1 FRANCES WESTALL,2 AND FRE´ DE´RIC FOUCHER2
The remains of marine worms 'dated' at 550 million years old found in Russia have been examined by a team of researchers led by Professor Małgorzata Moczydłowska (pronounced approx. "mou-go-ZHAH-ta mo-chid-WOF-ska") of Uppsala University, Sweden.3
The tube of S. cambriensis was flexible, as shown by its soft deformation and preservation—Moczydłowska et al., Journal of Paleontology, 2014
They found that the tube casings of the seabed worm Sabellidites cambriensis were still soft and flexible. After comprehensive laboratory analysis, the researchers assessed the seabed worm's remains to be still composed of the original organic compounds. They ruled out the possibility of modern contaminants and of preservation by various means of mineralization. In the researchers' own words (from their Journal of Paleontology paper):
"The Sabellidites organic body is preserved without permineralization. Minerals have not replicated any part of the soft tissue and the carbonaceous material of the wall is primary, preserving the original layering of the wall, its texture, and fabrics."3
And:
"The tube of S. cambriensis was flexible, as shown by its soft deformation and preservation, and composed of fibers perfect in habit and parallel arranged in sheets, and then sheets in layers."
Within days they were covered by sediment, perhaps stirred up by a storm—Professor Małgorzata Moczydłowska
Accompanying electron microscope photographs showed these 'perfect in habit' fibres to be less than half a thousandth of a millimetre wide. Yet these delicate fibres are still soft after supposedly half a billion years!?
The researchers were even able to chemically tease the fibres apart for further examination, and concluded that the structure of the fossil worm tube casing is "consistent with the ß chitin tubes of siboglinid animals".3 In other words, the same as seabed dwelling worms such as beard worms today (see photo above). Why has there been no evolution in all that (supposed) time?
http://www.monash.edu/.../85598/moczydlowska-etal-2014-e.pdf
A new ankylosaurine dinosaur from the Judith River Formation of Montana, USA, based on an exceptional skeleton with soft tissue preservation
This is the first ankylosaurin skeleton known with a complete skull and tail club, and it is the most complete ankylosaurid ever found in North America. The presence of abundant soft tissue preservation across the skeleton, including in situ osteoderms, skin impressions and dark films that probably represent preserved keratin, make this exceptional skeleton an important reference for understanding the evolution of dermal and epidermal structures in this clade.
http://rsos.royalsocietypublishing.org/content/4/5/161086.figures-only
Troy Lawrence Before the global flood, the canopy of water that once surrounded the atmosphere, shielded the atmosphere from UV and other high energy cosmic rays. Thus, the conversion of N2 to C14 was blocked, therefore, the atmosohere had trace amounts of C14 before the flood. And for this reason, C14 dating makes a dead creature that died with trace C14 appear much older than reality.
http://www.c14dating.com/k12.html
What are the oldest things that can be radiocarbon dated?
Anything that is less than about 50 or 60 000 years can be radiocarbon dated.
The Fossil Record: Evolution Evidence or Creation Science?
By Rory Roybal
"Carbon-14 in Coal, Diamonds and Dinosaur Fossils
Carbon-14 is often assumed to prove that the Earth is millions or billions of years old, but this is a common misconception. Carbon-14 has a short half-life less than 6,000 years, so both evolutionists and creationists agree that radiocarbon dating is only useful for dating relatively young things, thousands of years old, and is invalid for measuring alleged long ages of evolution. Items older than 250,000 years (at most) should be completely 'carbon-14 dead', with no carbon-14 remaining at all. Things like coal, diamonds and fossils are usually not tested for carbon dating, since coal is already assumed to be tens to hundreds of millions of years old, and diamonds are assumed to be over a billion years old. In recent years, however, a key technical advance allowed much more precise measurement of the ratio of C-14 to C-12 atoms using an ion beam accelerator and a mass spectrometer, called the accelerator mass spectrometry (AMS) method. Using the much more precise AMS method, leading radiocarbon laboratories in the world consistently found significant amounts of carbon in coal and diamond samples. If coal or diamonds were really millions or billions of years old (as evolutionists claim), no traces of carbon-14 would have been found.
Similarly, in 1990, two dinosaur bone fragments were submitted to the Department of Geosciences at the University in Tucson, Arizona for carbon-14 analysis. One fragment was from an unidentified dinosaur, and the other was from an Allosaurus excavated near Grand Junction, Colorado in 1989. The carbon-14 analysis indicated that the dinosaur bones were between 10,000 and 16,000 years old, not 60-70 million years old as typically assumed.
To defend their long age assumption, evolutionists claim that all these samples must have been contaminated by outside carbon, but modern AMS methods eliminate the possibility of carbon contamination, and all samples from many different sources consistently showed the same results. Moreover, diamonds cannot be contaminated since they have incredibly strong lattice bonds.
C-14 in coal, diamonds, and dinosaur fossils consistently shows they are only thousands of years old, not millions of years old, revealing that evolutionary long ages are false.
Helium in Zircons
Uranium and thorium decay by emitting alpha particles of helium nuclei as they decay to lead. Analysis of helium content of zircon samples conventionally considered to be over a billion years old revealed extremely high helium retention in these crystals. Helium should have diffused out of the zircon samples very rapidly and be completely gone if the Earth were more than several thousands of years old, and it certainly could not be billions of years old. Accelerated decay in zircon samples shows the Earth and its zircon cannot be more then 6,000 years old (give or take 2,000 years), not billions of years old as conventionally assumed.
Researchers have found a reason for the puzzling survival of soft tissue and collagen in dinosaur bones - the bones are younger than anyone ever guessed.  Carbon-14 (C-14) dating of multiple samples of bone from 8 dinosaurs found in Texas, Alaska, Colorado, and Montana revealed that they are only 22,000 to 39,000 years old.

Members of the Paleochronology group presented their findings at the 2012 Western Pacific Geophysics Meeting in Singapore, August 13-17, a conference of the American Geophysical Union (AGU) and the Asia Oceania Geosciences Society (AOGS).
Since dinosaurs are thought to be over 65 million years old, the news is stunning - and more than some can tolerate.  After the AOGS-AGU conference in Singapore, the abstract was removed from the conference website by two chairmen because they could not accept the findings.  Unwilling to challenge the data openly, they erased the report from public view without a word to the authors.  When the authors inquired, they received this letter:
They did not look at the data and they never spoke with the researchers.  They did not like the test results, so they censored them.
Carbon-14 is considered to be a highly reliable dating technique.  It's accuracy has been verified by using C-14 to date artifacts whose age is known historically.  The fluctuation of the amount of C-14 in the atmosphere over time adds a small uncertainty, but contamination by "modern carbon" such as decayed organic matter from soils poses a greater possibility for error.
Dr. Thomas Seiler, a physicist from Germany, gave the presentation in Singapore.  He said that his team and the laboratories they employed took special care to avoid contamination.  That included protecting the samples, avoiding cracked areas in the bones, and meticulous pre-cleaning of the samples with chemicals to remove possible contaminants.  Knowing that small concentrations of collagen can attract contamination, they compared precision Accelerator Mass Spectrometry (AMS) tests of collagen and bioapatite (hard carbonate bone mineral) with conventional counting methods of large bone fragments from the same dinosaurs.  "Comparing such different molecules as minerals and organics from the same bone region, we obtained concordant C-14 results which were well below the upper limits of C-14 dating.  These, together with many other remarkable concordances between samples from different fossils, geographic regions and stratigraphic positions make random contamination as origin of the C-14 unlikely".
The theoretical limit for C-14 dating is 100,000 years using AMS, but for practical purposes it is 45,000 to 55,000 years.  The half-life of C-14 is 5730 years.  If dinosaur bones are 65 million years old, there should not be one atom of C-14 left in them.
Many dinosaur bones are not petrified.  Dr. Mary Schweitzer, associate professor of marine, earth, and atmospheric sciences at North Carolina State University, surprised scientists in 2005 when she reported finding soft tissue in dinosaur bones.  She started a firestorm of controversy in 2007 and 2008 when she reported that she had sequenced proteins in the dinosaur bone.  Critics charged that the findings were mistaken or that what she called soft tissue was really biofilm produced by bacteria that had entered from outside the bone.  Schweitzer answered the challenge by testing with antibodies.  Her report in 2009 confirmed the presence of collagen and other proteins that bacteria do not make.  In 2011, a Swedish team found soft tissue and biomolecules in the bones of another creature from the time of the dinosaurs, a Mosasaur, which was a giant lizard that swam in shallow ocean waters.  Schweitzer herself wonders why these materials are preserved when all the models say they should be degraded.  That is, if they really are over 65 million years old, as the conventional wisdom says.
Dinosaur bones with Carbon-14 dates in the range of 22,000 to 39,000 years before present, combined with the discovery of soft tissue in dinosaur bones, indicate that something is indeed wrong with the conventional wisdom about dinosaurs.
However, it has been hard to reach the public with the information.  Despite being simple test results without any interpretation, they were blocked from presentation in conference proceedings by the 2009 North American Paleontological Convention, the American Geophysical Union in 2011 and 2012, the Geological Society of America in 2011 and 2012, and by the editors of various scientific journals.  Fortunately, there is the internet.
The data: Carbon-14 in dinosaur bones

Dinosaur
(a)


Lab/Method/Fraction (b,c,d)


C-14 Years B.P.


Date


USA State


Acro
Acro
Acro
Acro
Acro
Allosaurus
Hadrosaur #1
Hadrosaur #1
Triceratops #1
Triceratops #1
Triceratops #1
Triceratops #2
Triceratops #2
Hadrosaur #2
Hadrosaur #2
Hadrosaur #2
Hadrosaur #2
Hadrosaur #2
Hadrosaur #3
Apatosaur


GX-15155-A/Beta/bio
GX-15155-A/AMS/bio
AA-5786/AMS/bio-scrapings
UGAMS-7509a/AMS/bio
UGAMS-7509b/AMS/bow
UGAMS-02947/AMS/bio
KIA-5523/AMS/bow
KIA-5523/AMS/hum
GX-32372/AMS/col
GX-32647/Beta/bow
UGAMS-04973a/AMS/bio
UGAMS-03228a/AMS/bio
UGAMS-03228b/AMS/col
GX-32739/Beta/ext
GX-32678/AMS/w
UGAMS-01935/AMS/bio
UGAMS-01936/AMS/w
UGAMS-01937/AMS/col
UGAMS-9893/AMS/bio
UGAMS-9891/AMS/bio


>32,400
25,750 + 280
23,760 + 270
29,690 + 90
30,640 + 90
31,360 + 100
31,050 + 230/-220
36,480 + 560/-530
30,890 + 200
33,830 + 2910/-1960
24,340 + 70
39,230 + 140
30,110 + 80
22,380 + 800
22,990 +130
25,670 + 220
25,170 + 230
23,170 + 170
37,660 + 160
38,250 + 160


11/10/1989
06/14/1990
10/23/1990
10/27/2010
10/27/2010
05/01/2008
10/01/1998
10/01/1998
08/25/2006
09/12/2006
10/29/2009
08/27/2008
08/27/2008
01/06/2007
04/04/2007
04/10/2007
04/10/2007
04/10/2007
11/29/2011
11/29/2011


TX
TX
TX
TX
TX
CO
AK
AK
MT
MT
MT
MT
MT
MT
MT
MT
MT
MT
CO
CO

(a)  Acro (Acrocanthosaurus) is a carnivorous dinosaur excavated in 1984 near Glen Rose TX by C. Baugh and G. Detwiler; in 108 MA Cretaceous sandstone - identified by Dr. W. Langston of Un. of TX at Austin.
Allosaurus is a carnivorous dinosaur excavated in 1989 by the J. Hall, A. Murray team.  It was found under an Apatosaurus skeleton in the Wildwood section of a ranch west of Grand Junction CO in 150 Ma (late Jurassic) sandstone of the Morrison formation.
Hadrosaur #1, a duck billed dinosaur.  Bone fragments were excavated in 1994 along Colville River by G. Detwiler, J. Whitmore team in the famous Liscomb bone bed of the Alaskan North Slope - validated by Dr. J. Whitmore.
Hadrosaur #2, a duck billed dinosaur.  A lone femur bone was excavated in 2004 in clay in the NW 1/4, NE 1/4 of Sec. 32, T16N, R56 E, Dawson County, Montana by the O. Kline team of the Glendive Dinosaur and Fossil Museum.  It was sawed open by the O. Kline, H. Miller team in 2005 to retrieve samples for C-14 testing.
Triceratops #1, a ceratopsid dinosaur.  A lone femur bone was excavated in 2004 in Cretaceous clay at 47 6 18N by 104 39 22W in Montana by the O. Kline team of the Glendive Dinosaur and Fossil Museum.  It was sawed open by the O. Kline, H. Miller team in 2005 to retrieve samples for C-14 testing.
Triceratops #2, a very large ceratopsid-type dinosaur excavated in 2007 in Cretaceous clay at 47 02 44N and 104 32 49W in Montana by the O. Kline team of Glendive Dinosaur and Fossil Museum. Outer bone fragments of a femur were tested for C-14.
Hadrosaur #3, a duck billed dinosaur.  Scrapings were taken from a large bone excavated by Joe Taylor of Mt. Blanco Fossil Museum, Crosbyton TX in Colorado in Cretaceous strata.
Apatosaur, a sauropod.  Scrapings were taken from a rib still imbedded in the clay soil of a ranch in CO, partially excavated in 2007 and 2009, in 150 Ma (late Jurassic) strata by C. Baugh and B. Dunkel.
(b)  GX is Geochron Labs, Cambridge MA, USA; AA is University of Arizona, Tuscon AZ, USA; UG is University of Georgia, Athens GA, USA; KIA is Christian Albrechts Universitat, Kiel Germany.
(c)  AMS is Accelerated Mass Spectrometry; Beta is the conventional method of counting Beta decay particles.
(d)  Bio is the carbonate fraction of bioapatite. Bow is the bulk organic fraction of whole bone; Col is collagen fraction; w or ext is charred, exterior or whole bone fragments; Hum is humic acids.
Bioapatite is a major component of the mineralised part of bones.  It incorporates a small amount of carbonate as a substitute for phosphate in the crystal lattice.
Charred bone is the description given by lab personnel for blackened bone surfaces.
Collagen: Proteins that are the main component of connective tissue.  It can be as high as 20% in normal bone but decomposes over time so that there should be none after ~100,000 years.  Yet it is found in four-foot long, nine-inch diameter dinosaur femur bones claimed to be greater than 65 million years old.  The "Modified Longin Method" is the normal purification method for bone collagen.  Dr. Libby, the discoverer of Radiocarbon dating and Nobel Prize winner, showed that purified collagen could not give erroneous ages.
[url=http://newgeology.us/BG02-A012 Abstract.pdf]Click to see the conference schedule for presentation of abstract BG02-A012 at 17:00[/url]

On the conference website, the abstract was removed from position number 5.

Click to see where it had been on the Conference website
This is what happens when you try to get members of the academic community involved:

Click to see the YouTube video

Banned by the Center for Applied Isotope Studies
From 2007 through 2011 the Paleochronology group had 11 dinosaur bone samples carbon dated by the Center for Applied Isotope Studies at the University of Georgia, and for good reason.  Senior research scientist Alexander Cherkinsky specializes in the preparation of samples for Carbon-14 testing.  He directed the pretreatment and processing of the dinosaur bone samples with the Accelerator Mass Spectrometer, though he did not know the bones were from dinosaurs, and he signed the reports.  Carbon dating at this facility is certainly the very best.
But in 2014, someone told the director of the facility, Jeff Speakman, that the Paleochronology group was showing the Carbon-14 reports on a website and YouTube and drawing the obvious conclusions.  So when he received another bone sample from the Paleochronology group, he returned it to sender and sent an email saying: "I have recently become aware of the work that you and your team have been conducting with respect to radiocarbon dating of bone.  The scientists at CAIS and I are dismayed by the claims that you and your team have made with respect to the age of the Earth and the validity of biological evolution.  Consequently, we are no longer able to provide radiocarbon services in support of your anti-scientific agenda.  I have instructed the Radiocarbon Laboratory to return your recent samples to you and to not accept any future samples for analysis."
Notice that he did not say the radiocarbon reports of the dinosaur bone samples were inaccurate.  No, his objection was that the Paleochronology group was using the reports as evidence that dinosaurs lived thousands, not millions, of years ago.  So I asked him 3 times over 3 weeks what is the right conclusion to draw from the test results they provided us; then I asked his entire scientific staff.  None of them had an answer.
This is an attitude we have encountered among members of academia: there is an established truth, and all evidence contrary to it is rejected.  Anyone who challenges the established truth is made an enemy.
The threat hangs over everyone.  A manager of a commercial laboratory that does Carbon-14 dating, Beta Analytic Inc., reviewed a poster display of the dinosaur data and discussed it with a member of the Paleochronology group.  Her interest led us to propose that her company perform a Carbon-14 test on a T-rex bone we acquired.  She wrote back:
Bernadett Limgenco
Operations Manager - Australia and Southeast Asia
Beta Analytic Inc. 4985 SW 74 Court Miami, Florida 33155 USA
Thanks for considering our service in this project.
We wish you well in your research but must choose to opt-out of the analysis.
Since you have identified it as T-rex, and these are known to be extinct for 50 million years, it is beyond the limit of our dating.  If a "recent" result was derived it would be universally challenged with possible risks of poor result claims for our laboratory.
This is a project much better suited for collaboration with a university laboratory.
Regards,
Bernadett
*Radiocarbon Dating Results that Withstand the Test of Time*
BETA is an Accredited ISO/IEC 17025:2005 testing laboratory operating in conformance with ISO 9001:2008 management system requirements.  It has demonstrated both the technical competency and management system requirements necessary to consistently deliver technically valid test results.  These standards are universally recognized as the highest level of quality attainable by a testing laboratory.

Mark Armitage and the triceratops horn
Mark Armitage served as the Manager for the Electron and Confocal Microscopy Suite in the Biology Department at California State University Northridge from January 2010 to February 2013.  Mark was suddenly terminated by the Biology Department when his discovery of soft tissues in a Triceratops horn was published in Acta Histochemica.  The university claimed his appointment at had been temporary and claimed a lack of funding for the position.  This was news to him, and contradicted prior statements and documents from the university.  He is currently seeking relief in a legal action for wrongful termination and religious discrimination by California State University Northridge (CSUN).
Mark Armitage has a MS degree in biology and has been a microscope scientist (microscopist) for 30 years.  He was the president of the Southern California Society for Microscopy for several years.  He has some 30 publications to his credit.  Mark's micrographs have appeared on the covers of eleven scientific journals, and he has many technical publications on microscopic phenomena in such journals as American Laboratory, Southern California Academy of Sciences Bulletin, Parasitology Research, Microscopy and Microanalysis, Microscopy Today and Acta Histochemica, among others.  His career in teaching at educational institutions includes Master's College Azusa Pacific University and California State University Northridge.
According to papers filed with the Superior Court of Los Angeles County, when Mark Armitage interviewed for an opening at CSUN for a "regular" "part-time" microscopist in 2009 he told the panel that he had published materials supportive of creationism.  William Krohmer, Manager of Technical Services and Safety, who would be Armitage's direct supervisor, was on the panel.  The panel hired Armitage despite his creationist writings because of his exceptional qualifications.  The position was Electron Microscopy Technician in the Department of Biology, working two ten-hour days per week.  He was "permanent part-time" and was allowed to enroll in the full benefits package of the university.
He ran the Microscopy Imaging Facility with its three electron microscopes, personally training students and faculty on their proper use.  He was often praised for his work and accomplishments.  The Biology Department bought a new confocal microscope that used high-powered lasers for imaging and was computer-driven.  Armitage supervised the installation of the new microscope.  He was assigned to be the only instructor on it, with responsibility for control and supervision of the instrument.
In February 2012, he was asked to teach a full graduate course in Biological Imaging for the Biology Department.  In March 2012, Dr. Steven B. Oppenheimer sent an email to staff saying that the two days per week that Armitage was working needed to be expanded in order to facilitate the growing demands of the microscopy lab.
In June 2012, Dr. Ernest Kwok was made chairman of the committee overseeing the microscopy lab, and became Armitage's new supervisor.
In the summer of 2012, Armitage responded to an invitation to participate in a search for dinosaur fossils in Glendive, Montana in the famous Hell Creek formation.  He found the brow-horn of a triceratops; it was not petrified.  Studying the horn at the CSUN lab, he discovered soft tissue in the supposedly 65-million-year-old (or more) fossil.
While teaching students how to use microscopes in the lab that he directed at CSUN, Armitage engaged them in brief socratic dialogue about the possible age of the horn.  One of Dr. Kwok's students was stunned by the discovery and implications of soft tissue in the triceratops horn, and told Dr. Kwok about it.
On June 12, 2012, Dr. Kwok stormed into Armitage's lab and shouted, "We are not going to tolerate your religion in this department!", and chastised Armitage's "creationist" projects, referring to the triceratops horn.  Armitage reported this to the Biology Department chair, Dr. Randy Cohen, and to the manager of technical services for the Biology Department, William Krohmer.  They both played down the event and told Armitage to forget it.
Praise for Armitage's work continued from distinguished members of the Biology Department.  In November 2012, a photo of the soft tissue in the triceratops horn was published on the cover of American Laboratory magazine.  The former chair of the Biology Department, Dr. Oppenheimer, wrote a ringing endorsement of Armitage in a letter of recommendation.
On February 12, 2013, the journal Acta Histochemica published a paper by Armitage describing the discovery of soft tissue in the triceratops horn.  Acta Histochemica is a peer-reviewed journal of structural biochemistry of cells and tissue that welcomes advanced microscopical imaging; it has been publishing since 1954.  The current editor of Acta Histochemica is a biology professor at CSUN who was a colleague of Armitage, the esteemed Dr. Steven B. Oppenheimer.
On the day the paper was published, Dr. Kwok called a secret meeting of the committee overseeing the microscopy lab.  Armitage had served on the committee for three years, but he was not invited.  The committee decided to terminate Armitage.
On February 19, 2013, William Krohmer told Armitage that there was a "witch hunt" being mounted against him, and advised him to resign.  When he refused to resign, Krohmer told him he would be terminated.  Armitage was fired on February 27, 2013.  He was told that his job had only been a "temporary appointment".
There is an interesting sidenote to this story.  Hugh Miller, head of the Paleochronology group, obtained a bone sample from the triceratops horn Mark Armitage discovered.  The sample was sent to the Center for Applied Isotope Studies at the University of Georgia in 2012 to test for Carbon-14.  As you can see, the bone was dated by them to 33,570 years before present.
http://newgeology.us/Carbon-14%20comparison.pdf

More soft tissue
A remarkable find was published in the journal Nature in April 2013: "we report the discovery of a monotaxic embryonic dinosaur bone bed in Lower Jurassic strata near Dawa, Lufeng County, Yunnan Province, China".  The "bone bed is characterized by the presence of completely disarticulated skeletal elements at various stages of embryonic development".  "This discovery also providesthe oldest evidence of in situ preservation of complex organic remains in a terrestrial vertebrate."  "There are no preserved nest structures or uncrushed eggs."  "In contrast to previous studies of organic residues based on extracts obtained by decalcifying samples of bone, our approach targeted particular tissues in situ.  This made it possible to detect the preservation of organic residues, probably direct products of the decay of complex proteins, within both the fast-growing embryonic bone tissue and the margins of the vascular spaces."  "Previous reports of preserved dinosaur organic compounds, or 'dinosaurian soft tissues', have been controversial because it was difficult to rule out bacterial biofilms or some other form of contamination as a possible source of the organics.  Our results clearly indicate the presence of both apatite and amide peaks within woven embryonic bone tissue, which should not be susceptible to microbial contamination or other post-mortem artefacts."  -- Reisz, Robert R., Timothy D. Huang, Eric M. Roberts, ShinRung Peng, Corwin Sullivan, Koen Stein, Aaron R. H. LeBlanc, DarBin Shieh, RongSeng Chang, ChengCheng Chiang, Chuanwei Yang, Shiming Zhong. 11 April 2013. Embryology of Early Jurassic dinosaur from China with evidence of preserved organic remains. Nature, Vol. 496, pp. 210-214. doi: 10.1038/nature11978.
Commentary
Radiocarbon (RC) or Carbon-14 (C-14) dating of linen, cotton, bones, fossils, wood, sea shells, seeds, coal, diamond (anything with carbon) is one of the most common and well understood of the various scientific dating methods.
Carbon-14 is a radioactive isotope of carbon that is formed naturally in the atmosphere.  All plants and animals have a regular intake of carbon while they are alive.  When an animal or plant dies, it no longer takes in carbon of any form.  C-14 has a half-life of 5730 years. The maximum theoretical detection limit is about 100,000 years, but radiocarbon dating is only reliable up to 55,000 years with the best equipment.  Older dates are considered to be tentative.  If, as generally believed, dinosaurs have been extinct for 65 million years, there should not be one atom of Carbon-14 left in their bones.
The accuracy of carbon dates depends on whether the ratio of Carbon-14 to Carbon-12 was the same in the past as it is today.  Even with reliable results there is always a degree of uncertainty, and dates are usually given as +or- so many years.
There are two types of C-14 dating technologies.  The original one, counting Beta decay particles, is a multistep process and requires sample sizes of several grams.  The newer method of "Accelerator Mass Spectrometry" (AMS) requires smaller sample sizes and is more accurate.  Beta counting is prone to possible errors in each of the many phases.  AMS uses a much smaller sample size, and actually counts the Carbon-14 atoms as they are separated from the sample.  The equipment accelerates streams of charged atomic particles to high velocities in order to sort and analyze them.
Carbon-14 dating of bone is one of the most difficult tasks in carbon dating, and requires the most care of any carbonaceous material. This is mainly due to the nature of bone, which is a very porous material.  Certain parts of bone look like a sponge under the microscope.  Many dinosaur bones are hard as rock because the original material has been replaced with a silicon material such as quartz.  These are "mineralized" or "fossilized".  We have found un-mineralized dinosaur bones.  We then scrape the outer surface off to get rid of surface contamination, and date the inner remaining material.  One can date just the purified bioapatite, the total organics, or the collagen, or a combination of these, as we did in several cases.
The discovery, and later confirmation, of collagen in a Tyrannosaurus-Rex dinosaur femur bone was reported in the journal SCIENCE. This is a remarkable find because collagen, being a soft tissue present in most animals, is supposed to decay in a few thousand years.  Collagen is the main protein found in connective tissue of animals.  It can make up from 1 to 6 percent of muscle mass. Triceratops and Hadrosaur femur bones in excellent condition were discovered in Glendive Montana, and our group received permission to saw them in half and collect samples for Carbon-14 testing.  Both bones were tested by a licensed lab for presence of collagen.  Both bones did in fact contain some collagen.
The best process (Accelerator Mass Spectrometry) was used to date them.  Total organic carbon and dinosaur bioapatite was extracted and pretreated to remove potential contaminants, and concordant radiocarbon dates were obtained.  They were similar to radiocarbon dates for ice-age megafauna such as Siberian mammoths, saber tooth tigers of the Los Angeles LaBrea Tarpits, sloth dung, and giant bison.  We usually prefer AMS dating because of its inherent superior accuracy, but use the conventional method when large samples are available in order to completely rule out contamination.  This is recommended by a carbon-dating laboratory specialist.
Dr. Jean de Pontcharra, one of ten co-authors and an atomic physicist retired from the Grenoble Research Center of the French Atomic Energy Commission, and Professor Dr. Robert Bennett, physicist and co-author, agree that "the AOGS-AGU assembly encourages presentation of reliable data even though the topic may be controversial.  This is a very wise policy for the advacement of science and the education of people everywhere.  Thus, we encourage our colleagues to do their own carbon dating of dinosaur bones from museums and university fossil repositories around the world, as well as testing for C-14 in scrapings from dinosaur bones as they are excavated.  We are anxious to see their results presented, just as we have done.  Also, we call on the news media and citizens everywhere to urge paleontologists, curators, university faculty, and government scientific agencies to encourage and support further testing for C-14 content in dinosaur remains.  Scientists need to know the actual chronology of the Earth and the age of the fossils."
Radiometric dating alone might provide a weak case for young fossils. But if considering it together with non permineralized fossils and soft tissue found, it provides a cumulative case.
https://matthew2262.wordpress.com/category/biology-related/
When you get down to the bottom line, it is more than evident that radiocarbon dating is extremely limited. Only very particular objects, from very particular places, that have been pretreated, that have been compared to a calibration curve (and only fall within areas of the curve that aren't flat), and have been dated many times to provide an error range, can be considered somewhat trustworthy findings. That is, if you overlook the shortcomings of the C14 production problem and biosphere equilibrium problem. Accordingly, these evident shortcomings need to be appreciated and a certain degree of skepticism should be maintained when reading of radiocarbon results. All too often one hears of a discovery from antiquity that has been radiocarbon dated, of which the authors conclude they now know the exact date of the finding. Yet such confidence is often unwarranted. Yes, radiocarbon is an ingenious method and noble pursuit to answer questions about our past, but it is far from perfect, and our strong desire to have absolute answers to our biggest questions will not be satisfied from overextending confidence into a constrained method simply because there is no other alternative. But until we can lay our egos aside to be comfortable with the humbling notion that "we don't know exactly," radiocarbon dating will remain the absolute say on exactly how old something is.
Carbon-14 Found in Dinosaur Bone
2
Seek and ye shall find: creationists boldly go where no evolutionists have gone before.
With the recent announcement of soft tissue in off-the-shelf dinosaur bones (6/09/15, 6/10/15), complete with enriched carbon, the obvious question is: does any of it contain carbon-14? Because of the isotope's short half-life (5,730 years), no should be detectable after about 100,000 years. Finding measurable in the bones would therefore invalidate the consensus belief that dinosaurs lived and died over 65 million years ago.
Secular paleontologists consider it a waste of time to test for in dinosaur bone. There shouldn't be any. Bones millions of years old, including those of all dinosaurs, should be "radiocarbon dead." But like Mary Schweitzer said about soft tissue in general, "If you don't look, you won't find. But if you do, you never know."
The Creation Research Society (), an organization of Biblical creation scientists since 1963, went looking. In the spring 2015 issue of their peer-reviewedQuarterly (51:4), they published a special report with results of their iDINO project: an investigation into soft tissue remains in dinosaur bones. (This issue was prepared and printed before the announcement in Nature Communications.) The bombshell announcement is that measurable has been found in dinosaur bones. Brian Thomas and Vance Nelson report:
Measurable amounts of radiocarbon have been consistently detected within carbonaceous materials across Phanerozoic strata. Under uniformitarian assumptions, these should no longer contain measurable amounts of radiocarbon. Secularists have asserted that these challenging finds originate from systematic contamination, but the hypothesis of endogenous radiocarbon should be considered. Assuming these strata were largely deposited by the Noahic Flood occurring within the time range of radiocarbon's detectability with modern equipment under uniformitarian assumptions, we hypothesized that fossils from all three erathems, including dinosaur fossils, should also contain measurable amounts of radiocarbon. Consistent with this hypothesis, we report detectable amounts of radiocarbon in all 16 of our samples. Attempts to falsify our hypothesis failed, including a comparison of our data with previously published carbon-dated fossils. We conclude thatfossils and other carbonaceous materials found throughout Phanerozoic strata contain measurable amounts of radiocarbon that is most probably endogenous.
Thomas and Nelson began by predicting radiocarbon in dinosaur bone based on long-standing published reports of measurable radiocarbon in coal, diamonds, and other materials assumed by evolutionary geologists to be millions of years old. They gathered 16 samples from 14 fossil specimens of fish, wood, plants, and animals from throughout the geologic column, Miocene to Permian, from all three eras: Cenozoic, Mesozoic and Paleozoic. Samples came from a variety of locales around the globe, including Canada, Germany and Australia.  About half were from dinosaur bones (7 specimens). All samples were prepared by standard processes to eliminate contamination, then were submitted to a lab for atomic mass spectrometry ().
Unexpectedly, all 16 samples submitted for measurement contained C-14. We found measurable amounts of 14C in all 14 of our dinosaur and other fossils. Moreover, we found surprising consistency in these data, which range from approximately 17,850 to 49,470 radiocarbon years as indicated in Figure 1.
It should be understood that "radiocarbon years" do not necessarily indicate true ages of specimens, because calibration depends on assumptions about atmospheric conditions prior to dates that can be cross-checked against archaeological records (cf. radiocarbon dating of an Iron Age pottery inscription,6/16/15). It was not the goal of the project to date the specimens, but just to see if any radiocarbon remained.
In the paper, they consider whether it was a bad day at the lab that did the testing, leading to uniformly biased results. That is highly unlikely to be the case, they argue, since four other labs have published radiocarbon presence in specimens thought to be millions of years old. Those reports compare favorably to the new results, yielding radiocarbon ages in the same finite range. Strikingly, it doesn't matter if the specimens are labeled Cenozoic, Mesozoic or Paleozoic: each era spans the range of radiocarbon "ages" resulting from the tests.
They also considered whether groundwater might have leached carbon-14 into the samples. If so, one would expect samples from drier conditions to differ from those in wetter locales, or portions taken from the interior of a bone to differ from those closer to the exterior. No such trend was found; moreover, the dates obtained were consistent with an earlier published result from a fossil 3,000 feet below the surface, well below the water table.
Since the radiocarbon ages are orders of magnitude younger than believed, and consistent in upper and lower limits regardless of locale of assumed era, the authors conclude that all the geologic strata with their fossils must have been laid down in a short period, as described in the Genesis flood account.
The other five papers in the Quarterly augment this major new empirical test of fossil ages.
[list="margin: -1em 0px 1.5em 1.5em; padding-right: 0px; padding-left: 0px; border: 0px; font-stretch: inherit; font-size: 16px; line-height: 24px; font-family: 'PT Serif'; vertical-align: baseline; list-style: none; color: rgb(31, 9, 9);"]
[*]
Brian Thomas surveyed reports of original biomaterial in fossils.
[*]
Mark Armitage presented his results of finding soft tissue in a Triceratops horn from the Hell Creek Formation in Montana. (This is an update for a creationist journal of his earlier paper that cost him his job at Cal State Northridge; see 11/05/14.)
[*]
Kevin Anderson critiqued the theory that the soft tissue is not primordial, but merely a cast made by bacterial biofilms.
[*]
John M. DeMassa and Edward Boudreaux investigated processes that lead to peptide degradation.
[*][size=13]Timothy Cla


Last edited by Otangelo on Wed Aug 09, 2023 5:27 pm; edited 48 times in total