Biochemical fine-tuning - essential for life
https://reasonandscience.catsboard.com/t2591-biochemical-fine-tuning-essential-for-life
Fine-tuned regulation of nucleotide metabolism to ensure DNA replication with high fidelity is essential for proper development in all free-living organisms 3
Today, it is particularly striking to many scientists that cosmic constants, physical laws, biochemical pathways, and terrestrial conditions are just right for the emergence and flourishing of life. 1 It now seems that only a very restricted set of physical conditions operative at several major junctures of emergence could have opened the gateways to life.
Fine-tuning in biochemistry is represented by the strength of the chemical bonds that makes the universal genetic code possible. Neither transcription nor translation of the messages encoded in RNA and DNA would be possible if the strength of the bonds had different values. Hence, life, as we understand it today, would not have arisen. 2
As it happens, the average bond energy of a carbon–oxygen double bond is about 30 kcal per mol higher than that of a carbon–carbon or carbon–nitrogen double bond, a difference that reflects the fact that ketones normally exist as ketones and not as their enol-tautomers. If (in the sense of a "counterfactual variation") the difference between the average bond energy of a carbon–oxygen double bond and that of a carbon–carbon and carbon–nitrogen double bond were smaller by a few kcal per mol, then the nucleobases guanine, cytosine, and thymine would exist as "enols" and not as "ketones," and Watson–Crick base-pairing would not exist – nor would the kind of life we know.
It looks as though this is providing a glimpse of what might appear (to those inclined) as biochemical fine-tuning of life.
AmazingWatson–Crick base-pairing
The existence of Watson–Crick base-pairing in DNA and RNA is crucially dependent on the position of the chemical equilibria between tautomeric forms of the nucleobases.1 These equilibria in both purines and pyrimidines lie sharply on the side of amide- and imide-forms containing the (exocyclic) oxygen atoms in the form of carbonyl groups (C=O) and (exocyclic) nitrogen in the form of amino groups (NH2). The positions of these equilibria in a given environment are an intrinsic property of these molecules, determined by their physico-chemical parameters (and thus, ultimately, by the fundamental physical constants of this universe). The chemist masters the Herculean task of grasping and classifying the boundless diversity of the constitution of organic molecules by using the concept of the "chemical bond." He pragmatically deals with the differences in the thermodynamic stability of molecules by using individual energy parameters, which he empirically assigns to the various types of bonds in such a way that he can simply add up the number and kind of bonds present in the chemical formula of a molecule and use their associated average bond energies to estimate the relative energy content of essentially any given organic molecule.
Now comes the striking interpretation of the Darwinism-inclined and indoctrinated mind :
Whatever biological phenomena appear fine-tuned can be interpreted in principle as the result of life having finetuned itself to the properties of matter through natural selection. Indeed, to interpret in this way what we observe in the living world is mainstream thinking within contemporary biology and biological chemistry.
Sometimes it strikes me how un-imaginative these folks are. They cannot imagine anything else beside NATURAL SELECTION. So the hero on the block strikes again. The multi-versatile mechanism propagated by Darwin explains and solves practically any issue and arising question of origins. Can't explain a phenomena in question ? NS did it.....  huh....
Conceive (through chemical reasoning) potentially natural alternatives to the structure of RNA; synthesize such alternatives by chemical methods; compare them with RNA with respect to those chemical properties that are fundamental to its biological function.
Fortunately for this special case of the nucleic acids, it is not at all problematic to decide what the most important of these properties has to be: it must be the capability to undergo informational Watson–Crick base-pairing.
The relevance of the perspective created in such a project will strongly depend on the specific choice of the alternatives' chemical structures. The quest is to focus on systems deemed to
be potentially natural in the sense that they could have formed, according to chemical reasoning, by the very same type of chemistry that (under unknown circumstances) must have been operating on earth (or elsewhere) at the time when and at the place where the structure type of RNA was born. Candidates that lend themselves to this choice are oligonucleotide systems, the structures of which are derivable from (CH2O)n sugars (n = 4, 5, 6) by the type of chemistry that allows the structure of natural RNA to be derived from the C5-sugar ribose (see Figure 16.2).
This approach is based on the supposition that RNA structure originated through a process that was combinatorial in nature with respect to the assembly and functional selection of an informational system within the domain of sugar-based oligonucleotides. In a way, the investigation is an attempt to mimic the selection filter of such a natural process by chemical means, irrespective of whether RNA first appeared in an abiotic or a biotic environment.
In retrospect, the results of systematic experimental investigations carried out along these lines justify the effort (see Figure 16.3).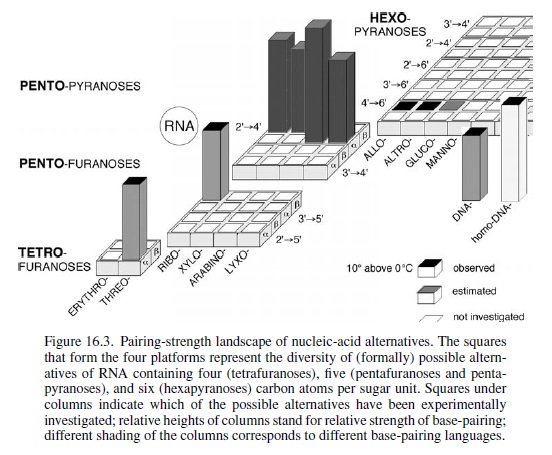 It is found that hexopyranosyl analogs of RNA (with backbones containing six carbons per sugar unit instead of five carbons and six-membered pyranose rings instead of five-membered furanose rings) do not possess the capability of efficient informational Watson–Crick base-pairing.
Therefore, these systems could not have acted as functional competitors of RNA in
nature's
the intelligent designers ( makes much more sense, doesnt't it ? Nature has no conscience nor mind to make choices ) choice
of a genetic system, even though these sixcarbon alternatives of RNA should have had a comparable chance of being formed under the conditions that formed RNA. The reason for their failure revealed itself in chemical model studies: six-carbon-six-membered-ring sugars are found to be too bulky to adapt to the steric requirements of Watson–Crick base-pairing within oligonucleotide duplexes. In sharp contrast,
an entire family of nucleic acid alternatives in which each member comprises repeating units of one of the four possible five-carbon sugars (ribose being one of them) turned out to be highly efficient informational base-pairing systems.
https://libgen.lc/ads.php?md5=93BD1E56297FD8E9830AA31A3F06D70A
1. Barrow, FITNESS OF THE COSMOS FOR LIFE,  Biochemistry and Fine-Tuning, page 352
2. Barrow, FITNESS OF THE COSMOS FOR LIFE,  Biochemistry and Fine-Tuning, page 154
3. https://www.nature.com/articles/s41598-018-22145-8


Last edited by Admin on Mon Jul 06, 2020 5:52 am; edited 7 times in total