How  intracellular Calcium signaling,  gradient and its role as a universal intracellular regulator points to design
https://reasonandscience.catsboard.com/t2448-howintracellular-calcium-signaling-gradient-and-its-role-as-a-universal-intracellular-regulator-points-to-design
In view of the importance of calcium 
(Ca2+) 
as a universal intracellular regulator, its essential role in cell signaling and communication in many biological intra and extra cellular processes,  it is surprising how little it is mentioned in the origins ( evolution/ID) debate. Most discussions about the origin of life start with RNA worlds versus metabolism first scenarios, panspermia, hydrothermal vent theory etc. The origin of life cannot be elucidated, without taking into consideration and explaining how the calcium signaling machinery and cell homeostasis appeared. 
The Calcium gradient :
The ability of cells to maintain a large gradient of calcium across their outer membrane is universal. All biological cells have a low cytosolic (liquid found inside Cells ) calcium concentration, can and must keep this even when the free calcium outside is up to 20,000 times higher concentrated!  T
he first forms of life required an effective Ca2+ homeostatic system, which maintained intracellular Ca2+ at comfortably low concentrations—somewhere around 100 nanomolar, this being ∼10,000–20,000 times lower than that in the extracellular milieu.
  Damage the ability of the plasma membrane to maintain this gradient and calcium will flood into the cell, precipitating calcium phosphate, damaging the ATP-generating machinery, and kill the cell. 
At millimolar concentrations, calcium competes with Mg2+ ( magnesium), binds to DNA and RNA, and clogs it up. Ca2+ binds to nucleotides, so they do not work properly. And crucially Ca2+, at too high concentrations, precipitates carbonate, phosphate, and sulfate. So if a primeval cell was to work, it had to get rid of Ca2+, lowering it at least to submillimolar levels, if not submicromolar. 
In fact, without control of intracellular Ca2+,  life would never have got off the ground! 
Control of intracellular Ca2+ had to be a crucial step in allowing the original cells to survive and replicate, even 
before RNA or DNA synthesis could begin in earnest. 
The evidence we have from molecular biology, together with the toxic nature of prolonged high Ca2+ levels inside cells, argues strongly that primeval cells must have had  Ca2+ pumps to keep their free intracellular Ca2+ low, setting the scene for the 'calcium pressure' across then plasma membrane to be exploited to act as the source for cell activation.
In order to maintain such a low cytosolic calcium concentration, Ca2+ ions thus have to be transported against a steep concentration gradient. In addition, the positively charged molecules are often transported against a very negative membrane potential, contributing to a large electrochemical gradient for Ca2+ ions.   
The concentration is tightly regulated by Ca 2+ -binding proteins, Ca 2+ pumps and other transporters. 
This gradient has to be maintained by the continuous exclusion of Ca2+ from the cell.
The removal of Ca2+ by active extrusion requires energy to pump the Ca2+ against the electrochemical gradient. The metabolic apparatus that serves this function involves Ca2+ protein-based and non-proteinaceous channels, Ca2+ antiporters (Ca2+/2H+, Ca2+/Na+), and ATP-dependent Ca2+ pumps.
The making of a power gradient ( which is a thermodynamically uphill process )  is always an engineering achievement, and a lot of knowledge,  planning, and intelligence is required for setup. Hydroelectric dams are highly complex, and always the result of years of planning by the most skilled, educated and knowledge engineers  of large companies. As for many human inventions, the engineering solutions discovered by man are employed in nature at least since life began in a far more elaborate and sophisticated way. 
So inanimate chemistry had the innate drive of trials and errors to produce a cell membrane, and amongst tons of other things, a Ca+ gradient through highly complex Calcium channels to keep a 10 000-fold higher concentration of calcium outside the cell than inside the cytosol in order to create a environment suited for a protocell to keep its vital functions and not to die ? Why would chemical elements do that? Did they have the innate drive and goal to become alive and keep an  ambiance prerequisite, homeostasis of various elements, to permit life ?Calcium signaling:
Metabolism of ATP required intracellular free Ca(2+) to be set at exceedingly low concentrations, which in turn provided the background for the role of Ca(2+) as a universal signalling molecule. Furthermore, Ca(2+) is a universal carrier of biological information, and
one of the most extensively employed signal transduction mechanisms
: it controls cell life from its origin at fertilization to its end in the process of programmed cell death.
 Ca(2+) is a conventional diffusible  messenger released inside cells by the interaction of first messengers with plasma membrane receptors.
Perhaps the most distinctive property of the Ca(2+) signal is its ambivalence: while essential to the correct functioning of cells, Ca(2+) becomes an agent that mediates cell distress, or even (toxic) cell death, if its concentration and movements inside cells are not carefully tuned. 
  A prolonged high level of intracellular free Ca2+ irreversibly damages mitochondria and can cause chromatin condensation, precipitation of phosphate and protein and activation of degradative enzymes such as proteases, nucleases and phospholipases
Calcium ions (Ca2+) serve as a universal signal to 
modulate almost every aspect of cellular function in all cells
. Cells in the three domains of life all have a number of universalities, including intracellular Ca2+.   Calcium carries messages to virtually all important functions of cells. Ca2+ signaling pathway plays a key messenger role in regulating many cellular processes including fertilization, contraction, exocytosis, transcription, apoptosis, and learning and memory. 
Ca 2+ controls the most important cell functions in all eukaryotic organisms. Fertilization, muscle contraction, secretion, several phases of metabolism, gene transcription, apoptotic death, etc. are 
finely orchestrated
 by the functional versatility of Ca 2+ signaling and its 
exquisite spatial and temporal regulation
. 
Most likely its unique coordination chemistry has been a decisive factor as it makes its binding by complex molecules particularly easy, even in the presence of large excesses of other cations, e.g. magnesium. Its free concentration within cells can thus be maintained at the very low levels demanded by the signaling function. A large cadre of proteins exists to bind or transport calcium. They all contribute to buffer it within cells, but a number of them also decode its message for the benefit of the target. The most important of these "calcium sensors" are the 
EF-hand proteins
.
Given the central role of intracellular calcium signaling in the living world, a better understanding of the constitution of this calcium-signaling toolkit, and the proteins that comprise it, is crucial to our global understanding of what was required for cells to emerge. 
These scientific studies highlight the high conservation of the calcium toolkit from prokaryotes to metazoa and the increasing complexity of the proteins that make it up.   The necessity of exporting Ca2+ from cells is a direct consequence of the ambivalent nature of the Ca2+ signal.
 Ca2+ is essential to cells: it presides over the origin of new life at fertilization and assists cells when their vital cycle has come to an end. Between origin and end, however, Ca2+ guides cells in most of what they must do to fulfill the tasks assigned to them. The balance of Ca2+ between cells and the outside ambient must be regulated with utmost precision: any escape that would somehow alter the balance by letting internal Ca2+ increase over the optimal level spells doom for cells.
Controlled environment is the essence of life.
  This cellular separation from the surround pretty much builds around a simple and effective principle of divide et impera, i.e., divide the world into external environment and internal space and govern everything which goes into or out of the living cell/organism.   Ca2+ permits binding reactions that are ~ 100 times faster than Mg2+( magnesium ). 
The maintenance of the stability of cells, osmotic, electrical and chemical, is life essential,
 and requires the cell to reject certain elements  as ions, namely Na+ ( Sodium ), Ca2+ ( Calcium ) and cl ( Chlorine ), while retaining K+ ( potassium ions ) and Mg2+ ( magnesium )  . The levels of these simple ions are related to the cell's activities, both to metabolism and to the functioning of DNA.  This requirement to reject Ca2+ in the initial stages of life is the pre-requisite of all its advanced functions. To maintain steady states of flow, cells have numerous signaling (circuit) systems employing carriers and messengers, amongst which co-enzymes are of major importance. 
To describe cellular homeostasis , in total about twenty elements need to be regulated.
To get this is already a major feat. How did inanimated matter achieve this without guiding intelligence ?
Inseparable tandem: evolution chooses ATP and Ca2+ to control life, death and cellular signalling.
From the very dawn of biological evolution, ATP was selected as a multipurpose energy-storing molecule. Had a adequate energy supply in the cell not to be established prior when life began ? And so, had the origin of energy supply not have to be setup without having evolution at hand as driving force, since dna replication was not setup yet ?  Yet, 
 low  Ca2+ concentration in the cell is a prerequisite  for ATP metabolism. 
That creates one more remarkable catch22 situation, since for a 
Ca2+ gradient, membrane channels are required, which are only made using ATP as energy source for its biosynthesis. But the production of ATP requires a existing calcium gradient !!
The proposed naturalistic explanations, like 

Donnan potential without requiring 

Ca 2+ -ATPases and antiporters are fantasious at best. 
ATP effects are mediated by an extended family of purinoceptors often linked to Ca(2+) signalling. Similar to atmospheric oxygen, Ca(2+) must have been reverted from a deleterious agent to a most useful (Intra- and extracellular) signaling molecule. Invention of intracellular trafficking further increased the role for Ca(2+) homeostasis that became critical for regulation of cell survival and cell death. Several mutually interdependent effects of Ca(2+) and ATP have been exploited in evolution, thus turning an originally unholy alliance into a fascinating success story.
The Regulation of a Cell's Ca 2+ Signaling Toolkit: The Ca 2+ Homeostasome
The Ca 2+ ion serves as a ubiquitous second messenger in eukaryotic cells and changes in the intracellular Ca 2+ concentration regulate many responses within a cell, but also communication between cells. 
In order to make use of such an apparently simple signal, i.e. a change in the intracellular Ca 2+ concentration, cells are equipped with sophisticated machinery to precisely regulate the shape (amplitude, duration) of Ca 2+ signals in a localization-specific manner.
 To ascertain such a precise regulation, cells rely on the components of the Ca 2+ signaling toolkit. This embraces Ca 2+ entry systems including 
Ca 2+ channels
 in the plasma membrane and organellar membranes, and Ca 2+ extrusion/uptake systems including 
Ca 2+ -ATPases (Ca 2+ pumps)
 and 
Na + /Ca 2+ exchangers
. The Ca 2+ -signaling components orchestrate their activity as to ascertain the high accuracy of intracellular Ca 2+ signaling. The total of the molecules that build the network of Ca 2+ signaling components, and that are involved in their own regulation as to maintain physiological Ca 2+ homeostasis resulting in phenotypic stability is named the Ca 2+ homeostasome.
Ca2+ triggers life at fertilization and controls the development and differentiation of cells into specialized types. It mediates the subsequent activity of these cells and, finally, is invariably involved in cell death. To coordinate all of these functions, Ca2+ signals need to be flexible yet precisely regulated. This incredible versatility arises through the use of a Ca2+- signaling 'toolkit', whereby the ion can act in the various contexts of space, time and amplitude. Different cell types then select combinations of Ca2+ signals with the precise parameters to fit their physiology.
The concentration of Ca2+ increases during perturbation of stimuli, which get recognized by calcium binding proteins or sensor proteins. These proteins further transfer the signal downstream to start phosphorylation cascade that ultimately leads to the regulation of gene expression 
The modulation in Ca2+ concentration across the cell membrane is basically mediated by three classes of transporters-
1. Ca2+-ATPases (PMCAs)
2. Ca2+ permeable channels, or in other words : 
Ca2+ selective channels
3. Ca2+/cation antiporters (CaCAs), or in other words :  
Ca2+/H+ and Na+/Ca2+ exchangers 
which only function in combination of each other 
This is a interdependent system !
The Plasma Membrane Calcium ATPase
The plasma membrane Ca2+ ATPase (PMCA) is a transport protein in the plasma membrane of cells and functions to remove calcium (Ca2+) from the cell by using the energy stored in ATP.  Thus, it is necessary for cells to employ ion pumps to remove the Ca2+. The PMCA ATPase pump and the sodium-calcium exchanger (NCX) are together the main regulators of intracellular Ca2+ concentrations.   Perhaps the most important structural property that sets the PMCA pump apart from all other members of the superfamily is the presence of a long cytosolic C-terminal tail, which has an essential role in the regulation of the activity of the enzyme: it is the locus of interaction of regulatory partners, chief among them
calmodulin
, and is the structure responsible for the mechanism of autoinhibition, which is a distinctive properties of the PMCA pump.   Calmodulin interacts with its binding domain removing it from the docking sites next to the active center, freeing the pump from autoinhibition. 
Voltage-Dependent Channels at the Plasma Membrane
It is assumed that DACCs contribute to the short transient influx of Ca2+ in response to various stimuli, including chilling and microbe interaction. Voltage-gated NaV channels (NaVs) initiate action potentials in excitable cells and are crucial for electrical signaling from bacteria to man. Voltage-gated CaV channels (CaVs) are activated by depolarization during action potentials, and Ca2+ entry through them initiates synaptic transmission, muscle contraction, hormone secretion, and many other biochemical and physiological processes. These channels are thought to share similar voltage-dependent activation and inactivation processes, whose structural basis is fundamental for electrical signaling. Moreover, how these channels can rapidly and selectively conduct Na+ or Ca2+ ions in response to changes of the electrical membrane potential is a crucial question in biology.
Had the right electrical potential not have to be regulated, programmed and setup right from the beginning to bear function for survival of the first cells?

The Ca2+/Cation antiporter (CaCA) superfamily
Electrochemical potential driven Ca2+ transporters are mostly low-affinity Ca2+ transport systems that use the energy stored in the electrochemical gradient of ions.  Cation transport is a critical process in all organisms and is essential for mineral nutrition, ion stress tolerance, and signal transduction.
The PMCAs are effective at maintaining low internal [Ca2+] over long durations, whereas NCX and NCKX Ca2+/Cation antiporters can make the rapid adjustments needed during generation of action potentials in neurons.
Types of Intracellular Ca2+ Signal
When a Ca2+channel opens, a highly concentrated plume of Ca2+ forms around its mouth and then dissipates rapidly by diffusion after the channel has closed. Such localized signals, which can originate from channels in the plasma membrane or on the internal stores, represent the elementary events — the basic building blocks of Ca2+ signaling.  The spatiotemporal properties of these elementary events, such as Ca2+ sparks and Ca2+ puffs, differ depending on the nature and location of the channels. 
By characterizing these signals, we can discover how the Ca2+- signaling repertoire is elaborated. Essentially, these elementary signals have two functions. They can either activate highly localized cellular processes in the immediate vicinity of the channels (Fig. 1a) or, by recruiting channels throughout the cell, they can activate processes at a global level (Fig. 1b, c). The subcellular location of Ca2+ channels is crucial for targeting elementary signals to different cellular processes. In smooth muscle, for example, Ca2+ sparks that arise locally, near the plasma membrane, activate potassium (K+ ) channels (Fig. 1a), causing the muscle to relax. But when elementary release events deeper in the cell are coordinated to create a global Ca2+ signal, the muscle contracts.
This is a striking example of how spatial organization enables Ca2+ to activate opposing cellular responses in the same cell.
This raises the question how the spatial organisation emerged. Trial and error?
Had not both, the location of the channels that coordinate the elementary release events deeper in the cell, and a global Ca2+ signal, which induces the muscle to contract , and  the location of the channels that activate the signals that activates potassium, causing the muscles to relax, to be at the right place together, in order to get both required movements at the same time ? one movement without the other would make no sense. That is, a muscle would be able to contract, but not relax, and vice-versa. Isn't that clear evidence that the whole mechanism had to be setup right from the beginning, with every channel at the right place?  
Time
One of the paradoxes surrounding Ca2+ is that it is a signal for both life and death — although elevations in Ca2+ are necessary for it to act as a signal, prolonged increases in the concentration of Ca2+ can be lethal. Cells
avoid death either by using low-amplitude Ca2+ signals or, more usually, by delivering the signals as brief 'transients'. These principles apply to both elementary and global signals.
That raises another interesting question: How was the coordination setup the first time? trial and error? If trials would not produce the right concentration, but a prolonged one, the cell dies. Did the cell die every time the dosage was not finely tuned to low amplitude?  Isn't that a clear indication that gradual step-wise evolutionary development of the mechanism would not be possible, but only an all or nothing setup ?
Single transients are used to activate certain cellular processes, such as secretion of cellular material in membrane-bound vesicles, or muscle contraction. However, when information has to be relayed over longer time periods, cells use repetitive signals known as Ca2+ oscillations. Both the elementary events and the global signals can oscillate, but they have widely different periods. For example, whereas the period of elementary Ca2+ sparks in arterial smooth muscle is 0.1–0.5 seconds, it is 10–60 seconds for global waves in liver cells, 1–35 minutes for Ca2+ waves in human eggs after fertilization, and 10–20 hours for the spontaneous Ca2+ transients that control cell division. 
The duration of the signals had to be preprogrammed, and follows the information transmission rules of encoding, code sending, and decoding, which can only be set up by intelligence. 
Cells use frequency modulation (FM) to vary the intensity and nature of the physiological output.
 For instance, arteries can be made to dilate by increasing the frequency of Ca2+ sparks, which cause the smooth muscle lining the arteries to relax. And by varying the frequency of global Ca2+ signals, different genes can be activated. 
To use FM signaling, cells have decoders that respond to the frequency and longevity of the Ca2 signals.
Probably the best-known example is an enzyme called calmodulin-dependent protein kinase II, which is found in both animal and plant cells and which regulates other enzymes that rely on Ca2+. It works by 'counting' Ca2+ transients and varying its activity accordingly.
How did it "learn" that feat ? Had this mechanism not to be pre-programmed ? Since when can mindless matter learn to count and understand informational signals ?
The enzyme is composed of many identical subunits, and these are activated to varying degrees depending on the frequency of the Ca2+ oscillations.
Amplitude
Information can also be encoded in the amplitude of Ca2+ signals. Such amplitudemodulated (AM) signalling is generally considered to be less reliable than that based on frequency, owing to the difficulties of detecting small Ca2+ changes above the background level. However, it has been shown that 
cells can interpret modest changes in the concentration of Ca2+
. For example, different genes can be activated by varying the amplitude of Ca2+ signals. 
Fertilization and development
In mammals, life begins at fertilization when the sperm interacts with the egg to trigger a Ca2+ oscillation that persists for several hours. This prolonged period of repetitive Ca2+ pulses triggers the developmental program by stimulating the enzymatic machinery involved in the cell-division cycle. 
There are no further changes in Ca2+ until the one-cell embryo is ready to divide when a spontaneous Ca2+ transient triggers cleavage to form two daughter cells. There are indications that this orderly program may be controlled by two distinct oscillators — Ca2+ signals and oscillating levels of proteins involved in the cell-division cycle. The Ca2+ oscillator seems to be the main mechanism because it persists when dissociated from the cell-cycle oscillator. 
Just what drives this Ca2+ oscillator, with a period of 10–20 hours, is a mystery
, but it may depend on periodic increases in the level of a diffusible intracellular messenger called inositol 1,4,5-trisphosphate (Ins(1,4,5)P3) with each division. In many cells, hormones and growth factors activate the enzyme phospholipase C, which catalyzes the production of InsP3 from the membrane lipid phosphatidylinositol 4,5- bisphosphate (Box 1). As embryos grow and groups of cells differentiate to perform specialized functions, 
Ca2+ signalling contributes to body polarity and pattern formation
.For instance, in amphibians and zebrafish, it is thought to help specify which cells will form structures at the top (dorsal) or the bottom (ventral) part of the embryo. As cells differentiate to perform different functions, they select out those components of the Ca2+-signalling tool kit that best fit their remit. This versatility is emphasized by growing evidence that 
Ca2+ controls cellular processes as diverse as cell proliferation and the neuronal plasticity that is responsible for learning and memory. But at any moment, any of these orderly signaling events can be switched to activate a program that leads to cell death — a big challenge for the future is to understand how Ca2+ suddenly transforms from a signal for life to a signal of death.
This is highly relevant, as it shows that Ca2+ signaling makes part of the toolkit of body form formation, and if body form has to change, it depends on the change of Ca2+ signaling as well. Another epigenetic mechanism that refutes macro-evolution. There is a big challenge if naturalistic origins are proposed for the phenomena in question, but when the design is proposed, it's perfectly explainable that the designer pre - programmed the life cycle of cells, that is cell cycle, fertilization, cell differentiation, spatiotemporal patterning,  timing and amplitude of the signals, and regulation. 
Cell death


Very high concentrations of Ca2+ can lead to the disintegration of cells (necrosis) through the activity of Ca2+-sensitive protein-digesting enzymes. Calcium has also been implicated in the more orderly program of cell death known as apoptosis. Apoptosis is important during both normal development (the formation of tissue patterns, for example) and pathological conditions such as AIDS, Alzheimer's disease, and cancer. A protein that is mutated in cancerous cells, called Bcl-2, prevents the cell death that would normally limit the survival and proliferation of cancer cells. Bcl-2 mediates some of its antiapoptotic action by modifying the way in which organelles such as the endoplasmic reticulum and mitochondria (where respiration occurs) handle Ca 2+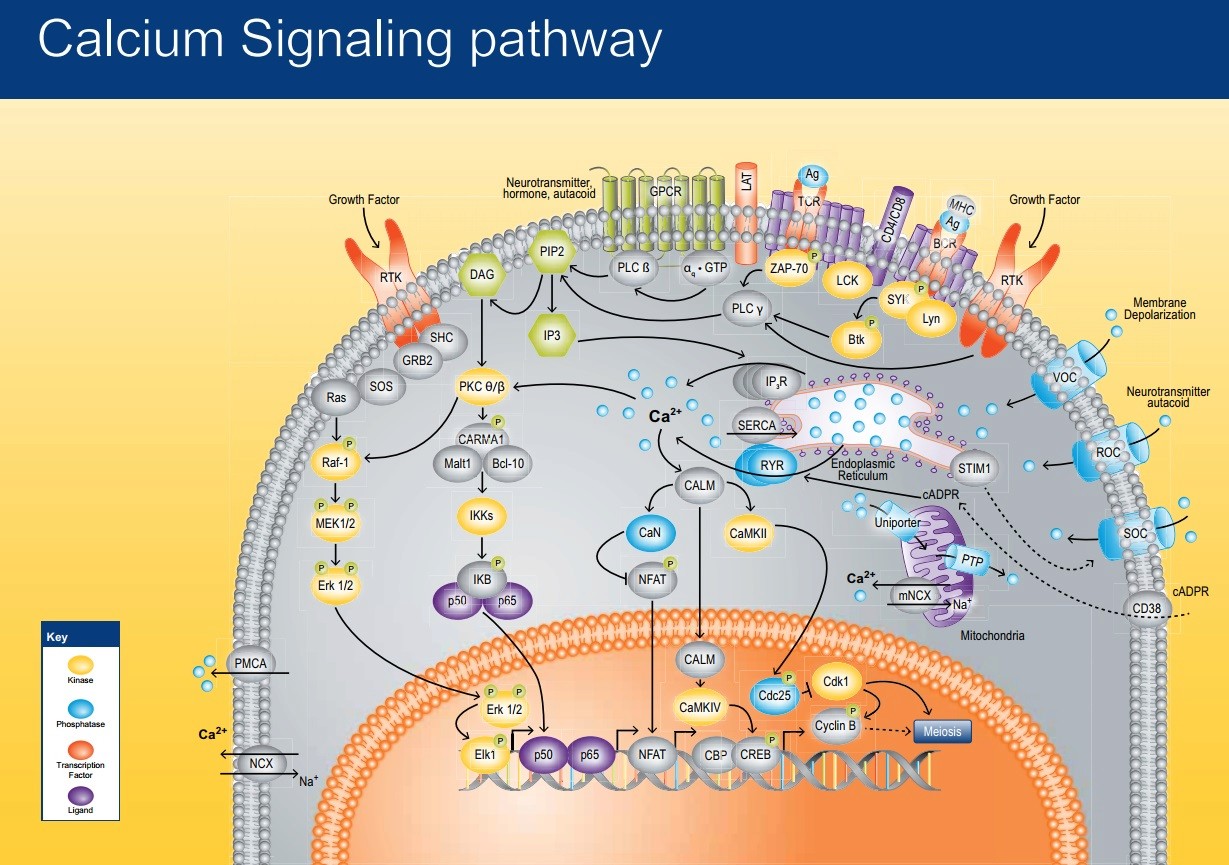 Last edited by Admin on Thu Apr 12, 2018 3:04 am; edited 46 times in total