Origin of life:  heterotrophic or autotrophic , the emergence of the Basic Metabolic Processes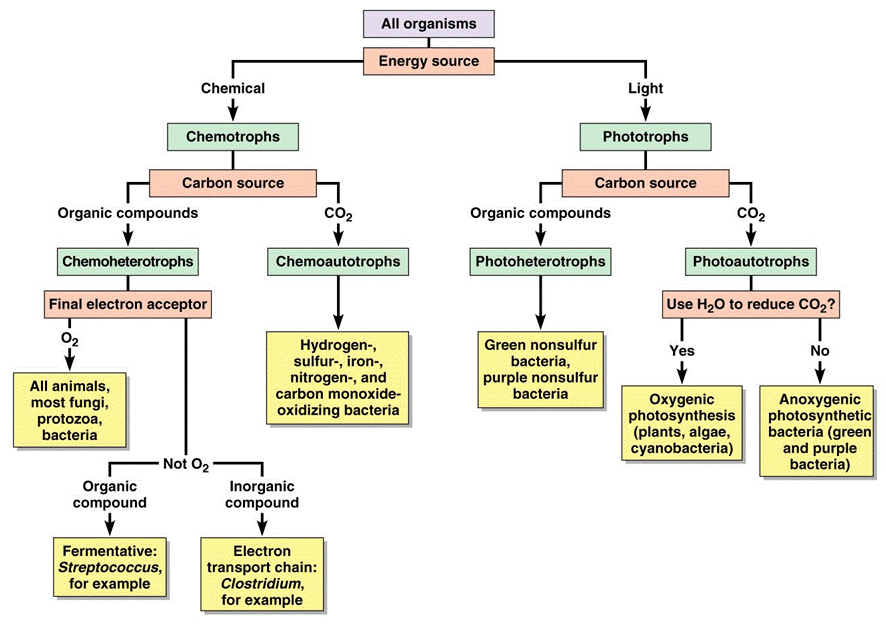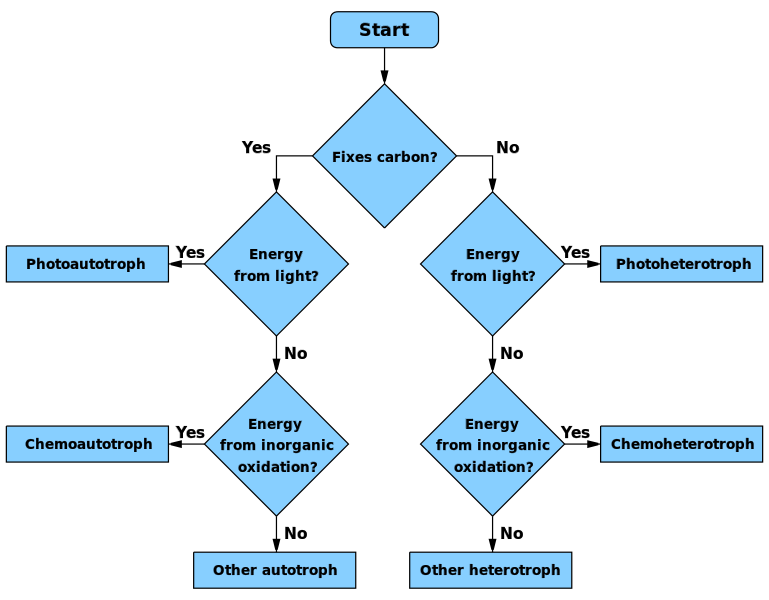 Evolution of the first metabolic cycles.
2
There are two alternatives concerning the origin of life: the origin may be  heterotrophic or autotrophic.
An autotroph[α] ("self-feeding", from the Greek autos "self" and trophe "nourishing") or producer, is an organism that produces complex organic compounds (such as carbohydrates, fats, and proteins) from simple substances present in its surroundings, generally using energy from light (photosynthesis) or inorganic chemical reactions (chemosynthesis). They are theproducers in a food chain, such as plants on land or algae in water, in contrast to heterotrophs as consumers of autotrophs. They do not need a living source of energy or organic carbon. Autotrophs can reduce carbon dioxide to make organic compounds for biosynthesis and also create a store of chemical energy. Most autotrophs use water as the reducing agent, but some can use other hydrogen compounds such as hydrogen sulfide. Phototrophs (green plants and algae), a type of autotroph, convert electromagnetic energy from sunlight into chemical energy in the form of reduced carbon.
Autotrophs can be photoautotrophs or chemoautotrophs. Phototrophs use light as an energy source, while chemotrophs utilize electron donors as a source of energy, whether from organic or inorganic sources; however in the case of autotrophs, these electron donors come from inorganic chemical sources. Such chemotrophs are lithotrophs. Lithotrophs use inorganic compounds, such as hydrogen sulfide, elemental sulfur, ammonium and ferrous iron, as reducing agents for biosynthesis and chemical energy storage. Photoautotrophs and lithoautotrophs use a portion of the ATP produced during photosynthesis or the oxidation of inorganic compounds to reduce NADP+ to NADPH to form organic compounds.[1]
The central problem within the theory of an autotrophic origin is the first process of carbon fixation. I here propose the hypothesis that this process is an autocatalytic cycle that can be retrodictively constructed from the extant reductive citric acid cycle by replacing thioesters by thioacids and by assuming that the required reducing power is obtained from the oxidative formation of pyrite (FeS2). This archaic cycle is strictly chemoautotrophic: photoautotrophy is not required. The cycle is catalytic for pyrite formation and autocatalytic for its own multiplication. It is a consequence of this hypothesis that the postulated cycle cannot exist as a single isolated cycle but must be a member of a network of concatenated homologous cycles, from which all anabolic pathways appear to have sprung.
The Heterotroph Hypothesis for the Evolution of the Basic Metabolic Processes
1
The Heterotroph Hypothesis is the proposal that the first living organism was a HETEROTROPH. Heterotrophs are organisms that obtain their energy by feeding on others (or on organic compounds) Before there were other organisms, they would feed on surrounding "left-overs" of their origin. The simplest process we know of today by which organisms do this is called FERMENTATION
There is evidence that the pre-life atmosphere and water environment was a reducing one, (no oxygen). Evidence: There are no iron oxides (rust-red rocks) in unexposed deposits of that age. The waste products of Fermentation are ethyl alcohol (ethanol) and carbon dioxide (CO2) The main useful product of Fermentation is the chemical energy extracted from the chemical bonds of organic compounds, and used to produce energy-rich packets of ATP, available for any and all biochemical processes requiring energy. Some of that energy was used to build a variety of chemicals, some of which were pigmented. Evidence: Experiments in which a variety of organic compounds are placed in a sterile environment with energy sources randomly produce substances of various colors.
As the thick clouds of water vapor cleared over this primitive earth, the energy of sunlight filtered through. Organisms with pigments that could absorb light and transform that energy into a chemical form that could be used for biochemical processes (leading to growth and reproduction) would spread and become more efficient.
At some point, we would have the first
AUTOTROPHS.
(Modern examples: algae and green plants.) Autotrophs are organisms that make their own food (using light energy to build organic compounds from available inorganic materials, like CO2 and H2O. Auto = self troph = feed
The main process we have now that does this is called PHOTOSYNTHESIS (in algae and plants). This is a complex process now, but simpler versions have been found, probably like earliest versions. Photosynthesis uses carbon dioxide (from fermentation, and volcanoes) water, and light. It produces an energy-rich compound: glucose, and a toxic waste product: oxygen.
1) http://www.indiana.edu/~ensiweb/bioE.hetero.hypo.nar.pdf
2) http://www.pnas.org/content/87/1/200.short


Last edited by Admin on Sun Aug 30, 2015 9:57 pm; edited 7 times in total