Evidence of Noah's flood
https://reasonandscience.catsboard.com/t1635-flood-evidence-of-noah-s-flood
Noah's Ark has been found with high probability on Mount Ararat
https://reasonandscience.catsboard.com/t2940-noah-s-ark-has-been-found-with-high-probability-on-mount-ararat
Recently, I met 
Philip Williams
  on Facebook and learned that he did visit the site at Mount Ararat, in Turkey, in 2014. He did send me a link of the videos of his expedition:
First American Visit to the Mount Ararat Discovery
https://www.youtube.com/watch?v=IAO_0E-J1lw
Second Deck Noah's Ark
https://www.youtube.com/watch?v=bNxwCnfpQwE
The NAMI expedition
Claims that the archeological site investigated by NAMI, is a fraud
Answers to the claim that the site is a fraud:
Expedition of Philip Williams
The Dutch expeditions
The pottery and miscellaneous artifacts found on the site on Mount Ararat
Pitch, evidence of the Ark found
The case of Joel Klenck
Miscellaneous links
The wooden structure at Mount Ararat
Lecture of Randall W. Younker Ph.D
The Best movie explaining Noah's Flood Ever made !
https://www.youtube.com/watch?v=hRoQL7W5jg8
Whitcomb, J.C. & Morris, H.M. (1961). The Genesis Flood: The Biblical Record and Its Scientific Implications. Presbyterian and Reformed Publishing. Link. (This book is one of the foundational texts for the modern creationist movement, arguing for a global flood as an explanation for the geology and fossil record of the Earth.)
Snelling, A.A. (2009). Earth's Catastrophic Past: Geology, Creation, and the Flood. Institute for Creation Research. Link. (Snelling discusses geological evidence that he interprets as supportive of a global flood, looking at the fossil record and rock layers.)
Austin, S.A. (1984). Rapid Erosion at Mount St. Helens. Origins, 11(2), 90-98. Link. (While not directly about the global flood, this paper discusses rapid geological changes at Mount St. Helens following its eruption, which some creationists use as an analogy for processes during a global flood.)
Oard, M.J. (2004). The Missoula Flood Controversy and the Genesis Flood. Creation Research Society Books. Link. (Oard reviews the Missoula Flood, a well-documented megaflood event, and compares it to the proposed processes of the Genesis Flood.)
Vardiman, L. (1996). Sea-Floor Sediment and the Age of the Earth. Institute for Creation Research. Link. (This paper discusses the rates of sea-floor sediment accumulation and how it might relate to the timeframe of a global flood.)
Asia Megasequence Data Confirm Progressive Global Flood...
The maps and the graph show that Asia follows the same general patterns of North and South America, Africa, and Europe. [bit.ly/3OSTmJg]  Similar patterns on every continent are strong evidence of the progressive nature of the global Flood.
https://www.icr.org/.../asia-data-confirm-prog-global-flood
Dead animals and plants quickly decay, are eaten, or are destroyed by the elements. Their preservation as fossils requires rapid burial in sediments thick enough to preserve their bodily form. This rarely happens today. When it does, such as in an avalanche or a volcanic eruption, the blanketing layers are not strata spanning hundreds of thousands of square miles. Liquefaction provides a mechanism for the rapid burial of trillions of fossils in appropriate layers. A similar statement can be made concerning fossilized footprints and tracks of many animals.
https://www.cs.unc.edu/~plaisted/ce/flood.html
Josephus Talks About Noah's Flood
If
Noah
's Flood were a real event (which it was), it would be an understatement to say it was a significant event in history. Only the eight members of
Noah
's family who were on the Ark survived the Flood but no doubt they would have told their children about the event. Such a remarkable event would certainly be told and retold generation after generation so that, even centuries after the Flood, everyone in the young world would know about the Flood even if they didn't experience the Flood. We could even predict that every ancient culture would include some account of this Flood in its lore. That's exactly what we find.
The ubiquity of Flood legends isn't just the topic of modern creationists. At least one ancient historian noticed the same thing. In his book, The Antiquities of the Jews, 1
st
 century, Jewish historian, Flavius Josephus penned this paragraph:
Now all the writers of barbarian histories make mention of this flood, and of this ark; among whom is Berossus the Chaldean. For when he was describing the circumstances of the flood, he goes on thus: "It is said, there is still some part of this ship in Armenia, at the mountain of the Cordyaeans; and that some people carry off pieces of the bitumen, which they take away, and use chiefly as amulets, for the averting of mischiefs."--Hieronymus the Egyptian also, who wrote the Phenician antiquities, and Manases, and a great many more, make mention of the same. Nay, Nicholas of Damascus, in his ninety-sixth book, hath a particular relation about them; where he speaks thus: "There is a great mountain in Armenia, over Minyas, called Baris, upon which it is reported, that many who fled at the time of the deluge were saved; and that one who was carried in an ark, came on shore upon the top of it; and that the remains of the timber were a great while preserved. This might be the man about whom Moses the legislator of the Jews wrote.
The Search for Noah's Ark
2
500 Flood stories prove
Noah
's Ark is real history!
No matter what evidence you will present to atheists and Bible scoffers, they are going to say that
Noah
's Ark is a myth because they refuse to believe in God. Before the discovery of these tablets, atheists and Bible scoffers claimed that
Noah
's Ark was a myth because, they said, "if the entire world was really populated by four 'Adam and Eve like' couples upon exiting
Noah
's Ark, such a fact would be universally believed by all cultures on earth." When the news of the first flood story from Tablet 11 of the Gilgamesh Epic was published in 1872 AD, the skeptics, refusing to accept the obvious conclusion to their initial argument, suddenly made an about face. After the discovery of these tablets, skeptics now claimed that the Bible copied the story of
Noah
's Ark from the earlier sources that were etched into Sumerian cuneiform some 700 years earlier. While this is a logical argument, given some of the stunningly precise details all the stories share, it is an equally logical argument that since
Noah
's Ark is real history, we would predict that non-biblical writers would document the event. Therefore, the Epic of Gilgamesh reinforces the faith that a Christian has that the Bible is God's inspired word. These same Bible scoffers once decried the Hittite nation as just another Bible myth, until they were silenced by the discovery of 10,000 clay tablets in 1906 AD and excavated by Hugo Winckler. Today we know of over 500 ubiquitous flood stories from every culture in every corner of the globe from the present dating back to the dawn of writing. With the discovery of
Noah
's Ark skeptics are once again silenced until they invent another argument, like the boat was built as an ancient shrine. Such arguments will become marginalized and seen as radical when the size of the boat exactly matches that of
Noah
's Ark in Genesis 6. When professional excavations begin on
Noah
's Ark, the world may be stunned with the possible discovery of pre-flood tablets written in an unknown language signed by
Noah
, piles of extinct pre-historic plants that
Noah
used as food, even a few frozen, fully fleshed dinosaurs that never made it off the ark. Such a find would turn the world upside down with the collapse Darwinian evolution. Suddenly the Genesis becomes the introductory reading assignment in all university science and history courses. Bible scoffers and unbelievers will always reject the Bible at God's word until the day they stand before Him in Judgment after the second coming of Jesus Christ our Creator.
The geologic record
(I don't call it a column because that is an evolutionary term) has many strata or groups of strata that can be identified in various parts of the world. That means at the very least those strata were deposited during a flood of at least the size of all those deposits. Fossil preservation only occurs when the organism is buried completely and rapidly. Paleocurrents are found throughout the geologic record, and this means that flood water was moving. Other characteristics such as crossbedding (ripple marks in the top of layers) show us the water was very deep and also can be used to calculate the speed of the water flow. We don't see signs of habitation or weathering on top of the various layers, showing the next layer was laid down very soon after. Polystrate fossils also show many layers were laid down with little if any span of time between them. Thus the evidence shows that the geologic record is the product of a flood global or nearly global in extent, with forces and speeds far in excess of anything we experience today even in hurricanes and tsunamis, an event unique in earth's history.
============================================================================================================================================
Emperor Yu's Great Flood
Science magazine, 5 AUGUST 2016
http://sci-hub.tw/http://science.sciencemag.org/content/353/6299/538
Geological data provide support for a legendary flood in China ~4000 years ago
"Great floods occupy a central place in some of the world's oldest stories."
This support for the historicity of Yu's flood is part of a broader pattern, another piece in long-standing debates over stories of epic deluges. These stories have been particularly contentious in the Western world. After all, attempts to explain the biblical story of
Noah
's Flood not only shaped the early development of geology but later fueled discoveries refuting the biblically inspired idea that a global flood laid down the world's sedimentary rocks in the first place. 
===============================================================================================================================================
Its remarkable that the report of the  finding of this babylonian clay tablet describing the event of
Noah
's ark and how it had to be build, was deleted from the British museums website. I was only able to read it through timemachine. If an atheist is not convinced by such powerful evidence, than nothing else probably will....
http://web.archive.org/web/20161221012823/https://blog.britishmuseum.org/2014/01/24/was-the-ark-round-a-babylonian-description-discovered/
============================================================================================================================================
The sixteen grandsons of Noah
Secular history gives much evidence to show that the survivors of Noah's Flood were real historical figures, whose names were indelibly carved on much of the ancient world …
https://creation.com/the-sixteen-grandsons-of-
noah
?fbclid=IwAR0o6r9416m27HktXGrgwyjFkm7X0VuMyOzzkHRFPL0dKrO1Xih5ArCOb3k
=============================================================================================================================================
Was the ark round? A Babylonian description discovered
Irving Finkel, curator, British Museum
24 January 2014 • 10:58 am
I've just come from the press conference launching my new book, The Ark Before
Noah
. As I told the journalists, it all started with a fairly normal event for a museum curator: a member of the public bringing in an object that had long been in their family to have it identified. As often happens in my case, it was a cuneiform tablet. The visitor, Douglas Simmonds, had been given it by his father for passing his exams. It was part of a modest collection: a few tablets, some cylinder seals, a lamp or two and some pieces from China and Egypt. His father, an inveterate curio hunter, had picked them up after the War in the late 1940s.
This tablet, however, turned out to be one in a million. The cuneiform was a sixty-line passage from the ancient Babylonian Story of the Flood. This story had been well known since the 1870s, when George Smith, a brilliant decipherer who worked at the British Museum, first identified the story known from the Book of Genesis in a seventh-century cuneiform tablet from Nineveh. The two accounts – Babylonian and biblical – were closely related. The new tablet, however, written in about 1750 BC, has startling new contents.
When the gods decided to wipe out mankind with a flood, the god Enki, who had a sense of humour, leaked the news to a man called Atra-hasis, the 'Babylonian
Noah
,' who was to build the Ark. Atra-hasis's Ark, however was round. To my knowledge, no one has ever thought of that possibility. The new tablet also describes the materials and the measurements to build it: quantities of palm-fibre rope, wooden ribs and bathfuls of hot bitumen to waterproof the finished vessel. The result was a traditional coracle, but the largest the world had ever dreamed of, with an area of 3,600 sq. metres (equivalent to two-thirds the area of a football pitch), and six-metre high walls. The amount of rope prescribed, stretched out in a line, would reach from London to Edinburgh!
To anyone who has the typical image learnt from children's toys and book illustrations in mind, a round Ark is bizarre at first, but, on reflection, the idea makes sense. A waterproofed coracle would never sink and being round isn't a problem – it never had to go anywhere: all it had to do was float and keep the contents safe: a cosmic lifeboat. Palm-and-pitch coracles had been seen on the Euphrates and Tigris rivers since time immemorial: they were still a common sight on Iraq's great waterways in the 1950s.
Deciphering the tablet was a great adventure, but one development soon led to another: a documentary film in which the Ark is being built according to these 3700-year-old instructions (although not quite full size), and the commissioning of a book.
Writing it led to some demanding questions: what was the origin of the Flood Story? How did it pass from Babylonian cuneiform to Biblical Hebrew? Then I discovered that a line from the new tablet was quoted on our famous Map of the World tablet, showing where the Babylonian believed that Ark had landed. I also got to address other questions I have been asking myself for years: how does cuneiform writing really work? What were the ancient Babylonians really like?
STORIES FROM AROUND THE WORLD VERIFY NOAH'S FLOOD
1
There are hundreds of stories and legends about a worldwide flood. Why do diverse cultures share a strikingly similar story?
Did you know that stories about a worldwide flood are found in historic records all over the world? According to Dr. Duane Gish in his popular book Dinosaurs by Design, there are more than 270 such stories, most of which share a common theme and similar characters. So many flood stories with such similarities surely come from the Flood of
Noah
's day.
A Historical Event
The worldwide catastrophic Flood, recorded in the book of Genesis, was a real event that affected real people. In fact, those people carried the knowledge of this event with them when they spread to the ends of the earth.
The Bible declares that the earth-covering cataclysm of
Noah
's day is an obvious fact of history. People "willingly are ignorant [that] … the world that then was, being overflowed with water, perished" (2 Peter 3:5–6, KJV). This Flood left many evidences, from the fact that over 70% of the rocks on continents were laid down by water and contain fossils, to the widespread flood legends. Both of these evidences provide compelling support for this historical event.
If only eight people—
Noah
's family—survived the Flood, we would expect there to be historical evidence of a worldwide flood. If you think about it, the evidence would be historical records in the nations of the world, and this is what we have, as the chart [below] indicates. Stories of the Flood—distorted though they may be—exist in practically all nations, from ancient Babylon onward. This evidence must not be lightly dismissed. If there never was a worldwide Flood, then why are there so many stories about it?
What is the most common denominator for the fossil beds in the world? MUD

http://www.nbcnews.com/…/mud-slurry-formed-burgess-shale-f…/
"At least it was a quick death.Scientists have discovered that ancient animals preserved in the famous Burgess Shale fossil deposit were killed by a mud slurry that buried them so deep their whole bodies were petrified.
To understand how this miracle of preservation occurred, the researchers carefully analyzed the layers of rock at the site. By looking at the shale stone millimeter by millimeter under a microscope, they determined it wasn't slowly deposited in many bits over time, as is typical in this type of mud rock. Rather, thick layers were created all at once, with grains of sand and shell fragments suspended in them, which normally would have sunk to the bottom."

https://www.nps.gov/joda/learn/nature/clarno-assemblage.htm
"The Clarno Nut Beds formed when massive mudflows engulfed a forest."

http://www.birdandhike.com/A…/TuleSpr_Area/_TuleSpr_Area.htm
Entombed in ancient muds, the fossilized remains of Columbian Mammoth...

http://www.americansouthwest.net/…/t…/national-monument.html
"...but most of the land is gravelly flats and groups of low mud hills."

https://commons.wvc.edu/…/g10…/Basics/BscsTables/depenv.html
http://www.burgess-shale.rom.on.ca/…/02-geological-backgrou…
"The Burgess Shale fossils are preserved in a type of sedimentary rock known as shale. Shale is a type of mudstone (or mudrock) that originally formed from deposits of fine mud."

http://science.nationalgeographic.com/…/preh…/china-fossils/
"At Liaoning the fine particles of ash and mud that covered animals preserved soft body parts and prevented decomposition by sealing off oxygen."
etc. etc.etc.

The evidence of the flood is everywhere There are sea fossils on the highest mountains of every continent. Even the top 1/3 of Mount Everest is all loaded with sea fossils. In addition, the remains of whales have been found in the deserts of nearly every continent. Bones of sharks have been found in Kansas and other "plains states." The earth was under water. The flood is also what wiped out the dinosaurs, and even today, scientists are still guessing what killed them. That is how dinosaur fossils have been found on top of the "mountains of Antarctica." But we know what wiped them out... it was the flood of Noah's day. While the oceans existed before the flood, after the flood, the oceans became much larger and much of the ocean water that exists today, is a result of the great flood. There are over 326 million trillion gallons of water on earth. And not a drop on the moon...7 billion people and 326 million trillion gallons of water on earth. And nothing like that on any other planet. The deluded evolutionist says "this is just coincidence" and some luck of "random chance."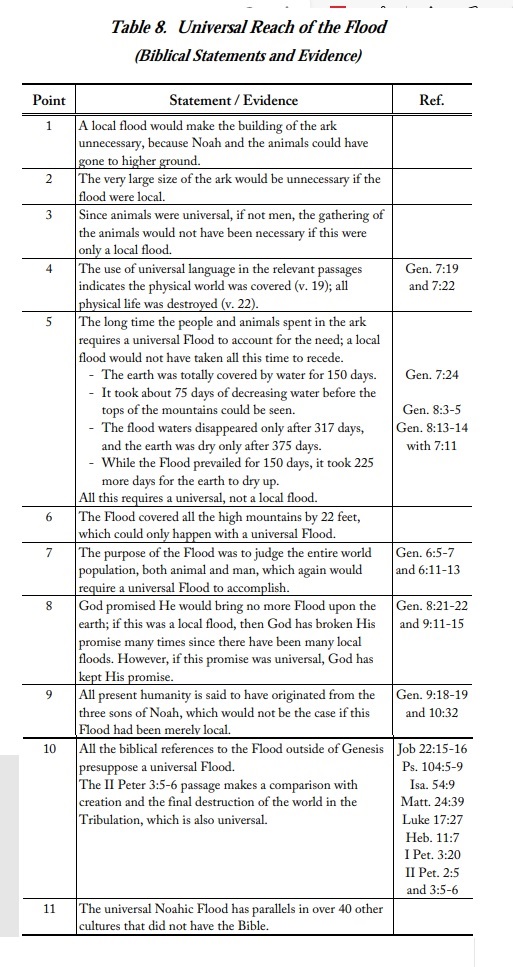 Dr.Arnold Fruchtenbaum, Arlel's Bible commentary, The book of Genesis, Page 203
Waynaboozhoo and the Great Flood
http://www.uwosh.edu/coehs/cmagproject/ethnomath/legend/legend9.htm?fbclid=IwAR0pvUobfLrasXfykZllsIWuRt7nw96WGVwkQ0yDgCNgLGmk5hAC6NQ3r0w
Some links:
http://physics.le.ac.uk/journals/index.php/pst/article/view/676/475
http://www.nwcreation.net/noahlegends.html
http://nwcreation.net/videos/startling_evidence_of_flood.html
http://s8int.com/dinolit1.html
https://www.apologeticspress.org/apcontent.aspx?category=9&article=2416
http://www.creationists.org/dinosaurs-humans-coexisted.html
https://evidence-for-the-bible.com/archeological-evidence-for-the-bible/archeological-evidence-for-the-bible-the-great-flood/
Evidence for a Flood Sediment layers suggest that 7,500 years ago Mediterranean water roared into the Black Sea
https://www.smithsonianmag.com/science-nature/evidence-for-a-flood-102813115/#sFypGIZj2M1BDj4K.99
Revealed:The vast reservoir hidden beneath the Earth's crust that holds as much water as ALL of the oceans
http://www.dailymail.co.uk/sciencetech/article-2579584/The-vast-reservoir-hidden-Earths-crust-holds-water-ALL-oceans.html
https://web.archive.org/web/20160313060652/https://www.globalflood.org/papers/geophysicsofgod.html

Manganese Nodule Discovery Points to Genesis Flood
http://www.icr.org/article/8650
Catastrophic Plate Tectonics: A Global Flood Model of Earth History
https://answersingenesis.org/geology/plate-tectonics/catastrophic-plate-tectonics-global-flood-model-of-earth-history/
http://www.academia.edu/1427821/Flood_Myths_in_the_Religions_of_the_Ancient_World
check out an amazing program on Amazon Prime. It begins with the Biblical account of the flood. Then it shows evidence for the young earth and the Flood. After that it discusses history and prophecy. The title is, "The Days of
Noah
, the Flood". Be precise with the title, as there are other very similar titles. This is a four part series. It is very good, beautiful, and most comprehensive.
1. http://educateforlife.org/stories-around-world-verify-noahs-flood/
2. http://www.noahs-ark.tv/noahs-ark-flood-creation-stories-myths-sumerian-kings-list-sumerian-eridu-genesis-kings-list-instructions-of-shuruppak-atra-hasis-epic-of-gilgamesh-berossus.htm


Last edited by Otangelo on Mon Sep 18, 2023 8:19 pm; edited 47 times in total