Why do postive, active, strong militant atheists promote naturalism with such fervor and time spending ?
http://reasonandscience.catsboard.com/t2379-why-do-postive-active-strong-militant-atheists-promote-naturalism-with-such-fervor-and-time-spending
The best an atheist could do is stay silent and just keep his unbelief for himself. Atheism has nothing positive to contribute to anyone. It does not improve the lives in any way. It has no doctrine nor provides a guide for moral improvement. In many cases, it is a declaration of ignorance. Why many urges to proclaim to others what they do not believe is beyond me...
If the atheist's last answer to origins is: " I don't know" - why do they engage theists, to eagerly express their freely chosen ignorance and emptiness and void of life - meaning? Do they think they will convince theists somehow, that ignorance is bliss? Do they think, ignorance exercises some kind of positive force or influence or attraction to someone's life? - and for that reason, we shall know it? Not only that but as it seems, they believe theists base their views on gaps in understanding, despite the fact, that over and over it is demonstrated to them, that this is not the case ?! I cannot imagine of a more senseless endeavour, than weak atheists that have nothing else to offer and to do, then engage theists, to do nothing else than express their ignorance. Its as if a homeless, jobless begging hungry vagrant sits on the corner on a street, and sees a successful happy fulfilled person passing by, and trying to convince that person that his state of affairs is attractive and better than anyone else's one..... Go figure.
Atheists commonly confess ignorance and base it on the claim that there is no evidence of God. The consequence of such a position is:
the lack of
objective moral values
meaning of life
lack of recognition of the real intrinsic value of human beings
what really matters in life ( to love God, and your next )
hope
understanding
inner peace
knowledge
security
and become a playball of their own
desires
wishes
will
inclinations
insecurity
hopelessness
meaninglessness
lacks values
certainty of anything
decisions
egoism
greed
lack of goals in life
frustration
bad decisions
lack of direction in life
the consequences are:
Increase of crimes
homicides
abortions
suicide
betrayals
robbery
separations
destructuration of families
telling lies
envy
false doctrines and various isms which undermine the value of life, like
nazism
communism
and the ultimate fate and consequence is
to die and be judged upon their own sins and mistakes and paying for their sins and rejection of God in Hell forever and ever.
We Christians are often called out and accused of trying to convert non-believers or adherents of other faith systems to Christianity, force them into something they don't want, and not respect them. They do however not understand, that we have a command by the Lord Jesus Christ:  to spread the clear teachings of Jesus and the Apostles of the Gospel (Good News) with love and kindness,  and make disciples. To preach the gospel is one thing. A true religion/worldview is spread by using evidence and logical arguments, discussion and fair debates, allowing people to make up their minds and exercise their free choice to accept or reject the beliefs. We are not asked to interfere in the decision making of the receiver of our message. We are called to make the gospel of Gods grace, love, justice,  forgiveness and eternal life known. If someone by deliberate decision wants to become a Christian, then we are called to instruct the new convert in his new faith. The Christian has good reasons to confess his faith, first, to obey the Lords command, and secondly, to give others the opportunity to find salvation and eternal life.
What makes people reject God is not the ( lack of ) scientific evidence, but sin. They love darkness more than the light.
In many places, atheists express actively their non-belief in God. They most commonly criticize the bible as a book of fables and magic, not trustworthy. But why is that? First of all, the rationale for this thinking is logically fallacious.  The bible is false, therefore, (strong) atheism is true. That is an affirmative conclusion from a negative premise.  The illicit negative occurs when a categorical syllogism has a positive conclusion, but one or two negative premises. The proponents of strong atheism/naturalism, however, must be able to present and adopt a well-articulated, thorough-going positive reason and the evidence-based case using positive evidence that results in good justifications to infer naturalism or strong atheism. What the debater must present, is a positive case for strong atheism by reference to the evidence that favors an atheistic interpretation of reality. But why do so many actively pursue this endeavor with the fervor of a believer, to express their unbelief? What do active strong militant atheists try to achieve? Check and see any description of a Facebook group of atheism, what the goal of the group is, and you will not find a clear confession and delineation of goals. Question: Why are you not an A-UfOlogist ? or A-spiritist? Why do so many spend so much energy, time, dedication to express what they do NOT believe?
What is the goal of the active atheist? The outcome of atheism is that there are no real binding moral values and duties. There can't be, if God does not exist.  Do whatever pleases you and what you want becomes the compass of actions. Get rid of God, and you do not need to fear God, nor that there will be judgment day, nor eternal punishment, nor hell. This seems to me to be the deepest desire of atheists. Get rid of God. He shall not exist. But why proselytize and try to convince others of this perspective and view of reality? Do atheists by doing this try to convince themselves that their worldview must be true? The more they repeat it, the more they believe it them self, and the more comfort they get?  It seems to me, that is one of the view possible reasons. But is it really? Can our existence without God existing be comfortable? I think, it can't, but it will lead, if thought all through, to desperation and nihilism.  
The British philosopher Bertrand Russell, for example, believed that we have no choice but to build our lives upon "the firm foundation of unyielding despair." Only by recognizing that the world really is a terrible place can we successfully come to terms with life. Camus said that we should honestly recognize life's absurdity and then live in love for one another.Frankly speaking, atheism is boring, but knowing, enjoying, and serving God gives life purpose and excitement.  If the atheist's worldview is correct, then we are nothing but the result of accidental chemical processes and our thoughts are merely chemical reactions that take place in our brain. Therefore, nothing you ever do, or say, or even believe matters. In the end, we all go back to "star dust." So, why argue? Why waste your time talking to someone about the truth or falsehood of something when it doesn't matter in the end?   On what basis does human life have value? As Francis Schaeffer wrote: Modern man resides in a two-story universe. In the lower story is the finite world without God; here life is absurd, as we have seen. In the upper story are meaning, value, and purpose. Now modern man lives in the lower story because he believes there is no God. But he cannot live happily in such an absurd world; therefore, he continually makes leaps of faith into the upper story to affirm meaning, value, and purpose, even though he has no right to, since he does not believe in God. Modern man is totally inconsistent when he makes this leap, because these values cannot exist without God, and man in his lower story does not have God.  It's impossible to live consistently and happily within the framework of such a worldview. If you live consistently, you will not be happy; if you live happily, it is only because you are not consistent.  But as a theist, i believe i was created in God's image,  and therefore i am of great value.
Atheists use commonly two weights and two measures:
They self-declare themselves ( not rarely ) as skeptics, free- THINKERS, on the rational side, and the "owners" of logic, but most often they endorse a passive position in regards to atheism, and a hypercritical one in regard of theism, and in special in regard to the Bible. Rather than scrutinizing both worldviews - theism, and atheism, they neglect to analyze the consistency of strong atheism ( most probably there is no God) but put a BIG eye to find holes in the views of theists. They remain skeptical of God and certain that most probably there is no God.They also hide by arguing that they do not defend any positive claim, namely that most probably there are no Gods, but all they do is doubt of the claims of theists ( and think, that way they can avoid the burden of proof ). If that was so, what an empty and senseless endeavor - are they also actively spending time in various FB groups and other places, promoting their disbelief in ET's, UFO's, FSM's, ghosts, a flat earth, a square moon etc. ? they are not true skeptics and honest seekers of the truth of origins, but fakers that only delude themselves, and the active ones try to drag others down to their ignorance in an attempt to find relief of their doubts.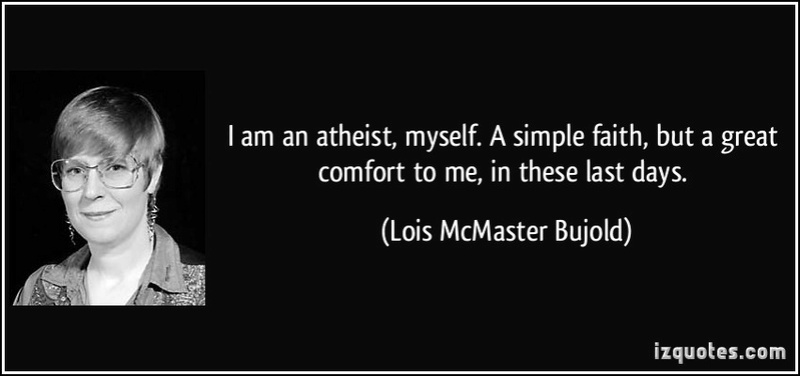 Last edited by Admin on Sun Aug 05, 2018 6:54 am; edited 20 times in total