How could consciousness, logic and language evolve from matter?
http://reasonandscience.catsboard.com/t1334-the-origin-of-language#6045
Flowering plants of the genus Musa will always only generate Bananas.  Citrus species will always only produce citrus fruits like Orange, lemon etc.
Only an intelligent mind, capable of logical reasoning, is an adequate cause to create other minds able to reason. If we as humans possess the capability to intellectually understand and to know, then the cause must have the same or better capabilities of the same sort.
Arguing that matter can produce a mind, consciousness, intelligence, and the capability of logical reasoning is special pleading.
Logic exists in the realm of the mind. It is not made of physical stuff. It is transcendental, universal, and invariant, and based on axiomatic rules. Rational discourse and valid thoughts succeed only when logic is applied. Logic is the basis of thought and interrelated with conscience. How could non-reason produce reason? Non-logic produce logic? How can we know that the law of contradiction is true? that a lie cannot be true?  Math and abstract numbers which do not stand in a cause-effect relation exist in the realm of the immaterial. How can the mind develop knowledge about these things? How could it evolve and create the ability to learning about numbers and calculus? How could it even begin to understand that one stone could be mathematically added up to a second one, resulting in two stones? For us, this is obvious and easy. But for an ignorant, recently emerging mind without experience and knowledge, only self-awareness?  
In order for our reasoning process to be trustworthy and valid, it would have to be the result of a rational creation process of the creator of man.  If apples cannot produce bananas, how could unanimated matter produce logic and that reason discover physical truths which involve complex math and metaphysical truths which are essentially non-materialistic? Naturalism is like someone sitting on a branch of a tree and saw it off. Atheism is self-defeating. Atheists argue about being right based on a thinking process, which has no foundation or validness to be trustworthy if its origin is not rational.
Only the believer in a rational God, which is the ultimate source of rationality and intelligence, and created humans in his likeliness, equipped with the same ability of reason, logic, sound thinking process and able to reach metaphysical truths can trust his mind, because he believes to be the result of a higher mind, which has all these faculties in a perfect, superior manner.
When did supposedly the mind start to recognize its self-existence? When did matter become conscient, and starting to think? Our sensory organs receive information and transmit them to the brain, where it is somehow perceived by the mind. How could the mind have processed its surrounding and make sense of it without the physical mechanisms in place? How is physical sensory information transformed in perception of the mind and understanding?  How could a conscient mind transition to a thinking process without the existence of language? Further, in order for communication between two individuals to begin to exist, there had to be a common assignment of meaning and common understanding of words and their meaning. How could that agreement be formed and be done without a pre-existing language to come to that common agreement? Agreements require pre-existing language based on pre-existing agreement of meaning of words. How language could have gotten " off the hook" by natural evolutionary means is hard to fathom. Actually, I think we can reasonably say, it's not possible.   Einstein describes this as an unbridgeable Gulf, that cannot be crossed. Great minds like Planck did hold that the mind precedes matter. Evidence points to that scenario.
As Dembski wrote: Provided the proposition, together with its competitors, form a mutually exclusive and exhaustive class, eliminating all the competitors entails that the proposition is true. As Sherlock Holmes famous dictum says: when you have eliminated the impossible, whatever remains, however improbable, must be the truth. This is the ideal case, in which eliminative inductions, in fact, become deductions. The problem is that in practice we don't have a neat ordering of competitors that can then all be knocked down with a few straightforward and judicious blows.
There is nothing ridiculous to believe in the Genesis account. God created man and woman fully formed, and the tower of Babel made God have some fun.....
Chomsky insists that
"mid-century studies based on the evolution of language from apes to humans only "bring out more clearly the extent to which human language appears to be a unique phenomenon, without significant analogue in the animal world."
Without laws of logic, we could not make an argument.
We can make an argument.
Therefore, there must be laws of logic.
While this argument is circular, it is a non-fallacious use of circular reasoning. Since we couldn't prove anything apart from the laws of logic, we must presuppose the laws of logic even to prove they exist. In fact, if someone were trying to disprove that laws of logic exist, he'd have to use the laws of logic in his attempt, thereby refuting himself. Your non-Christian friend must agree there are certain standards that can be proven with circular reasoning.
The basic presupposition—God exists and has revealed Himself in His inerrant, authoritative Word—is the ultimate standard. Presupposing God exists to argue that God exists is a reasonable circular argument because without the God of the Bible, we have no basis for assuming the laws of logic and their properties, let alone absolute morality or the uniformity of nature.
Human Language: The Homo Homolog
http://reasonandscience.catsboard.com/t1334-the-origin-of-language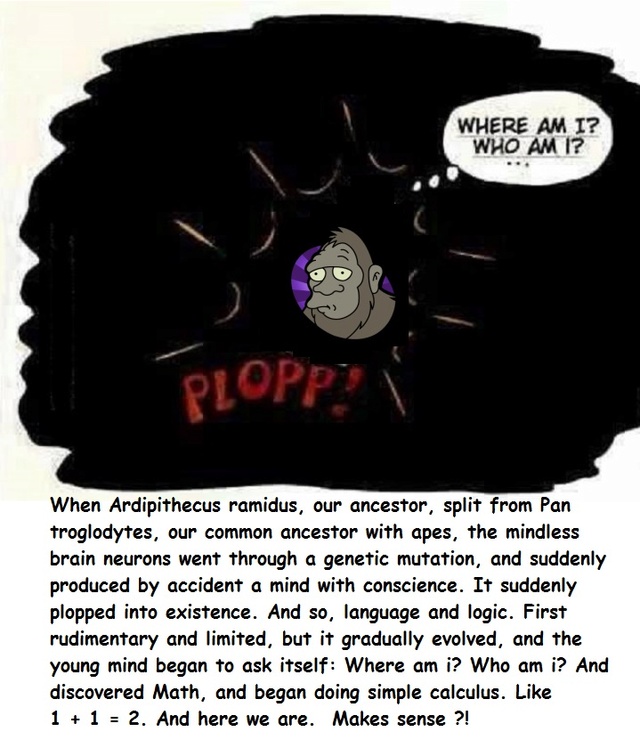 When Ardipithecus ramidus, our ancestor, split from Pan troglodytes, our common ancestor with apes, the mindless brain neurons went through a genetic mutation, and suddenly produced by accident a mind with conscience. It suddenly plopped into existence. And so, language and logic. First rudimentary and limited, but it gradually evolved, and the young mind began to ask itself: Where am i? Who am i? And discovered Math, and began doing simple calculus. Like        1 + 1 = 2. And here we are.  Makes sense ?!


Last edited by Admin on Sat Mar 16, 2019 12:55 pm; edited 5 times in total