Tardigrade extremophile with superpowers
https://reasonandscience.catsboard.com/t1667-tardigrade-extremophile-with-superpowers
Tardigrades (also known as waterbears or moss piglets) are water-dwelling, segmented micro-animals, with eight legs. They were first described by the German pastor J.A.E. Goeze in 1773. The name Tardigrada (meaning "slow stepper") was given three years later by the Italian biologist Lazzaro Spallanzani.
Tardigrades are classified as extremophiles, organisms that can thrive in a physically or geochemically extreme condition that would be detrimental to most life on Earth. For example, tardigrades can withstand temperatures from just above absolute zero to well above the boiling point of water, pressures about six times stronger than pressures found in the deepest ocean trenches, ionizing radiation at doses hundreds of times higher than the lethal dose for a person, and the vacuum of outer space. They can go without food or water for more than 10 years, drying out to the point where they are 3% or less water, only to rehydrate, forage, and reproduce.
Usually, tardigrades are about 0.5 mm (0.020 in) long when they are fully grown. They are short and plump with four pairs of legs, each with four to eight claws also known as "disks". The animals are prevalent in mosses and lichens and feed on plant cells, algae, and small invertebrates. When collected, they may be viewed under a very-low-power microscope, making them accessible to students and amateur scientists.
Tardigrades form the phylum Tardigrada, part of the superphylum Ecdysozoa. It is an ancient group, with fossils dating from 530 million years ago, in the Cambrian period.The first tardigrades were discovered by Johann August Ephraim Goeze in 1773. Since 1778, over 1,150 tardigrade species have been found.
Lengthy water bear survival without water has caught the interest of medical workers. Vaccines with both living and nonliving components are fragile and must typically be refrigerated until used. Research efforts are exploring whether chemicals similar to trehalose sugar may stabilize the vaccines, giving them a long shelf life without cooling. Such "dry vaccines" would greatly simplify their use in remote parts of the world. The valuable drying-out feature also might be extended to the storage of tissue samples, blood platelets and stem cells. 1
Besides water bears there are other organisms which exist without water for long time periods. These include the resurrection fern and brine shrimp. The latter are popularly called "sea monkeys" when in the dried state. These plants and animals can teach us how to extend the life of medicines and other medical samples. All are examples of biomimicry the application of features designed in the Creation for our eventual discovery and benefit.
Meet the miniature water bear: nature's ultimate survivor or an alien from another planet?
"…Tardigrades are known to enter cryptobiosis at any stage of their life cycle, from egg to adult. Cryptobiosis has to be considered a form of quiescence, being directly induced and maintained by the occurrence of adverse conditions for an active life, and promptly broken once the adverse conditions are removed…In tardigrades, there are several forms of cryptobiosis: anhydrobiosis, cryobiosis, anoxybiosis and osmobiosis. Anhydrobiosis is the most studied. Entering anhydrobiosis, tardigrades contract their body into a so-called tun, loosing most of their free and bound water (>95%), synthesizing cell protectants  (e.g., trehalose, glycerol, heat shock proteins…and strongly reducing or suspending their metabolism…" (Bertolani et al. 2004:16)
"Most incredible of all, however, is the virtually indestructible nature of tardigrades while they remain in cryptobiosis. In laboratory experiments, cryptobiotic specimens have been chilled in liquid helium to -457°F (-272°C), which is only marginally above absolute zero. They have also been heated to temperatures exceeding 300°F (149°C), exposed to radiation doses far in excess of the lethal dose for humans, immersed in vats of liquid nitrogen, concentrated carbolic acid, hydrogen sulphide, brine, and pure alcohol, and even bombarded by deadly streams of electrons inside an electron microscope. Yet when removed from all of these incredibly hostile environments - which would have proven fatal for any other form of animal life - and moistened with water, these astounding creatures recovered.
They simply emerge from their cryptobiotic state, rehydrate themselves, and amble away on their four pairs of stubby claw-tipped legs, completely unharmed. Even today, the physiological mysteries behind the tardigrades' unparalleled powers of endurance during cryptobiosis remain unsolved." (Shuker 2001:113)
The marine tardigrade (Actinarctus doryphorus ocellatus) is also known as a water bear or moss piglet, names that suggest size and heft. But this creature measures less than a millimeter long.
The hardy tardigrades mostly inhabit freshwater environments and can survive in many places, from Antarctica to rainforests.
To determine the animal's position on the phylogenetic tree of life, researchers at the University of Hamburg-Zoological Museum Hamburg in Germany homed in on its nervous system and musculature, systems that may reflect evolutionary paths. Until this imaging, tardigrades were classified using external characteristics, leaving many questions unanswered.
To get the best view, the team used a confocal laser scanning microscope, which creates sharply defined photographs with a shallow field of focus. Stacking several photographic layers, each assigned a different color, they obtained this well-defined image of the entire animal. 2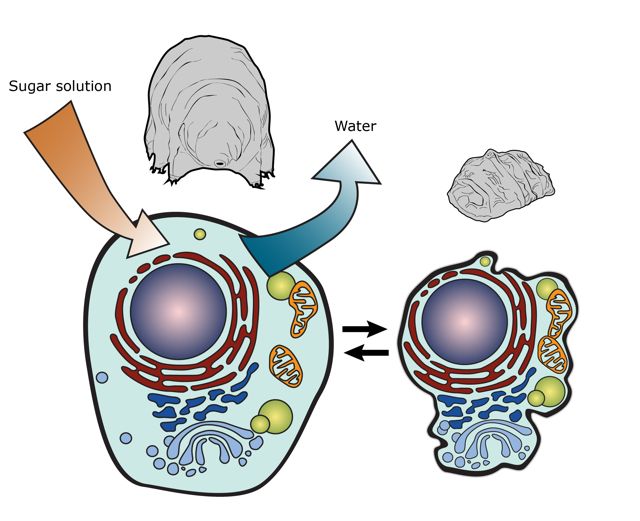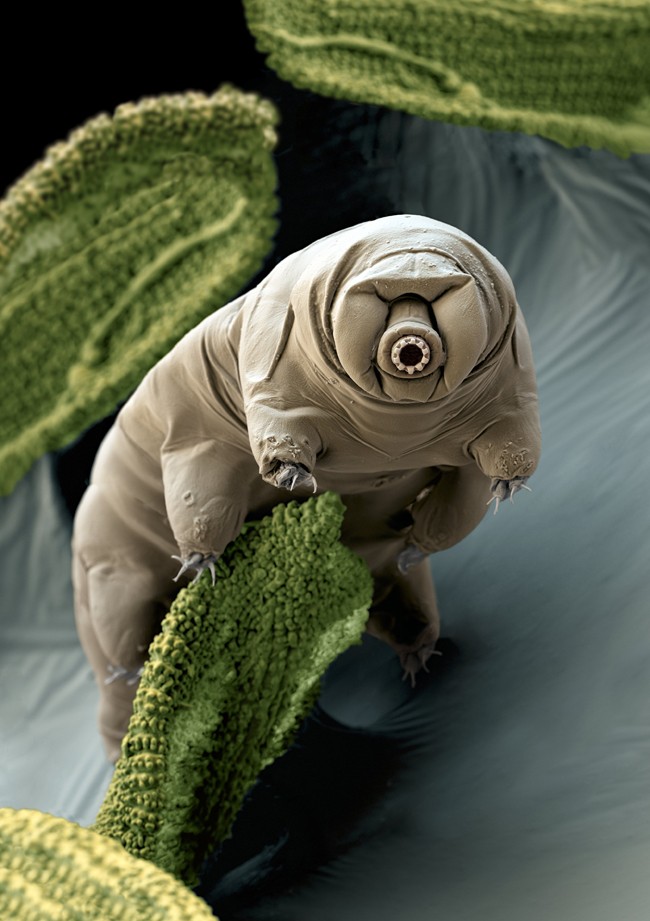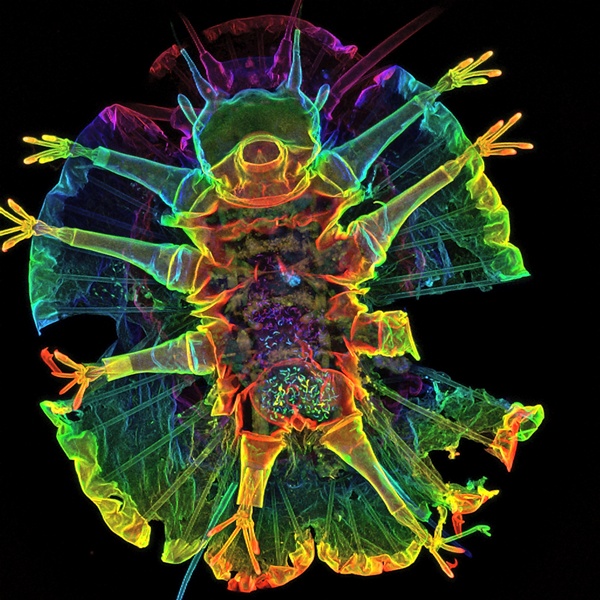 1. http://www.discoveryofdesign.com/id159.html
2. http://discovermagazine.com/2014/march/01-inside-a-tardigrade#.UyJ7AIVWkZd
https://en.wikipedia.org/wiki/Tardigrade
http://tumblr.4gifs.com/post/80148615619/waterbear-extremophile
http://www.asknature.org/strategy/5647adb99bf90b1c723987c7683ea169#.UyJ6KoVWkZc


Last edited by Admin on Wed Dec 19, 2018 10:57 pm; edited 2 times in total