Main topics on complex, specified/instructional coded information in biochemical systems and life
http://reasonandscience.catsboard.com/t2625-main-topics-on-complex-specified-instructional-coded-information-in-biochemical-systems-and-life
The problem of information
Norbert Weiner - MIT Mathematician - Father of Cybernetics
"Information is information, not matter or energy. No materialism which does not admit this can survive at the present day."
It has to be explained:
- a library index and fully automated information classification, storage and retrieval program ( chromosomes, and the gene regulatory network )
- The origin of the complex, codified, specified, instructional information stored in the genome and epigenetic codes to make the first living organism
- The origin of the genetic Code
- How it got nearly optimal for allowing additional information within protein-coding sequences
- How it got more robust than 1 million alternative possible codes
- The origin of the over twentythree epigenetic codes
- The origin of the information transmission system, that is the origin of the genetic code itself, encoding, transmission, decoding and translation
- The origin of the genetic cipher/translation, from digital ( DNA / mRNA ) to analog ( Protein )
- The origin of the hardware, that is DNA, RNA, amino acids, and carbohydrates for fuel generation
- The origin of the replication/duplication of the DNA
- The origin of the signal recognition particle
- The origin of the tubulin Code for correct direction to the final destination of proteins
none of the above items can be explained by evolution since evolution depends on all this.
1. Regulation, governing, controlling, recruiting, interpretation, recognition, orchestrating, elaborating strategies, guiding, instruct are all tasks of the gene regulatory network.
2. Such activity can only be exercised if no intelligence is present if the correct actions were pre-programmed by intelligence.
3. Therefore, most probably, the gene regulatory network was programmed by an intelligent agency.
1. The setup of functional Information retrieval systems, like a library classification system, is always tracked back to intelligence
2. The gene regulatory network is a fully automated, pre-programmed, ultra-complex gene information extraction system
3. Therefore, its origin is best explained through intelligent setup
1. DNA stores information based on a code system, and codified, complex, instructional information, with the same function as a blueprint.  
2. All codes and blueprints come from intelligence.
3. Therefore, the genetic code and the instructions to build cells and complex biological organisms, stored in DNA, were most likely created by an intelligent agency.
1. Cells use sophisticated information transmission and amplification systems (signalling pathways), information interpretation, combination and selection ( the Gene regulatory network ) encoding and transcription ( DNA & RNA polymerase machines ) transmission (mRNA), and decoding ( Ribosome ) systems.
2. Setup of information transmission systems, aka.  transmission, amplification, interpretation, combination, selection, encoding, transmission, and decoding are always a deliberate act of intelligence
3. The existence of the genetic information transmission system is best explained by the implementation of an intelligent designer.
Complex Specified/instructing Information – It's not that hard to understand
http://reasonandscience.catsboard.com/t2374-complex-instructing-specified-information-its-not-that-hard-to-understand
DNA stores literally coded information
http://reasonandscience.catsboard.com/t1281-dna-stores-literally-coded-information
The language of the genetic code
http://reasonandscience.catsboard.com/t1472-the-language-of-the-genetic-code
Coded information comes always from a mind
http://reasonandscience.catsboard.com/t1312-coded-information-comes-always-from-a-mind
The genetic code cannot arise through natural selection
http://reasonandscience.catsboard.com/t1405-the-genetic-code-cannot-arise-through-natural-selection
The five levels of information in DNA
http://reasonandscience.catsboard.com/t1311-the-five-levels-of-information-in-dna
The genetic code, insurmountable problem for non-intelligent origin
http://reasonandscience.catsboard.com/t2363-the-genetic-code-unsurmountable-problem-for-non-intelligent-origin
Wanna Build a Cell? A DVD Player Might Be Easier
http://reasonandscience.catsboard.com/t2404-wanna-build-a-cell-a-dvd-player-might-be-easier
The amazing DNA information storage capacity
http://reasonandscience.catsboard.com/t2052-the-amazing-dna-information-storage-capacity
The different genetic codes
http://reasonandscience.catsboard.com/t2277-the-different-genetic-codes
The various codes in the cell
http://reasonandscience.catsboard.com/t2213-the-various-codes-in-the-cell
DNA - the instructional blueprint of life
http://reasonandscience.catsboard.com/t2544-dna-the-instructional-blueprint-of-life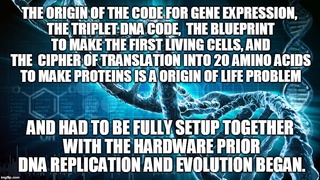 Last edited by Admin on Mon Nov 26, 2018 12:15 pm; edited 4 times in total