Ribosomes amazing nano machines
http://reasonandscience.catsboard.com/t1661-translation-through-ribosomes-amazing-nano-machines
* Each cell contains around 10 million ribosomes, i.e. 7000 ribosomes are produced in the nucleolus each minute.
* Each ribosome contains around 80 proteins, i.e. more than 0.5 million ribosomal proteins are synthesized in the cytoplasm per minute.
* The nuclear membrane contains approximately 5000 pores. Thus, more than 100 ribosomal proteins are imported from the cytoplasm to the nucleus per pore and minute. At the same time 3 ribosomal subunits are exported from the nucleus to the cytoplasm per pore and minute.
The evidence from the ribosome
a. "Spontaneous formation of the unlocked state of the ribosome is a multi-step process."
b. The L1 stalks of the ribosome bend, rotate and uncouple – undergoing at least four distinct stalk positions while each tRNA ratchets through the assembly tunnel.  At one stage, for instance, "the L1 stalk domain closes and the 30S subunit undergoes a counterclockwise, ratchet-like rotation" with respect to another domain of the factory.  This is not simple.  "Subunit ratcheting is a complex set of motions that entails the remodeling of numerous bridging contacts found at the subunit interface that are involved in substrate positioning."
c.
The enzyme machine that translates a cell's DNA code into the proteins of life is nothing if not an editorial perfectionist…the ribosome exerts far tighter quality control than anyone ever suspected over its precious protein products… To their further surprise, the ribosome lets go of error-laden proteins 10,000 times faster than it would normally release error-free proteins, a rate of destruction that Green says is "shocking" and reveals just how much of a stickler (insisting) the ribosome is about high-fidelity protein synthesis.
 (Rachel Green, a Howard Hughes Medical Institute investigator and professor of molecular biology and genetics: The Ribosome: Perfectionist Protein-maker Trashes Errors, 2009)
4. Interactions between molecules are not simply matters of matching electrons with protons.  Instead, large structural molecules form machines with moving parts.  These parts experience the same kinds of forces and motions that we experience at the macro level: stretching, bending, leverage, spring tension, ratcheting, rotation and translocation.  The same units of force and energy are appropriate for both – except at vastly different levels.
5. Every day, Every day, essays about molecular machines are giving more and more biomolecular details, many without mentioning evolution and giving details about the process of how these machines evolved. Ribosomes, however, are life essential, and a prerequisite to make the proteins which replicate DNA, hence, it had to emerge prior evolution could start. So its emergence cannot be explained by evolution.
6. These complexities are best explained by the work of an intelligent agency.
7. Hence, most probably, God exists.
Comparative genomic reconstructions of the gene repertoire of LUCA(S) point to a complex translation system that includes at least 18 of the 20 aminoacyl-tRNA synthetases (aaRS), several translation factors, at least 40 ribosomal proteins, and several enzymes involved in rRNA and tRNA modification. It appears that the core of the translation system was already fully shaped in LUCA(S) (Anantharaman, et al., 2002). 
animation:
http://telstar.ote.cmu.edu/biology/animation/ProteinSynthesis/proteinsynthesis.html
The RNA Message Is Decoded in Ribosomes
The synthesis of proteins is guided by information carried by mRNA molecules. To maintain the correct reading frame and to ensure accuracy (about 1 mistake every 10,000 amino acids), protein synthesis is performed in the ribosome, a complex catalytic machine made from more than 50 different proteins (the ribosomal proteins) and several RNA molecules, the ribosomal RNAs (rRNAs). A typical eukaryotic cell contains millions of ribosomes in its cytoplasm
The large and small ribosome subunits are assembled at the nucleolus, where newly transcribed and modified rRNAs associate with the ribosomal proteins that have been transported into the nucleus after their synthesis in the cytoplasm. These two ribosomal subunits are then exported to the cytoplasm, where they join together to synthesize proteins. Eukaryotic and bacterial ribosomes have similar structures and functions, being composed of one large and one small subunit that fit together to form a complete ribosome with a mass of several million daltons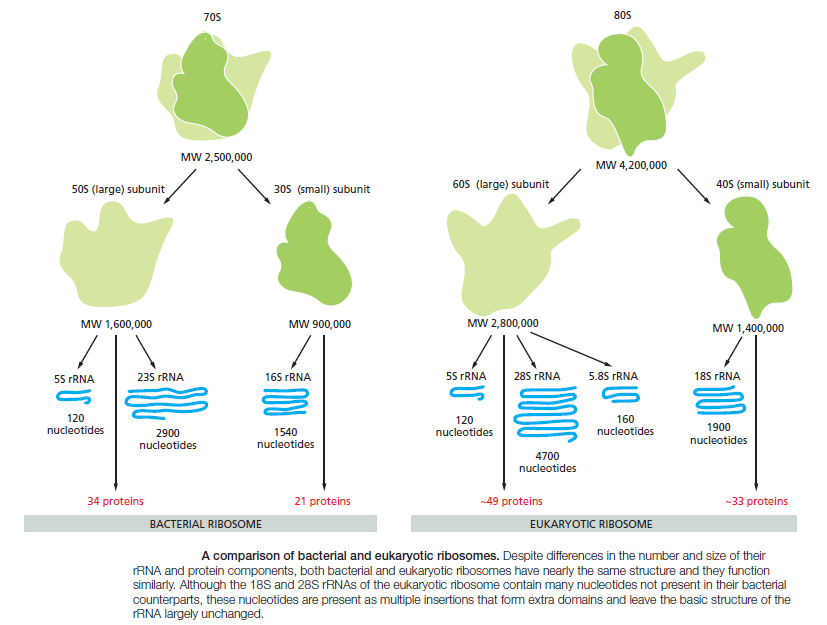 There are millions of protein factories in every cell. Surprise, they're not all the same
2
The plant that built your computer isn't churning out cars and toys as well. But many researchers think cells' crucial protein factories, organelles known as ribosomes, are interchangeable, each one able to make any of the body's proteins. Now, a provocative study suggests that some ribosomes, like modern factories, specialize in manufacturing only certain products. Such tailored ribosomes could provide a cell with another way to control which proteins it generates. They could also help explain the puzzling symptoms of certain diseases, which might arise when particular ribosomes are defective.
Biologists have long debated whether ribosomes specialize, and some remain unconvinced by the new work. But other researchers say they are sold on the finding, which relied on sophisticated analytical techniques. "This is really an important step in redefining how we think about this central player in molecular biology," says Jonathan Dinman, a molecular biologist at the University of Maryland in College Park.
A mammalian cell may harbor as many as 10 million ribosomes, and it can devote up to 60% of its energy to constructing them from RNA and 80 different types of proteins.
Although ribosomes are costly, they are essential for translating the genetic code, carried in messenger RNA (mRNA) molecules, into all the proteins the cell needs. "Life evolved around the ribosome," Dinman says.
The standard view has been that a ribosome doesn't play favorites with mRNAs—and therefore can synthesize every protein variety. But for decades, some researchers have reported hints of customized ribosomes. For example, molecular and developmental biologist Maria Barna of Stanford University in Palo Alto, California, and colleagues reported in 2011 that mice with too little of one ribosome protein have short tails, sprout extra ribs, and display other anatomical defects. That pattern of abnormalities suggested that the protein shortage had crippled ribosomes specialized for manufacturing proteins key to embryonic development.
Definitive evidence for such differences has been elusive, however. "It's been a really hard field to make progress in," says structural and systems biologist Jamie Cate of the University of California (UC), Berkeley. For one thing, he says, measuring the concentrations of proteins in naturally occurring ribosomes has been difficult.
In their latest study, published online last week in Molecular Cell, Barna and her team determined the abundances of various ribosome proteins with a method known as selected reaction monitoring, which depends on a type of mass spectrometry, a technique for sorting molecules by their weight. When the researchers analyzed 15 ribosomal proteins in mouse embryonic stem cells, they found that nine of the proteins were equally common in all ribosomes. However, four were absent from 30% to 40% of the organelles, suggesting that those ribosomes were distinctive. Among 76 ribosome proteins the scientists measured with another mass spectrometry-based method, seven varied enough to indicate ribosome specialization.
Barna and colleagues then asked whether they could identify the proteins that the seemingly distinctive ribosomes made. A technique called ribosome profiling enabled them to pinpoint which mRNAs the organelles were reading—and thus determine their end products.
The specialized ribosomes often concentrated on proteins that worked together to perform particular tasks. One type of ribosome built several proteins that control growth, for example. A second type churned out all the proteins that allow cells to use vitamin B12, an essential molecule for metabolism. That each ribosome focused on proteins crucial for a certain function took the team by surprise, Barna says. "I don't think any of us would have expected this."
Ribosome specialization could explain the symptoms of several rare diseases, known as ribosomopathies, in which the organelles are defective. In Diamond-Blackfan anemia, for instance, the bone marrow that generates new blood cells is faulty, but patients also often have birth defects such as a small head and misshapen or missing thumbs. These seemingly unconnected abnormalities might have a single cause, the researchers suggest, if the cells that spawn these different parts of the body during embryonic development carry the same specialized ribosomes.
Normal cells might be able to dial protein production up or down by adjusting the numbers of these specialized factories, providing "a new layer of control of gene expression," Barna says. Why cells need another mechanism for controlling gene activity isn't clear, says Cate, but it could help keep cells stable if their environment changes.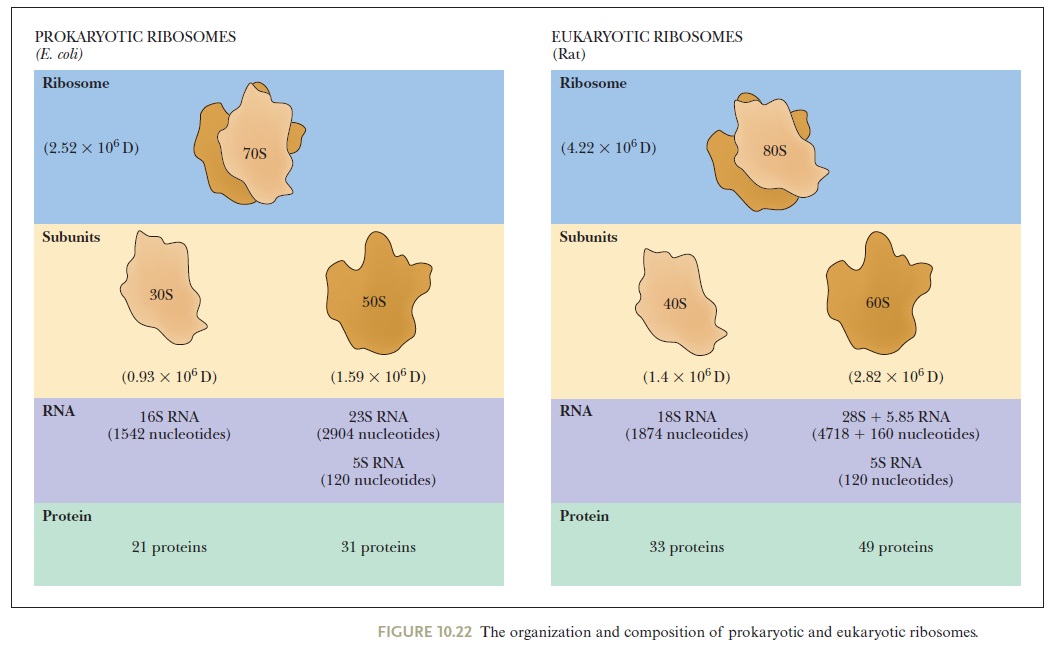 1. from the book: 
The Logic of Chance: The Nature and Origin of Biological Evolution
, page 228, By Eugene V. Koonin
2. http://www.sciencemag.org/news/2017/06/there-are-millions-protein-factories-every-cell-surprise-they-re-not-all-same
3. http://www.nobelprize.org/educational/medicine/dna/a/translation/ribosome_ass.html


Last edited by Admin on Wed Aug 08, 2018 5:27 am; edited 59 times in total