Creation: Believe It or Not 
1
http://reasonandscience.catsboard.com/t1642-creation-believe-it-or-not-part-1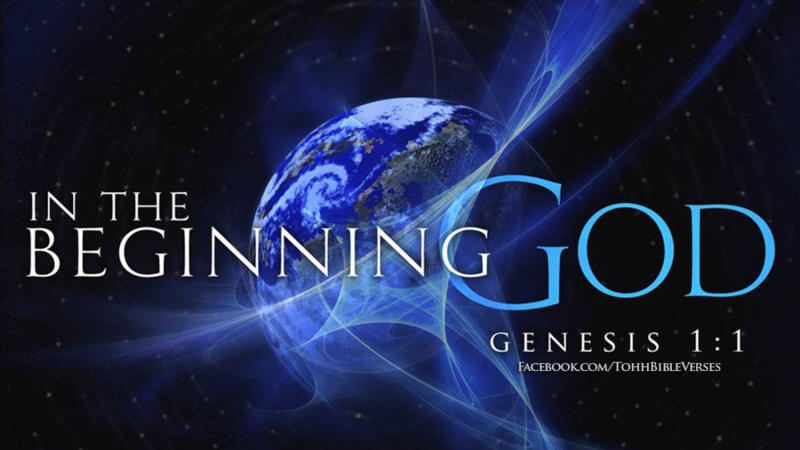 The issue of origins is absolutely critical to all human thinking, human behavior, and human life.  It is the foundation of our existence.  It is the foundation of our purpose.  It is the foundation of our destiny.  Without a right understanding of origins, there's no way to comprehend ourselves.  There's no way to understand our earth, our universe or the ultimate meaning of anything. 5
When it comes to explaining the possible mechanisms and cause of origins, the physical universe,  life, biodiversity, consciousness, moral values, and language, there are following options:
As the cause of: 
The universe and the physical laws:
an intelligent creator(s),  random unguided natural events, or a creator could have created through random events or a mix of both. 
The fine-tuning of the universe and the origin of life: 
an intelligent creator, random unguided natural events, and physical necessity. Or a mix of it. 
Biodiversity, consciousness, moral values, and language: 
above, and evolution
Chance.
What kind of causal power has chance? Chance expresses the odds or likelihood of an event taking place. Chance isn't a thing or a mechanism or a physical being or a causal agent. It's not a directing force. Chance doesn't make anything happen.  It's only a way to quantify the probability of an event taking place. But in modern thinking, chance is being transformed in the ingredient of evolution theory through random mutations, a causal ingredient of biodiversity. 2
Physical necessity
is the term that is given to the situation where something is forced to take a certain course of action. Events that are conditioned by some values, forces, laws, norms or goals.  In physics,  the concept of necessity was applied to cases of strict determination and restriction due to so-called causal laws. It's the hypothesis that the constants and quantities had to have the values they do so that the universe and the earth could not take any other course, than the one it did. 1,3
Intelligent design/creation
stands for guided, reason based, directed, planned, projected, programmed, information based,  goal-constrained, willed causation by a conscient intelligent powerful eternal, non-caused agency. Chance and evolution could be a included mechanism in the intended goal, but that would in the end still be an intelligence-based process.
Evolution:
Biodiversity by evolution through random mutations and natural selection, genetic drift, gene flow, or pre-programmed evolution 
There are only these options.  Either is there an intelligent creator, or there is not. Those are the only options.  If there is no God, then everything is a result of ..... what exactly?
Chance, as exposed above, isn't a thing. Physical necessity could only act once a physical universe exists. Beyond the universe, there were no physical laws.
Once it's granted that nothing has no causal powers, it's evident the universe could not have emerged from absolutely anything. Nobody times nothing equals everything is irrational to the extreme nonetheless, some very "smart" people think that proposition makes sense, and write extensive books about the subject ). Or, behind this complex universe is an incomprehensibly intelligent and powerful eternal being who made everything.
Pennie Lee:
 Chance of the gaps. Chance did it. That takes a lot of faith since we've never observed CHANCE doing a single thing. Saying that something self-organizes and does it by chance is self-refuting. Secondly, it is a giant leap of faith. It appears to me that those who declare chance, are simply putting a different name on their god (of the gaps). They make observations of the occurrence but cannot tell us HOW it occurred. If they think that one day in the future this will be revealed to them by some chance, they are simply exercising faith. They are also exercising the logical fallacy of Appeal to the Future. No, what you think MIGHT happen in the future is not proof or even evidence for your present notions.
Genesis 1:1 is unique in all literature, all science, and all philosophy.  Every other system of cosmology explaining the universe, whether in ancient religious myths or modern scientific models, starts with the eternal matter, or eternal energy in some form.  Only the book of Genesis starts with eternal God.  Genesis then is the book of the origin of the universe.
In Genesis, we find the origin of order, information, and complexity.  There is order, there are physical laws that function of fixed rules, there is information, and there is life-based on cells, that are equivalent to factories and complex irreducible machines.  Order, coded information, and complexity never arise spontaneously.  They are always generated by a prior cause programmed to produce these things simultaneously.
We also find in Genesis the origin of life, the marvels of the reproductive process.  The almost infinite complexity programmed into the genetic system of plants and animals are inexplicable apart from special creation by a great, supernatural, powerful intelligence.
Genesis tells us about the origin of man, the most highly organized and complex entity in the universe, the origin of marriage,  the remarkable universal and stable institution of marriage as having been ordained by the Creator; the origin of evil.  The origin of physical and moral evil in the universe is explained in Genesis as a kind of temporary intrusion into God's perfect world, allowed by God as a concession to the principle of human freedom and responsibility and also to manifest Himself as Redeemer of sinners as well as Creator. In the book of Genesis, you find the origin of salvation by grace through God's mercy and a substitute.  That's all in Genesis and it starts to show as God is merciful to Adam and Eve and doesn't kill them, even though they deserved to die for their sin.  In the book of Genesis that we find the origin of language. How you go from apes to man not just making some physical transition but developing language, how you go from grunting and making unintelligible noises to human speech. is unexplained by modern science as well. The gulf between the mindless, instinctive chattering of animals and the intelligent, abstract, symbolic communication of man is absolutely and completely unbridgeable by any evolutionary process. You find in Genesis the origin of culture.  You find here such things as urbanization, the development of metallurgy, music, agriculture, animal husbandry, writing, education, navigation, textiles, and ceramics.  All of that starts in the book of Genesis. You find in the book of Genesis the origin of religion.  Both the true religion and false religions appear, first of all, in the book of Genesis.
Science knows nothing about origins. No wonder, when pressed hard, the last outcome most atheists come up with, is ignorance. We don't know yet. Science is working on it. 
Open questions in biology, biochemistry, and evolution
http://reasonandscience.heavenforum.org/t2299-open-questions-in-biology-biochemistry-and-evolution
When methodological naturalism is applied, the only explanation for the origin of life is abiogenesis, and of biodiversity, Darwins Theory of evolution. Proponents repeat like a mantra: Evolution is a fact. If that were the case, there would exist far more convincing, clear scientific answers to almost all relevant scientific questions and issues. This is far from being the case. Based on scientific papers, quite a different picture arises. Instead of compelling answers, question marks and lack of understanding, generalized ignorance in regard to almost all relevant issues,  and conceptual problems are the most common. Since the information is widely sparse and scattered amongst thousands of scientific papers, it's not so evident that this is the factual state of matter. The general public is duped by effect slogans, that give the false impression of certainty of naturalism. The standard answer, when proponents of naturalism are confronted with this situation, is: "We are working on it". Or: "We don't know yet".
Objection:
more possible causal mechanisms exist, maybe even an infinity. 
Answer:
 What can be asserted without evidence, can be discarded without evidence.
Objection:
the universe isn't obliged in any to conform to our model of reality. Just look at Einstein's relativity theories. They demonstrate that the universe can confound us.  That justifies not become attached to any viewpoint.
Answer:
Even if a Grand Unified Theory (GUT) is not fully understood, the possible mechanisms to explain our existence are still the same.
1. http://www.sciencedirect.com/science/article/pii/S0049237X09704124
2. http://www.gty.org/resources/sermons/90-208/creation-believe-it-or-not-part-1
3. http://www.reasonablefaith.org/design-from-fine-tuning
4. https://en.wikipedia.org/wiki/Grand_Unified_Theory
5. https://www.gty.org/resources/sermons/90-209/creation-believe-it-or-not-part-2


Last edited by Admin on Wed Mar 07, 2018 12:36 pm; edited 15 times in total