Laws of Physics, where did they come from? 
How can mathematical rules, the first principles that govern physical behavior, be enforced on physical things which obey them without a mathematician?
In physics, "laws" are statements about physics that are true, everywhere, for all observers. Nature itself has followed a set of unified principles without question or hesitation for many many millennia. Nature does things in the way we know it works, but there is no reason why that has to be so.
The physical universe and the laws of physics are interdependent and irreducible. There would not be one without the other. Origins make only sense in face of Intelligent Design.
"The naive view implies that the universe suddenly came into existence and found a complete system of physical laws waiting to be obeyed. Actually, it seems more natural to suppose that the physical universe and the laws of physics are interdependent." —*WH. McCrea, "Cosmology after Half a Century," Science, Vol. 160, June 1968, p. 1297.
Paul Davies: The universe obeys mathematical laws; they are like a hidden subtext in nature. Science reveals that there is a coherent scheme of things, but scientists do not necessarily interpret that as evidence for meaning or purpose in the universe.
The only rational explanation is however that God created this coherent scheme of things since there is no other alternative explanation. That's why atheists rather than admit that, prefer to argue of " not knowing " of its cause. 
Our very ability to establish the laws of nature depends on their stability.(In fact, the idea of a law of nature implies stability.) Likewise, the laws of nature must remain constant long enough to provide the kind of stability life requires through the building of nested layers of complexity. The properties of the most fundamental units of complexity we know of, quarks, must remain constant in order for them to form larger units, protons and neutrons, which then go into building even larger units, atoms, and so on, all the way to stars, planets, and in some sense, people. The lower levels of complexity provide the structure and carry the information of life. There is still a great deal of mystery about how the various levels relate, but clearly, at each level, structures must remain stable over vast stretches of space and time. 4
And our universe does not merely contain complex structures; it also contains elaborately nested layers of higher and higher complexity. Consider complex carbon atoms, within still more complex sugars and nucleotides, within more complex DNA molecules, within complex nuclei, within complex neurons, within the complex human brain, all of which are integrated in a human body. Such "complexification" would be impossible in both a totally chaotic, unstable universe and an utterly simple, homogeneous universe of, say, hydrogen atoms or quarks.
Of course, although nature's laws are generally stable, simple, and linear—while allowing the complexity necessary for life—they do take more complicated forms. But they usually do so only in those regions of the universe
far removed from our everyday experiences: general relativistic effects in high-gravity environments, the strong nuclear force inside the atomic nucleus, quantum mechanical interactions among electrons in atoms. And even in these far-flung regions, nature still guides us toward discovery. Even within the more complicated realm of quantum mechanics, for instance, we can describe many interactions with the relatively simple Schrödinger Equation. Eugene Wigner famously spoke of the "unreasonable effectiveness of mathematics in natural science"—unreasonable only if one assumes, we might add, that the universe is not underwritten by reason. Wigner was impressed by the simplicity of the mathematics that describes the workings of the universe and our relative ease in discovering them. Philosopher Mark Steiner, in The Applicability of Mathematics as a Philosophical Problem, has updated Wigner's musings with detailed examples of the deep connections and uncanny predictive power of pure mathematics as applied to the laws of nature
Described by man, Prescribed by God
. There is no scientific reason why there should be any laws at all. It would be perfectly logical for there to be chaos instead of order. Therefore the FACT of order itself suggests that somewhere at the bottom of all this there is a Mind at work. This Mind, which is uncaused, can be called 'God.' If someone asked me what's your definition of 'God', I would say 'That which is Uncaused and the source of all that is Caused.' 3
The following quotations from Einstein are all in Jammer's book 2:
"Every scientist becomes convinced that the laws of nature manifest the existence of a spirit vastly superior to that of men."
"Everyone who is seriously involved in the pursuit of science becomes convinced that a spirit is manifest in the laws of the universe – a spirit vastly superior to that of man."
"The divine reveals itself in the physical world."
"My God created laws… His universe is not ruled by wishful thinking but by immutable laws."
"I want to know how God created this world. I want to know his thoughts."
"What I am really interested in knowing is whether God could have created the world in a different way."
"This firm belief in a superior mind that reveals itself in the world of experience, represents my conception of God."
"My religiosity consists of a humble admiration of the infinitely superior spirit, …That superior reasoning power forms my idea of God."
The argument of the supervision of order
1. We find in nature many laws like the law of gravitation, the laws of motion, the laws of thermodynamics.
2. Just as in any state, the government or the king makes different laws and supervises their subjects that the laws are carried out, so the laws of nature had to be generated and supervised by some intelligent being.
3. So, for everything that happens according to those laws there has to be a supervisor or controller.
4. Man can create small laws and control limited things in his domain, but nature's grand laws had to be created by a big brain, an extraordinarily powerful person who can supervise that those laws are carried out.
5. Such an extraordinary, omnipotent person can be only God.
6. Hence, God exists.
The argument of the nature of established laws
1. Physical or scientific law is a scientific generalization based on empirical observations of physical behavior. Law is defined in the following ways:
a. Absolute. Nothing in the universe appears to affect them. (Davies, 1992:82)
b. Stable. They are unchanged since they were first discovered (although they may have been shown to be approximations of more accurate laws).
c. Omnipotent. Everything in the universe apparently must comply with them (according to observations). (Davies, 1992:83)
2. Some of the examples of scientific or nature's laws are:
a. The law of relativity by Einstein.
b. The four laws of thermodynamics.
c. The laws of conservation of energy.
d. The uncertainty principle etc.
e. Biological laws
i. Life is based on cells.
ii. All life has genes.
iii. All life occurs through biochemistry.
iv. Mendelian inheritance.
f. Conservation Laws.
i. Noether's theorem.
ii. Conservation of mass.
iii. Conservation of energy, momentum and angular momentum.
iv. Conservation of charge .
3. Einstein said that the laws already exist, man just discovers them.
4. Only an omnipotent, absolute eternal person can give absolute, stable and omnipotent laws for the whole universe.
5. That person all men call God.
6. Hence God exists.
Evidence of Design in Natural Law
http://www.themoorings.org/apologetics/theisticarg/teleoarg/teleo2.html
One remarkable feature of the natural world is that all of its phenomena obey relatively simple laws. The scientific enterprise exists because man has discovered that wherever he probes nature, he finds laws shaping its operation.
If all natural events have always been lawful, we must presume that the laws came first. How could it be otherwise? How could the whole world of nature have ever precisely obeyed laws that did not yet exist? But where did they exist? A law is simply an idea, and an idea exists only in someone's mind. Since there is no mind in nature, nature itself has no intelligence of the laws which govern it.
Modern science takes it for granted that the universe has always danced to rhythms it cannot hear, but still assigns power of motion to the dancers themselves. How is that possible? The power to make things happen in obedience to universal laws cannot reside in anything ignorant of these laws.
Would it be more reasonable to suppose that this power resides in the laws themselves? Of course not. Ideas have no intrinsic power. They affect events only as they direct the will of a thinking person. Only a thinking person has the power to make things happen. Since natural events were lawful before man ever conceived of natural laws, the thinking person responsible for the orderly operation of the universe must be a higher Being, a Being we know as God.
"Where do the laws of physics come from?' (Guth) pauses: "We are a long way from being able to answer that one." Yes, that would be a very big gap in scientific knowledge! 
http://yecheadquarters.org/?p=1172
   Newton's Three Laws of Motion.
   Law of Gravity.
   Conservation of Mass-Energy.
   Conservation of Momentum.
   Laws of Thermodynamics.
   Electrostatic Laws.
   Invariance of the Speed of Light.
   Modern Physics & Physical Laws.
The questions are:   
What is their origin?
   Can laws come about naturally?
   How did they come about fully balanced to create order instead of chaos?

The laws themselves defy a natural existence and science itself has not even one clue on how to explain them coming into being naturally.So when you use deductive reasoning, cancelling out all that does not fit or will not work, there is only one conclusion left that fits the bill of why the laws exist, and why they work together to make order instead of chaos.

Deny it as naturalist may, their way if thinking cannot explain away a Creator creating the laws that exist and the fact that they create order instead of chaos. That they are put together and tweaked to be in balance like a formula making everything work together to create all that we see. Always ignoring that even one notch off in how one law works with another that total and complete chaos would be the result. And that they cannot even contemplate the first step in an explanation that would fit their world views.
   Applying the scientific method:
When all conclusions fit and point into one direction only, what is science supposed to do? According to the scientific method you are supposed to follow the evidence regardless of where it leads, not ignore it because it leads to where you don;t want to go. But science refusal to follow the conclusions of the only things that make sense here is proof that science is not really about finding truth where ever it may lead, but making everything that exists or is discovered conform to what they have already accepted as truth.
Proof? Evolutionists have already exalted their idea of their theory as being a true proven facts with mountains of empirical evidence. They even went as far as to exalt this theory of theirs to being a Scientific theory. The problem here is that there is really no criteria that the theory had to meet to graduate to this level. Nothing. They cannot give us a 1 ,2 ,3 criteria on what the theory had to do to reach this status or the supposed evidence that took it over the top, and how it would maintain this status. How does one know that evolution still meets the criteria of being a scientific theory when evidence for and against are found all the time? And evidence gets proven wrong or found to be fraud but some how the theory of evolution holds to a criteria that is not even clear or written?
   Is evolution the hero of the atheist movement?
This is what happens when a person becomes a hero unto the people. They exalt him to a status that he may not be worthy of, and make positive claims about him that are not even true just so they can look up to him as their hero. And they will protect their hero and anyone whom disagrees becomes their enemy. This is what has happened to the theory of evolution. It has become the atheist hero in the plot to justify their disbelief in God. And because the idea is their hero it will be treated as such and becomes something the atheist can look up to whether it meets the criteria or not. And it is protected against all whom would dare to disagree, and those whom disagree become the enemy for that very reason. Why do you think atheists who believe in evolution hate all creationists when they have never met them? The hero complex of evolution requires them to do just that.
http://evolutionfacts.com/Ev-V1/1evlch01a.htm
1. http://www.icr.org/article/547/256
2. http://www.bethinking.org/god/did-einstein-believe-in-god
3. https://www.quora.com/What-did-Werner-Heisenberg-mean-when-he-said-%E2%80%9CThe-first-gulp-from-the-glass-of-natural-sciences-will-turn-you-into-an-atheist-but-at-the-bottom-of-the-glass-God-is-waiting-for-you%E2%80%9D
4. Guillermo Gonzalez and Jay W. Richards THE PRIVILEGED PLANET HOW OUR PLACE IN THE COSMOS IS DESIGNED FOR DISCOVERY page 211
https://www.quora.com/What-are-the-laws-of-physics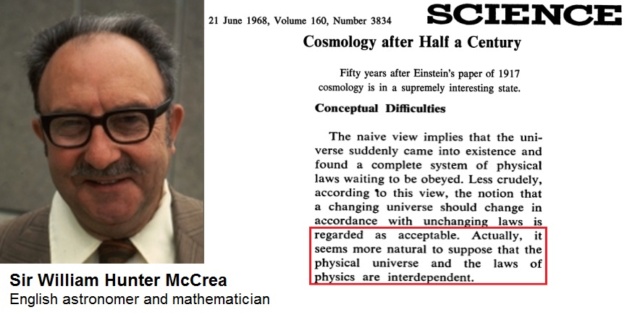 Last edited by Admin on Sun Apr 05, 2020 7:55 pm; edited 25 times in total