The cell is irreducibly complex
http://reasonandscience.catsboard.com/t1299-the-cell-is-irreducibly-complex
chemist Wilhelm Huck, professor at Radboud University Nijmegen
A working cell is more than the sum of its parts. "A functioning cell must be entirely correct at once, in all its complexity
http://www.ru.nl/english/@893712/protocells-formed/
Information has independent existence from the structures. The information, the code, and hardware to process the information and to use it to accomplish a specific task all need to appear simultaneously. None have value without the others in place. This requires single step first appearance of all of them. Required tasks for simultaneous first appearance include replication, information storage and processing, metabolism, organic compartments with active transport, and various additional miscellaneous functions 4
chicken and egg scenarios in cellular function can be discovered at will. The essential components of a minimal cell cooperate with each other, such that when all work together life appears and missing any one of them prevents its appearance. If one tries to explain the appearance of any component through the gradual step by step process of natural selection, he will quickly find himself facing a chicken and egg scenario, a catch-22 situation, a paradox, a conundrum. Ignoring the fact that natural selection doesn't work for large genome systems before replication appears, there is another basic issue. How could natural selection define a proper genetic structure to produce a protein so that the protein could provide a step in the production of an essential product before all of the other proteins for the others steps have appeared? There is a long list of products essential to the appearance of the first cell. Pick any one of them and try to explain how this product could appear apart from single-step, sudden first appearance. You will find that emergence leads you straight to the chicken and egg scenario. This is the impact of emergence on abiogenesis.
How Structure Arose in the Primordial Soup
About 4 billion years ago, molecules began to make copies of themselves, an event that marked the beginning of life on Earth. A few hundred million years later, primitive organisms began to split into the different branches that make up the tree of life. In between those two seminal events, some of
the greatest innovations in existence emerged: the cell, the genetic code and an energy system to fuel it all. ALL THREE of these are ESSENTIAL to life as we know it, yet scientists know disappointingly little about how any of these remarkable biological innovations came about.
https://www.scientificamerican.com/article/how-structure-arose-in-the-primordial-soup/
Behes definition of 
 Irreducible complexity 
can be expanded, and applied not only  to biological systems, but also to systems , machines and factories created by man,  that require a minimal number of parts to exercise a specific function, and this minimal number of parts cannot be reduced to keep the basic function. The term applies as well  to processes, production methods and proceedings of various sorts. To reach a certain goal, a minimal number of manufacturing  steps must be gone through. That applies in special to  processes in living cells, where  a minimal set of basic processes must be fully functional and operational, in order to maintain cells alive.
Karen Fliegel MacDougall   If we are to assume all life came from a single cell way in the past, then that cell, from it's very first moment had to have all the machinery capable of :
1. reproduction
2. the means of obtaining energy in whatever form that may have been
3. the means of converting that energy source to a useable form
4. the means of ridding itself of toxic waste
5. the means of protecting itself from environmental dangers ex, radiation, temperature fluctuations, acid/base conditions
6. means of cellular repair of all of these mechanisms
7. The means of intracellular communication between all its parts the prior knowledge that it would need all these components and the ability of ALL of these to function fully and simultaneously from day one because malfunctions of, or incomplete versions or not fully "evolved" parts would have lead to immediate or almost immediate death.
Following  irreducible processes and parts  are required to keep cells alive, and illustrate mount improbable to get life a first go: 
Reproduction.
 Reproduction is essential for the survival of all living things.
Metabolism.
 Enzymatic activity allows a cell to respond to changing environmental demands and regulate its metabolic pathways, both of which are essential to cell survival. 
Nutrition.
 This is closely related to metabolism. Seal up a living organism in a box for long enough and in due course it will cease to function and eventually die. Nutrients are essential for life. 
Complexity. 
All known forms of life are amazingly complex. Even single-celled organisms such as bacteria are veritable beehives of activity involving millions of components. 
Organization.
 Maybe it is not complexity per se that is significant, but organized complexity. 
Growth and development.
 Individual organisms grow and ecosystems tend to spread (if conditions are right). 
Information content.
 In recent years scientists have stressed the analogy between living organisms and computers. Crucially, the information needed to replicate an organism is passed on in the genes from parent to offspring. 
Hardware/software entanglement.
 All life of the sort found on Earth stems from a deal struck between two very different classes of molecules: nucleic acids and proteins. 
Permanence and change.
 A further paradox of life concerns the strange conjunction of permanence and change.
Sensitivity.
 All organisms respond to stimuli— though not always to the same stimuli in the same ways.
Regulation. 
All organisms have regulatory mechanisms that coordinate internal processes.
Paul Davies, The origin of life, page 52
Acknowledging the inter-dependability of the component molecules within a living organism immediately presents us with a stark philosophical puzzle. If everything needs everything else, how did the community of molecules ever arise in the first place? As most large molecules needed for life are produced only by living organisms and are not found outside the cell, how did they come to exist originally, without the help of a meddling scientist? Could we seriously expect a Miller – Urey type of soup to make them all at once, given the hit-and-miss nature of its chemistry? 
You might get the impression from what I have written that not only is the origin of life virtually impossible, but that life itself is impossible. If fragile biomolecules are continually being attacked and disintegrated, surely our own bodies would rapidly degenerate into chemical mayhem spelling certain death? Fortunately for us, our cells contain sophisticated chemical repair and construction mechanisms, handy sources of chemical energy to drive processes uphill, and enzymes with special properties that can smoothly assemble complex molecules from fragments. Also, proteins fold into protective balls that prevent water from attacking their delicate chemical bonds. As fast as the second law tries to drag us downhill, this cooperating army of specialized molecules tugs the other way. So long as we remain open systems, exchanging energy and entropy with our environment, the degenerative consequences of the second law can be avoided. But the primordial soup lacked these convenient cohorts of cooperating chemicals. No molecular repair gangs stood ready to take on the second law. The soup had to win the battle alone, against odds that are not just heavy, but mind-numbingly huge.
Let's suppose an immensely unlikely random accident would produce a self-replicating RNA molecule in a prebiotic world. That molecule would have no function on its own, in the same manner as a piston has no function by its own unless fully mounted with the right fit in the cylinder. In the same manner, as a water turbine has no function on its own unless mounted at the river with the energy gradient, and all other parts to make energy, there would be no function for it. In the same manner, the energy turbine of life, ATP synthase, would have no function on its own, unless a proton gradient is established in the cell, and for that, a membrane to establish the gradient is required. Had the cell membrane, the energy gradient, and ATP synthase not to be fully setup together right from the beginning, otherwise, one could not bear any function on its own, together with the other parts?  Let's suppose you have a car. You enter the car, turn the key, but the cable that connects the signal to the battery, the car's engine will not turn on. Intelligence is required to find out, which cable has to connect, to solve the problem. But in cells, even if one protein, as tiny as it might seem, is missing, cells cannot become alive either. A cell without any of the key enzymes to make energy, will not function. But all enzymes and proteins are intricately complex and must be interconnected in a metabolic network, to bear function.
Mainstream scientific papers confirm indirectly that cells are irreducible complex. The paper: Determination of the Core of a Minimal Bacterial Gene Set says: Based on the conjoint analysis of several computational and experimental strategies designed to define the minimal set of protein-coding genes that are necessary to maintain a functional bacterial cell, we propose a minimal gene set composed of 206 genes. Such a gene set will be able to sustain the main vital functions of a hypothetical simplest bacterial cell.
How Many Genes Can Make a Cell: The Minimal-Gene-Set Concept
https://www.ncbi.nlm.nih.gov/books/NBK2227/
Several theoretical and experimental studies have endeavored to derive the minimal set of genes that are necessary and sufficient to sustain a functioning cell under ideal conditions, that is, in the presence of unlimited amounts of all essential nutrients and in the absence of any adverse factors, including competition. A comparison of the first two completed bacterial genomes, those of the parasites Haemophilus influenzae and Mycoplasma genitalium, produced a version of the minimal gene set consisting of ~250 genes. 
Compartmentalization is a necessary prerequisite for maintaining the integrity of such
interdependent molecular systems
and for permitting the variations required for speciation (Tawfik and Griffiths, 1998). 3
Protocells formed in salt solution - closer to synthetic life than anyone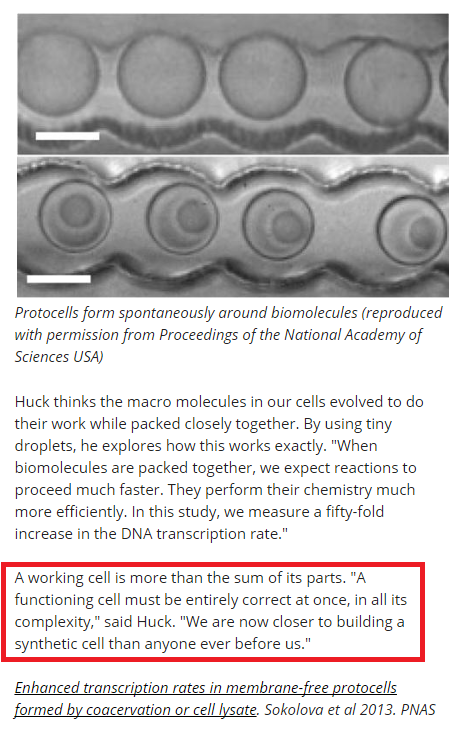 To go from a bacterium to people is less of a step than to go from a mixture of amino acids to a bacterium. — Lynn Margulis
http://news.illinois.edu/news/11/1005LUCA_ManfredoSeufferheld_JamesWhitfield_Caetano_Anolles.html
New evidence suggests that LUCA was a sophisticated organism after all, with a complex structure recognizable as a cell, researchers report. Their study appears in the journal Biology Direct. The study lends support to a hypothesis that LUCA may have been more complex even than the simplest organisms alive today, said James Whitfield, a professor of entomology at Illinois and a co-author on the study.
What good is a one cylinder motor for without a piston?
What good is a piston for, if not used fully mounted in the cylinder with the right size to fit and interconnected, to fulfill its task? Ok. You could use it as an Ashtray. But for that, you would not need to produce it highly specified with piston rings, connecting rod etc.
What good is a production line of pistons for, if the end product, the piston, has no place to be employed ?
What good is a transport system for, if there is no place to deliver the goods, and a communication system to direct them to the right place?
http://citeseerx.ist.psu.edu/viewdoc/download?doi=10.1.1.94.171&rep=rep1&type=pdf
Functional parts are only meaningful within a whole, in other words, it is the whole that gives meaning to its parts. 1
Parts require a blueprint in order to be made upon specified complex instructional information. The information is based on a language system wich must be pre-established.
In order to define a sign or a code (which can be a symbol, an index, or an icon) a whole cluster of self-referring concepts is presupposed, that is, the definition cannot be given on a priori grounds, without implicitly referring to this cluster of conceptual agents. In other words, to define a specific subpart of a machine that requires a specific shape, size, material etc. the initial requirement is a 1. language or code system, and 2. the information based on that language to specify the part in question.
Intelligent agents think with an "end goal" in mind, allowing them to solve complex problems by taking many parts and arranging them in intricate patterns that perform a specific function 2  They need to be able to organize parts availability, synchronization, manufacturing and assembly coordination and interface compatibility of the single parts and subunits. The individual parts must precisely fit together.
Biological function and sign systems, resemble the complexity of computer programs.  There cannot be information without an interpreter,  there is no message coming from the genes without the cell machinery in place that interprets the genes. Catch 22. On the other hand the cell machinery must be rooted causally ( or have their origin ) in the symbolic codes for at least two reasons. Firstly, the cell machinery consists of different parts that have to be produced in a number of copies depending on a memory ( instructions stored in dna ). Secondly, functionality of the cell machinery implies a three-dimensional folding, which is determined by the intrinsic properties of the building blocks e.g. amino acids. In addition there are control mechanisms for protein folding. The production of proteins presupposes a control mechanism involving the genes that secures ( and defines ) the entire sequence of amino acids before the folding takes place.  This leaves us with two mutually dependent categories of chemical structures or events (symbols and cell machinery), which does not fit with the axioms of probability that only considers one-way dependency.
Thus, the structure of life has a probability to emerge randomly of zero.
Life express both function and sign systems, which indicates that it is not a subsystem of the universe, since chance and necessity cannot explain sign systems, meaning, purpose, and goals 
Now lets apply that to biology.
What good would DNA, mRNA, RNA polymerase, tRNA's, Ribosomes and chaperones be good for by their own, if not interconnected in a working cell ? Why would a prebiotic soup produce these molecular machines ? They would only become functional with the instructions encoded in DNA, defining and specifying how they would have to be interconnected The thing is, there's no driver for any of the pieces to emerge individually because single parts confer no advantage in and of themselves. The necessity for the parts of the system to be in place all at once is simply evidence of a planning organizing creative intelligence.  
Biological systems are functionally organized , integrated into an interdependent network, and complex, like human-made machines and factories. The wiring of an electrical device equals to metabolic pathways. A minimal metabolic network is required in every cell, and must have emerged prior life began. For the assembly of a biological system of multiple parts, not only the origin of the genome information to produce all subunits and assembly cofactors must be explained, but also parts availability ( The right materials must be transported to the building site. Often these materials in their raw form are unusable. Other complex machines come into play to transform the raw materials into usable form.  All this requires specific information. )  synchronization, ( these parts must be read at hand at the building site )  manufacturing and assembly coordination ( which required the information of how to assemble each single part correctly, at the right place, at the right moment, and in the right position ) , and interface compatibility ( the parts must fit together correctly, like lock and key ) . Unless the origin of all these steps are properly explained, functional complexity as existing in biological systems has not been addressed adequately.
The immense challenge to unguided, random mechanisms becomes, even more, evidence, once you remove the delusional crutches of evolution, and look into the origin of the first self-replicating cell. The solutions to overcome problems like DNA replication errors or damage must all be pre-programmed, and the repair "working horses" to resolve the problem must be ready in place and "know" what to do how, and when, and able to compare between what is right, and what is in error.  If a robot in a factory assembly line fails, employees are ready to detect the error and make the repair. In the cell, the malfunction of any part even as tiny and irrelevant as it might seem, can be fatal, and if the repair mechanisms are not functioning correctly and fully in place right from the start, the repair can't be done, and life ceases.  These repair enzymes which cleave, join, add, replace etc. must be programmed in order to function properly right from the start. Aberrantly processed pre-tRNAs, for example, are eliminated through a nuclear surveillance pathway by degradation of their 3′ ends, whereas mature tRNAs lacking modifications are degraded from their 5′ends in the cytosol.
The Irreducible Complexity of a Protein
http://coldcasechristianity.com/2012/christianity-promotes-rational-and-evidential-exploration/
   Now let's take a look again at the simple protein and see how it is assembled out of amino acids. These acids have to come together in a specific way and if they do, then they begin to fold up onto themselves to form the specific shapes and clusters that we call proteins. But ask yourself the question: how do these amino acids know how to join to each other? Is there a natural attraction between the acids that acts like magnets coming together? No.. When scientists discovered DNA, they unlocked a powerful secret within the cell. They realized that the acids come together in response to INFORMATION and DIRECTION from the DNA molecule which exists alongside the acids and proteins! The DNA directs the assembly of the acids and provides a blueprint for the operation! And DNA is the most densely packed molecule in the known universe. It is a highly complex, highly ordered and extremely large assembly of information containing more data than the largest human library and posing a far greater problem for evolutionists to explain that the most complicated proteins!
   DNA poses a dilemma. Proteins cannot form without the DNA information and direction. But DNA is highly complex, ordered and informational. Where does it come from? As it turns out, the DNA molecule is filled with specific information that directs the assembly of the overall organism. And it is required for the protein to exist. The 'irreducible complexity' of the protein is not just a number of simple amino acid chemicals. The 'irreducible complexity' of the protein also includes the most complex known molecule in the universe: the DNA molecule. 'Irreducible complexity' of the protein demonstrates that the random forces of nature cannot explain the origin of life.
http://www.asa3.org/ASA/education/origins/ic-cr.htm
For a nonliving system, questions about irreducible complexity are even more challenging for a totally natural non-design scenario, because natural selection — which is the main mechanism of Darwinian evolution — cannot exist until a system can reproduce.  For an origin of life we can think about the minimal complexity that would be required for reproduction and other basic life-functions.  Most scientists think this would require hundreds of biomolecular parts, not just the five parts in a simple mousetrap or in my imaginary LMNOP system.  And current science has no plausible theories to explain how the minimal complexity required for life (and the beginning of biological natural selection) could have been produced by natural process before the beginning of biological natural selection.
http://evidencepress.com/articles/ultimate-irreducible-complexity/
The cell is an interdependent functional city. We state, "The cell is the most detailed and concentrated organizational structure known to humanity. It is a lively microcosmic city, with factories for making building supplies, packaging centers for transporting the supplies, trucks that move the materials along highways, communication devices, hospitals for repairing injuries, a massive library of information, power stations providing usable energy, garbage removal, walls for protection and city gates for allowing certain materials to come and go from the cell." The notion of the theoretical first cell arising by natural causes is a perfect example of irreducibly complexity. Life cannot exist without many numerous interdependent complex systems, each irreducibly complex on their own, working together to bring about a grand pageant for life to exist.
Another huge problem is that information is useless unless it can be read. But the decoding machinery is itself encoded on the DNA. The leading philosopher of science, Karl Popper (1902–1994), expressed the huge problem:
'What makes the origin of life and of the genetic code a disturbing riddle is this: the genetic code is without any biological function unless it is translated; that is, unless it leads to the synthesis of the proteins whose structure is laid down by the code. But … the machinery by which the cell (at least the non-primitive cell, which is the only one we know) translates the code consists of at least fifty macromolecular components which are themselves coded in the DNA. Thus the code can not be translated except by using certain products of its translation. This constitutes a baffling circle; a really vicious circle, it seems, for any attempt to form a model or theory of the genesis of the genetic code.
A classic example of interdependence is that of DNA and proteins. Within each cell, proteins manufacture, repair, and access DNA. So, DNA depends on proteins. But DNA provides the blueprints for protein structure, so proteins also depend on DNA. These two system parts stand and function only when working together, and they fall apart when separated from each other.
http://evidencepress.com/articles/ultimate-irreducible-complexity/
"The cell is the most detailed and concentrated organizational structure known to humanity. It is a lively microcosmic city, with factories for making building supplies, packaging centers for transporting the supplies, trucks that move the materials along highways, communication devices, hospitals for repairing injuries, a massive library of information, power stations providing usable energy, garbage removal, walls for protection and city gates for allowing certain materials to come and go from the cell."

A specific example described in the book is the interdependence of DNA, RNA and protein. We summarize the issue, "DNA, RNA and proteins cannot do their jobs without the help of at least one of the other two. DNA is a library of detailed information for the various structures within the cell. It has the information for the manufacture of each protein. RNA is a copy of instructions from the DNA and is sent as a messenger to the ribosomes for making proteins. There are two types of proteins; functional proteins such as enzymes, and structural proteins, which compose the organelles. Living cells need all three molecules at the same time. The chance, simultaneous natural appearance of the three distinct, interdependent complex systems is just not possible." Not only are these three needed for life, but an organism also needs a cell membrane, usable energy, reproduction and all left-handed amino acids. The cell itself is a tremendous and irrefutable example of irreducible complexity.

Considering the cell as being the ultimate irreducibly complex system, there is no conceivable way that life could arise by natural causes. Darwin's theory of numerous, successive, slight modifications simply does not work when discussing the origin of life. The problem that irreducibly complexity brings to evolution is clearly daunting for evolutionists. Their way to deal with the problem is to dismiss it as nonscientific, pseudoscience or religion dressed in a tuxedo. However, when one looks at the issue of origin of life through the lens of irreducible complexity, it simply brings one with a reasonable mind to his or her knees, admitting life cannot begin by natural causes.
http://christianevidences.org/scientific-evidence/hematology/the-cell-and-irreducible-complexity/
http://www.rejectionofpascalswager.net/behe.html
Cellular transport systems:
Gated transport is called thus due to it's similarity to our everyday experience of passing through a guarded (electronically or otherwise) gate. This system require three basic components to work: an identification tag, a scanner (to verify identification) and a gate (that is activated by the scanner). The system needs all three components to work otherwise it will not work. Thus in a cell, when a protein is to be manufactured, one of the first steps is for the mRNA [c] to be transported out from the nucleus into the cytoplasm. This requires gated transport of the mRNA at the nuclear pore. Proteins in the pore reads a signal from the RNA (the scanner reads the identification tag) and opens the pore (gate is opened).DNA and information
The structure of DNA polymerase is determined by information stored on DNA, but it takes DNA polymerase and other proteins to make DNA.  Furthermore, information to make DNA polymerase must be transferred to RNA before it can be used to make proteins from amino acids.  Making the RNA copy also requires proteins.
Can you see where the process has a beginning?  Could any of it function before the whole system was complete?
This system will not work unless all the components are present and functioning.  This means that in order to start life you must have proteins and RNA and DNA.
The cell is irreducibly complex
http://reasonandscience.catsboard.com/t1299-the-cell-is-irreducibly-complex
The irreducible, code-instructed process to make cell factories and machines points to intelligent design
http://reasonandscience.catsboard.com/t2364-the-irreducible-code-instructed-process-to-make-cell-factories-and-machines-points-to-intelligent-design
All cellular functions are  irreducibly complex
http://reasonandscience.catsboard.com/t2179-the-cell-is-a-interdependent-irreducible-complex-system
The Cell membrane, irreducible complexity
http://reasonandscience.catsboard.com/t2128-membrane-structure#3798
The Interdependency of Lipid Membranes and Membrane Proteins
http://reasonandscience.catsboard.com/t2397-the-interdependency-of-lipid-membranes-and-membrane-proteins
Factory and machine planning and design, and what it tells us about cell factories and molecular machines
http://reasonandscience.catsboard.com/t2245-factory-and-machine-planning-and-design-and-what-it-tells-us-about-cell-factories-and-molecular-machines
Genome information, protein synthesis,  the biosynthesis pathways in biologiy, and the analogy of human programming, engeneering, and factory robotic assembly lines
http://reasonandscience.catsboard.com/t1987-information-biosynthesis-analogy-with-human-programming-engeneering-and-factory-robotic-assembly-lines
What might be a Cell's minimal requirement of parts ?
http://reasonandscience.catsboard.com/t2110-what-might-be-a-protocells-minimal-requirement-of-parts
How Cellular Enzymatic and Metabolic networks  point to design
http://reasonandscience.catsboard.com/t2371-how-cellular-enzymatic-and-metabolic-networks-point-to-design
1. http://citeseerx.ist.psu.edu/viewdoc/download?doi=10.1.1.94.171&rep=rep1&type=pdf
2. http://www.evolutionnews.org/2011/03/a_closer_look_at_one_scientist045311.html
3. http://complex.upf.es/~andreea/2006/Bib/MonnardDeamer.NutrientUptakeByProtocells.pdf
4. https://osf.io/p5nw3/


Last edited by Admin on Fri Jun 07, 2019 7:30 pm; edited 40 times in total