The universe most probably had a beginning

Arno Penzias
, Cosmos, Bios, and Theos: 
'Astronomy leads us to a unique event, a universe which was created out of nothing, one with the very delicate balance needed to provide exactly the right conditions required to permit life, and one which has an underlying (one might say 'supernatural') plan.'
Margenau and Varghese eds, La Salle, IL, Open Court, 1992, p. 83
Mithani, and  Vilenkin:
Did the universe have a beginning?:
At this point, it seems that the answer to this question is probably yes. Here we have addressed three scenarios which seemed to offer a way to avoid a beginning, and have found that none of them can actually be eternal in the past.
http://arxiv.org/pdf/1204.4658v1.pdf
NASA: 
The Big Bang created all the matter and energy in the Universe. 
https://www.nasa.gov/pdf/190389main_Cosmic_Elements_Poster_Back.pdf
Stephen Hawking
 The Beginning of Time:
Strictly speaking, according to Einstein's Theory of Relativity, a singularity does not contain anything that is actually infinite, only things that MOVE MATHEMATICALLY TOWARDS infinity. A black hole is formed when large stars collapse and their mass has been compressed down to a very small size and the powerful gravitational field so formed prevents anything, even light, from escaping from it. A black hole, therefore, forms a singularity at its center from the concentrated mass of the collapsed star itself and from the accumulated mass that is sucked into it. A singularity's mass is, therefore, finite, the 'infinity' refers only to the maths. 3
http://www.hawking.org.uk/the-beginning-of-time.html
Arvin Borde, Alan Guth, and Alexander Vilenkin were able to prove that any universe which has, on average, been expanding throughout its history cannot be infinite in the past but must have a past space-time boundary. In 2012 Vilenkin showed that models which do not meet this one condition still fail for other reasons to avert the beginning of the universe. Vilenkin concluded, "None of these scenarios can actually be past-eternal."[1] "All the evidence we have says that the universe had a beginning." 
A.Vilenkin, cited in "Why physicists can't avoid a creation event," by Lisa Grossman, New Scientist (January 11, 2012).
The Borde-Guth-Vilenkin theorem is independent of any physical description of that moment. Their theorem implies that even if our universe is just a tiny part of a so-called "multiverse" composed of many universes, the multiverse must have an absolute beginning. Vilenkin is blunt about the implications:
 It is said that an argument is what convinces reasonable men and a proof is what it takes to convince even an unreasonable man. With the proof now in place, cosmologists can no longer hide behind the possibility of a past-eternal universe. There is no escape, they have to face the problem of a cosmic beginning 7
Either the cosmos
(1) had no beginning, or  
(2) it had a beginning. 
(1) If the cosmos had no beginning, then there must be an infinite series of past events. However, it is impossible to traverse an actual infinite. Therefore, the universe cannot be infinitely old.
Besides that, If the cosmos was infinitely old, it would have reached maximum entropy a long, long, time ago. Since it has not reached maximum entropy, it cannot be infinitely old without violating the second law of thermodynamics.
(2) If the cosmos had a beginning, then it must have come from (A) nothing or (B) something. 
2.A. Although physicists such as Krauss and Hawking talk about "the universe creating itself from nothing," they are using the word "nothing" to mean the vacuum energy, which is not a true nothing. To be more precise, being cannot emerge from non-being. They transform nothing into something in order to claim that the universe came from nothing.
2.B. If the entire cosmos came from something, that thing must transcend our cosmos, that is, it must exist beyond the limits of our space/time continuum. It must also possess more energy (power) than the total energy within our cosmos. We may call it the First Cause.
In Darwin's time scientists "in the know" also assumed that the universe was eternal. If that was the case, there was no mystery about the origin of matter since the matter had always existed. However, developments in physics and astronomy eventually overturned that notion. Based on a substantial and compelling body of scientific evidence, scientists now are in broad agreement that our universe came into being. What scientists thought needed no explanation—the origin of matter—suddenly cried out for an explanation. 
http://reasonandscience.catsboard.com/t1297-the-universe-most-probably-had-a-beginning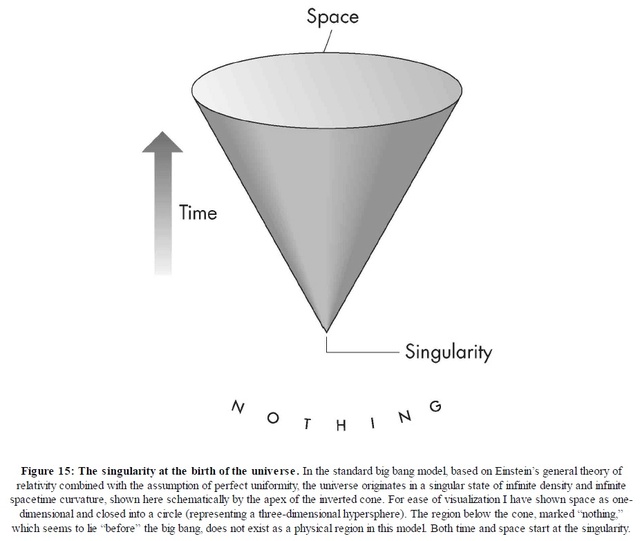 The argument that the universe is not eternal
(from a discussion between William Lane Craig and cosmologist Sean Carroll on the beginning of the universe and the Kalam Cosmological Argument)
1. Carroll pointed out that the Borde Guth Vilenkin (or BVG) theorem that the universe had a beginning only works within relativity but does not take quantum effects into account. Given a lack of a complete theory of quantum gravity, he argued that Craig can not claim that the universe began to exist.
2. This is partly true. One thing known for certain about quantum gravity is something called the holographic principle. Precisely put, the holographic principle tells us that the entropy of a region of space (measured in terms of information) is directly proportional to a quarter or any amount (1/2 complete) of its surface area or any related measurement (radius, diameter). The volume of this region is then actually a hologram of this information on its surface.
3. Another thing that it tells us is that the entropy, or the amount of disorder present, always increases with time. In fact, not only is this law inviolate, it is also how the flow of time is defined. Without entropy or disorder, destruction i.o.w change, there is no way to discern forwards and backward in time.
4. However, if the holographic principle links the universe's entropy and its horizon area then going back in time, all of the space-time eventually vanishes to nothing at zero entropy, at the beginning of the creation. Thus Carroll's argument is unsound.
5. The universe is not eternal but created.
6. By the way, this also undermines claims made by atheists like Hawking and Krauss that the universe could have fluctuated into existence from nothing. Their argument rests on the assumption that there was a pre-existent zero-point field or ZPF. The only trouble is that the physics of a ZPF requires a space-time to exist in. No space-time means no zero-point field, and without a zero-point field, the universe can not spontaneously fluctuate into existence.
7. One other point of Carroll's was his view that regardless of the physics discovered, the sort of supernatural explanation Craig gave could no longer be considered valid. Carroll, being a physicist, naturally believes that whatever the final answer is it will come in physical terms. After all, it is not every day that scientists speak of God or supernatural agents. Instead, they expect explanations to come in material terms with equations.
8. But Carroll may be ruling something out too quickly. A holographic universe entails a world made of information. And information requires a mind to know it. Information never just floats, information is of a mind, who knows it.
9. "All matter originates and exists only by virtue of a force…We must assume behind this force the existence of a conscious and intelligent Mind. This Mind is a matrix of all matter." – Max Planck
10. Most probably, a creator 
God exists.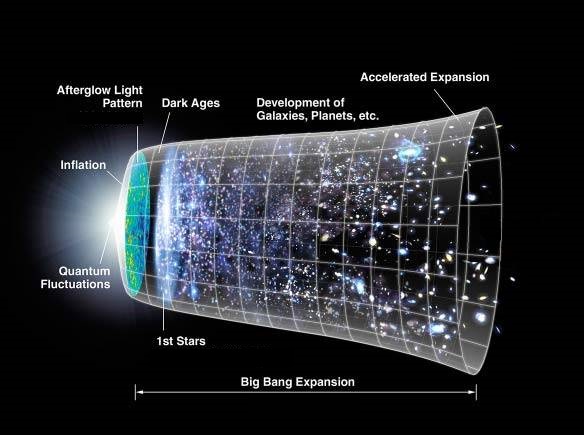 We can come to 5 conclusions how the universe started: 
 8
1) The Universe was created by nothing.
2) The Universe created itself.
3) The Universe was created by something that was also created, with an infinite number of events going back in creation.
4) The universe is eternal, without a beginning.
5) The Universe was created by something uncreated.
Numbers 1 and 2
we can already slash, they are against the basic laws of science. Nothing can create something, so basically saying, something cannot come from anything.
Similarly, the universe cannot create itself if at one point it did not exist.
IF let us say that numbers 1 or 2 were the answers behind the creation of this universe, then that means a random elephant can pop out of nowhere if we go by that type of logic. What a world we will live in!
Going on to number 3
saying that the universe was created by something, which makes sense. But was that something ALSO created? And if so, what created THAT? See? Now here's the catch why number 3 cannot be. You cannot have an infinite number of events where something creates something else, which creates something else, which eventually gets to the creation of the universe. That is illogical.
Think of it this way. If I wanted to eat an apple, but I needed to ask my friend for permission, but before my friend can give me permission, he has to give HIS friend for permission, and then his friend needs to ask HIS friend for permission. And it keeps going on and on, the chain of a friend's asking their friends for permission. If this keeps going on, will I ever be able to eat that apple? Never.
Apply this analogy to the universe. The past cannot go on forever. If it went forever, then TIME would never get HERE. We would never exist, we would never be here. Nothing right now would exist if the past is still going on forever.
About number 4:
Today, Audrey Mithani and Alexander Vilenkin at Tufts University in Massachusetts say that these models are mathematically incompatible with an eternal past. Indeed, their analysis suggests that these three models of the universe must have had a beginning too. 
Their argument focuses on the mathematical properties of eternity–a universe with no beginning and no end. Such a universe must contain trajectories that stretch infinitely into the past.
However, Mithani and Vilenkin point to a proof dating from 2003 that this kind of past trajectories cannot be infinite if they are part of a universe that expands in a specific way.
They go on to show that cyclical universes and universes of eternal inflation both expand in this way. So they cannot be eternal in the past and must, therefore, have had a beginning. "Although inflation may be eternal in the future, it cannot be extended indefinitely to the past," they say.
They treat the emergent model of the universe differently, showing that although it may seem stable from a classical point of view, it is unstable from a quantum mechanical point of view. "A simple emergent universe model…cannot escape quantum collapse," they say.
The conclusion is inescapable. "None of these scenarios can actually be past-eternal," say Mithani and Vilenkin.
This leaves us to the ONLY remaining and RATIONAL argument, #5.
This universe was created by something that was UNCREATED. This uncreated entity, we simply call, the Creator...Or...God, in religious terms.
This is fool proof logic, and nobody can deny it. This is ALL science.
About number 5
W.L.Craig writes: That problem was nicely captured by Anthony Kenny of Oxford University. He writes, "A proponent of the Big Bang theory, at least if he is an atheist, must believe that the universe came from nothing and by nothing."  But surely that doesn't make sense! Out of nothing, nothing comes. So why does the universe exist instead of just nothing? Where did it come from? There must have been a cause which brought the universe into being. 10
From the very nature of the case, this cause must be an uncaused, changeless, timeless, and immaterial being which created the universe. It must be uncaused because we've seen that there cannot be an infinite regress of causes. It must be timeless and therefore changeless—at least without the universe—because it created time. Because it also created space, it must transcend space as well and therefore be immaterial, not physical.
Moreover, I would argue, it must also be personal. For how else could a timeless cause give rise to a temporal effect like the universe? If the cause were a mechanically operating set of necessary and sufficient conditions, then the cause could never exist without the effect. For example, the cause of water's freezing is the temperature's being below 0˚ Centigrade. If the temperature were below 0˚ from eternity past, then any water that was around would be frozen from eternity. It would be impossible for the water to begin to freeze just a finite time ago. So if the cause is permanently present, then the effect should be permanently present as well. The only way for the cause to be timeless and the effect to begin in time is for the cause to be a personal agent who freely chooses to create an effect in time without any prior determining conditions. For example, a man sitting from eternity could freely will to stand up. Thus, we are brought, not merely to a transcendent cause of the universe, but to its personal Creator.
1. http://arxiv.org/pdf/1204.4658v1.pdf
2. Margenau and Varghese eds, La Salle, IL, Open Court, 1992, p. 83
3. 
http://www.hawking.org.uk/the-beginning-of-time.html
4. 
A.Vilenkin, cited in "Why physicists can't avoid a creation event," by Lisa Grossman, New Scientist (January 11, 2012).
5. 
https://www.nasa.gov/pdf/190389main_Cosmic_Elements_Poster_Back.pdf
6. 
http://www.reasonablefaith.org/contemporary-cosmology-and-the-beginning-of-the-universe
7.  (Many Worlds in One [New York: Hill and Wang, 2006], p.176).
8. http://www.debate.org/opinions/is-there-any-rational-evidence-for-the-existence-of-god
9. https://www.technologyreview.com/s/427722/mathematics-of-eternity-prove-the-universe-must-have-had-a-beginning/
10. http://www.reasonablefaith.org/does-god-exist-1
http://www.godandscience.org/apologetics/beginning.html
http://creation.com/universe-had-a-beginning


Last edited by Admin on Mon Nov 12, 2018 6:14 am; edited 24 times in total